Best Directory Themes for Creating a Service Directory Website
A service directory website is an arena that allows users to search for businesses and services in a specific area. Literally, service directories can be used to find anything from plumbers and electricians to restaurants and hotels.
Moving forward, a service directory WordPress theme is a great way to create a service directory website with utmost ease. One of the best things about using a service directory WordPress theme for your service directory website is that you can easily customize it to match your branding. You can also add features like a search bar, customer reviews, and a map to help customers find your business.
Sincerely speaking, there are many different directory themes available to make a service directory website even more gorgeous. Some of the most popular service directory WordPress themes are listed below. Let's not make more fusses and feathers rather move into the main interface.
Factors to Consider When Buying Service Directory WordPress Theme
There are a lot of themes for creating directories of services, but not all of them are created equal. When you're looking for a theme for your new directory website, be sure to keep the following in mind:
i. Ease of use:
It's up to you when you will be going to buy a service directory WordPress theme. But, your competitors will drop the ball to you when you pick a theme that is user-friendly and easy to install. Hence, as a smart WordPress user, you should pick a theme that is easy to use in every case.
ii. SEO-friendliness:
Your service directory website won't yield fruits exactly the amount you want when the theme that you use for your website isn't SEO-friendly. If your theme is SEO-friendly then t will help your site rank well in search engines. And, you will get more traffic with your brand.
iii. Responsive design
Having a responsive design of a theme means that it can be used on any device whether it is used on desktops, laptops, tablets, or phones.
iv. Compatibility with plugins
Your service directory WordPress theme should be compatible with almost all the plugins in the WordPress ecosystem. Less interaction with the plugins will tend to lose the usability of your website. So, make sure that you have picked a theme that is fully compatible with all the themes in the WordPress ecosystem.
v. Fast loading times
Sad but true, users find it very awkward when your website takes more time to load. Plus, it bounces the conversion rate which eventually drops the revenue of your business. The solution to this problem is to take a theme that comes up with a faster loading speed. And, then you can enjoy a hassle and worry-free business.
Vi. Customizability
The theme you choose should be highly customizable so that you can change the look and feel to match your brand. And, it will give you peace of mind to move with the exact visualization you want.
Best Service-Based Directory Themes for You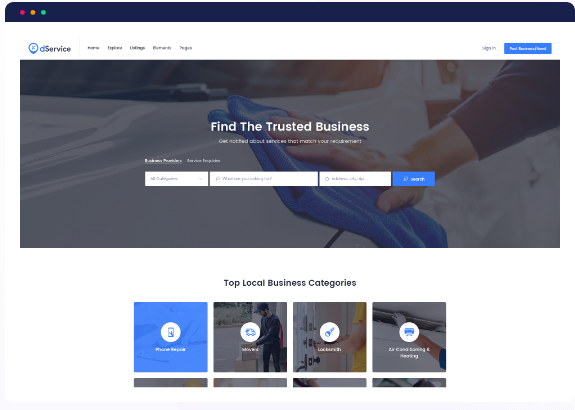 Let us start with the blossom of one of the best service-based directory themes, which we call dService. Sincerely speaking, dService is a kind of listing Directory WordPress theme that brings business owners and customers on the same platform.
This multifunctional WordPress theme provides them the opportunity to interact with one another for business purposes. The most amazing element of this theme is, it is bringing the business owners and customers on the same platform, where both can get what they need.
No surprise, the business owners can post about their products or services and the customers may post about their needs. And thus they can easily find solutions to their problems.
Yet to come, this stunning theme offers some amazing features including guest submission, pricing plans, claim a listing, private content, advanced search, modern user dashboard, built-in SEO system, maps, custom fields, social login, translation, and GDPR ready, WooCommerce and RTL Support and much more.
Unbelievable but true, this theme will endow you with a number of monetization options like paid listings, claim a listing, featured listings, rank featured listing, pay per submit, and subscriptions.
Other features
Powerful search and advanced filter
Multiple mapping source
WooCommerce compatibility
Modern user dashboard
Rating & Reviews
GDPR Ready
Email notification
Custom badges
Translation and RTL support
Mobile app (Android & iOS)
Booking & reservation
Business hours feature
What you can expect from this theme is the ultimate sophistication in expanding your business with fruitful outcomes. So, who are you waiting for? Give it a shot in no time.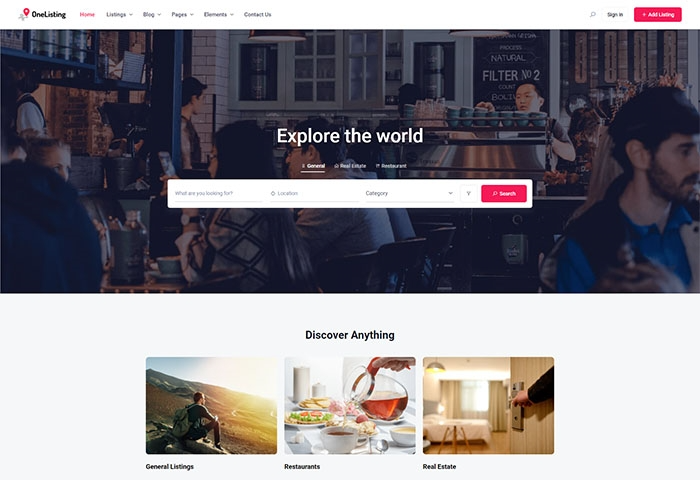 OneListing is a free yet powerful WordPress directory theme that you can use to create any type of directory website, no matter whether it is a service or a restaurant directory. More importantly, it is a user-friendly theme meaning, people even who don't know how to code can use this theme for making their service directory websites look appealing and scintillating.
Sincerely speaking, the theme will allow you to integrate different payment gateways like PayPal, Stripe, Bank Transfer, etc. into your service directory website. That means your users can use different payment gateways to pay you. And, eventually, it will increase the exposure of your directory site.
Unbelievable but true, you can create unlimited service directory listings using OneListing on your website and it will give your service business directory website an extra vibe. Furthermore, you can design and craft each listing card as your wish. There are options to make the individual listing cards more personalized.
Not to mention, you can have the opportunity to configure and maneuver a single listing page, enable/disable sections based on your need, and customize the listing slider exactly the way you want. Incredibly enough, OneListing theme comes up with an advanced filter & search form builder that allows users to search listings based on a large number of criteria like custom fields, tags, price range, and so on. Moreover, there is a default text field to hike the overall search experience to a whole new level.
Other features
Radius distance search
Modern user dashboard
CSV import & export
Google map & OpenStreetMap integration
Frontend submission
RTL (Right to Left) support
Translation ready
Custom badges
Built-in SEO
Loco translation
GDPR ready
Mobile app (Android & iOS)
Finally, if you want to upgrade your service directory website with more game-changing features, then you can switch to the premium version of the theme which will give you a wonderful kickstart.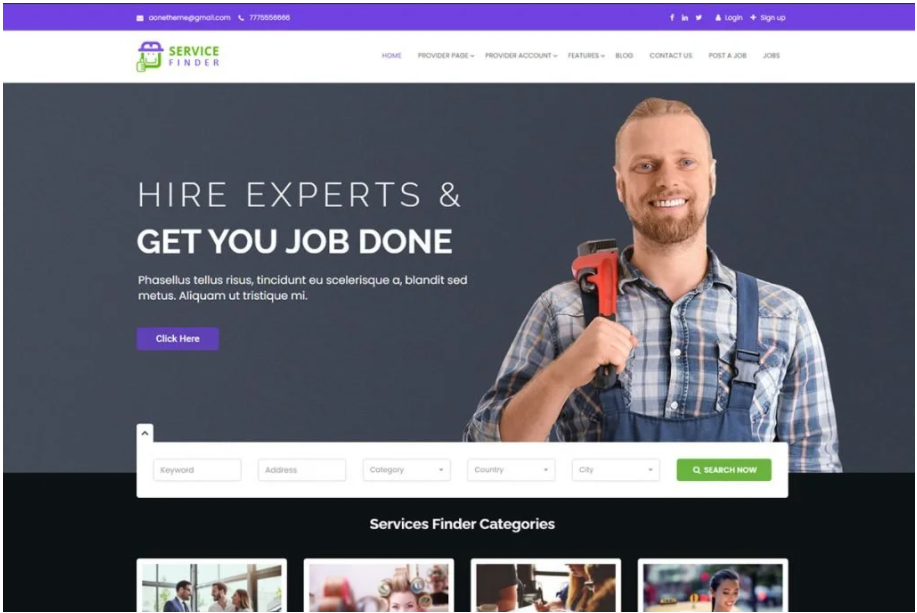 Service Finder is a WordPress theme that lets you create a directory of services with ease. It's perfect for creating a directory of businesses, professionals, or services in any industry. With Service Finder, you can quickly and easily create a searchable directory of businesses, professionals, or services.
More to come, you can also add rich content to your pages, such as images, videos, and slideshows. Also, Service Finder is fully responsive and looks great on any device.
Other features
WooCommerce payment options
OTP system to prevent fake booking
Translation ready
Google map integration
RTL ( Right to Left) support
If you want to create a directory of services for your business, look no further than Service Finder. It's the perfect solution for any entrepreneur who wants to showcase their company online.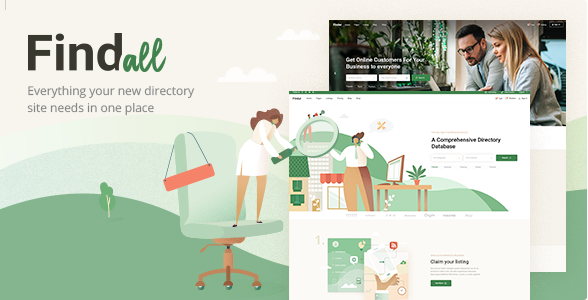 WordPress is a great platform to start a website on. It's free and easy to use, even for people with little technical experience. And if you're looking for a theme that will help you easily create a directory website, the FindAll theme is a great option.
Sincerely speaking, FindAll is a versatile WordPress theme that lets you easily create a directory website. With its built-in search engine, users can easily find what they're looking for on your site. And with its user-friendly admin panel, you can easily customize the look and feel of your website.
Unbelievable but true, the theme has a modern and stylish design, and it's very easy to use. It includes several features that make it perfect for a directory website, such as the ability to add unlimited categories and subcategories, and the option to create custom fields for each listing.
More to come, the FindAll theme is also SEO-friendly, which is important for any directory website. The theme includes built-in options for optimizing your website for search engines, and it's coded with best practices in mind. This will help your website rank higher.
Other features
User dashboard
Advanced search
Map integration
Woo compatible
Finally, if you want to take a theme that is simple yet powerful, then this piece of theme will be an amazing addition to your arsenal.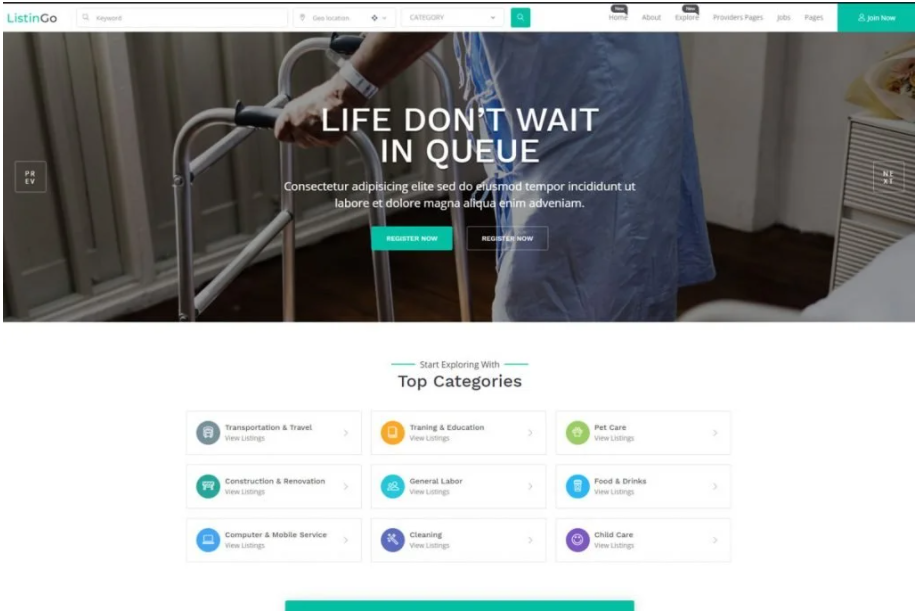 ListingGo is another simple yet powerful service-based WordPress directory theme that comes up with a contemporary design and swarm of amazing features that you need to create a directory website for services. What makes this directory theme stand out is its excellent, semantic, and validated code with strong search ability and good loading time.
Nothing less than fabulous, Listingo WordPress Directory Theme is designed in a way that it could be used as a service provider directory, professional directory, engineers directory, lawyer directory, handyman directory, business services directory, veterinary directory, service provider directory, business and service finder directory, business listing or as a directory for other professionals as it has a lot of features a directory website may need.
More to come, the developer team of this amazing directory theme has designed the inner pages in such a way that provides all the essential information any directory business would need.
Other features
Secure booking payments
Adaptive payment with PayPal
OTP system to prevent fake bookings
Social login
ListingGo can be an amazing deal at your hand if you think that you need a game-changing directory theme to create a service-based directory website with extreme ease.
Concluding Speech On The Best Service Directory WordPress Theme
A service-based directory theme for your service directory website is a great way to get started with. This theme will allow you to add all of the service listings that the listing owners provide and show them off in an organized fashion.
Hence, we have handpicked the list of best directory themes for making a service-based directory website look exciting. And, now it's your turn to choose the right one from the list and make a prolific service-based directory website.
Finally, if you have any theme you know is amazing, then feel free to ask us to add it to our list. We will happily consider your urge without any doubt.
If you liked our posts, don't forget to subscribe to our blog so that we can notify you once any post is published. Directorist is now on Facebook, Twitter, and LinkedIn! You can also join the Directorist Community for sharing your thoughts and experiences relating to the directory niche. Come and join us to see what we're up to.