Featured Configuration
Visit Admin Dashboard  > Directory Listings > Directory Settings > Monetization Settings Page to customize all settings for the featured listings.
Please follow the following steps to enable monetization on your site.
Step 1: Set the 'Monetize by Featured Listing' option to 'YES'. You can enable this option to collect payment from your user for making their listing featured.
Step 2: Title – this field lets you customize the feature title displayed on the checkout page. You can enter any text here. For example: Featured or Feature your listing etc. See the screenshot below for visual help.
Step 3: Description – this field lets you add a description to your featured listing and this description will appear in the checkout form. This description helps your users understand what they are buying. So, it is a good idea to add some nice text here. See the screenshot below.
Step 4: price – You can set a price for featuring a listing in this field. You should set a price in USD. You can set any amount you want.
Place an order
After configuring all these settings, let's submit a listing by using add listing page. The submission will be redirected to our checkout page like bellow screenshot.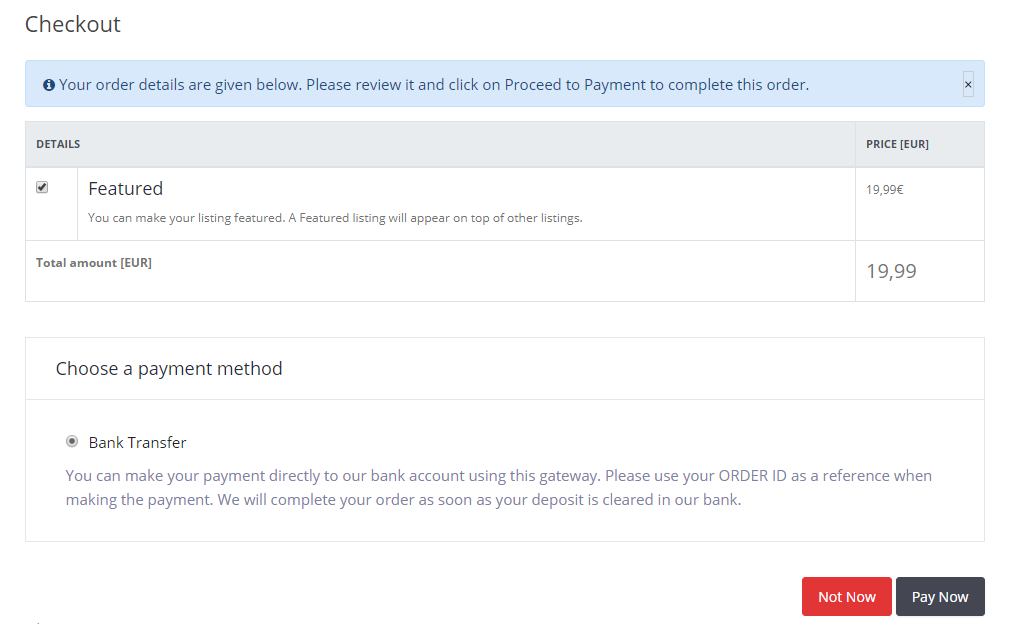 Manage order
Admin needs to control the status of the order depending on user's paying status. Once admin change the order status to completed the ordered listing will have the predefined new listing default status. Please note that every new submission will have pending status until payment goes to compilation.
Listing Status is depends on the status of the order.