Assigning a Plan from admin panel
Answer: Edit a listing from wp admin and and access 'Belongs to Plan' from top-right corner of this page.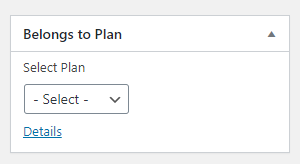 Lost listing feature after activation the plugin
Answer: This plugin controls almost all the features of a listing. It may causes by two reasons
No plan for the listing
The plan doesn't support the features
How to offer a free plan?
Answer: Keep blank the Price field while creating a plan.
User can't post multiple listing using free plan
Answer: A free Pay Per Plan can be used one by a user. But a free package can be used according to supported number of listings by the package.
To allow user to submit multiple listing by a fee plan, just create a free package plan and allow your desired number of listings.