Exclusive Directorist
Mobile App Features
The Directorist mobile app ships with a bunch of exclusive if not unique features that you need to skyrocket your directory listing business.
Launch Your App Free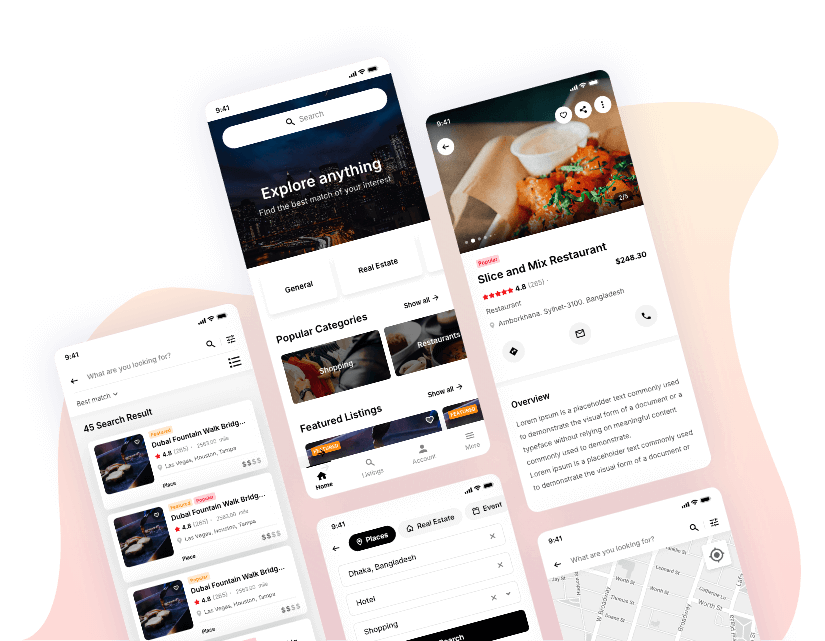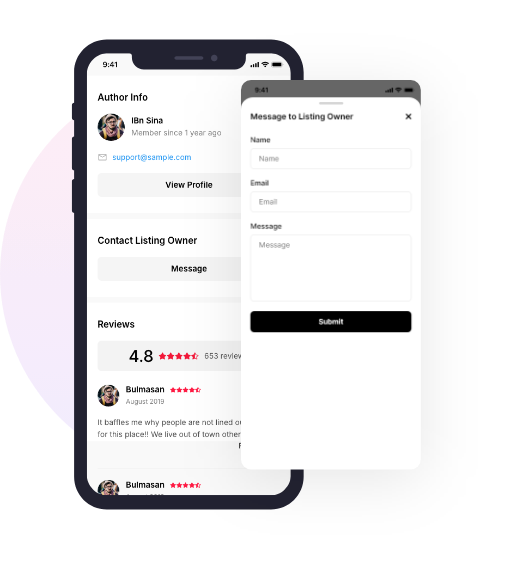 Contact Listing Author
The best part is that you can literally socialize your directory mobile app with this exciting feature. Meaning, the visitors can connect with the listing authors through a contact form.
Contacting listing authors

Built-in contact form

Make the authors notified
Take Quick Actions
Don't let your visitors linger to take action. With the
quick action feature, they can communicate
with different media.
Direct Phone Call

Get Direction

Direct Email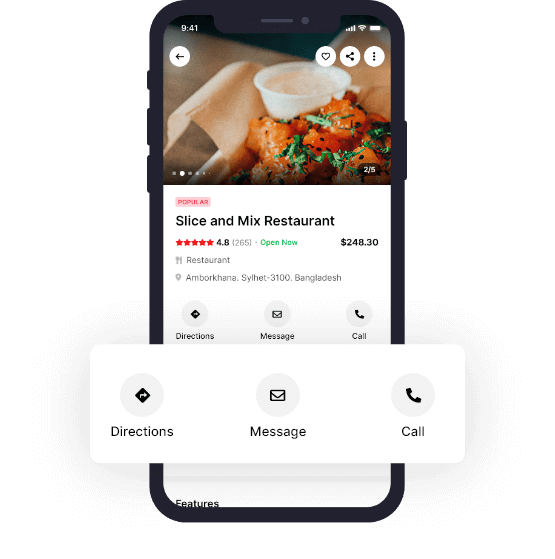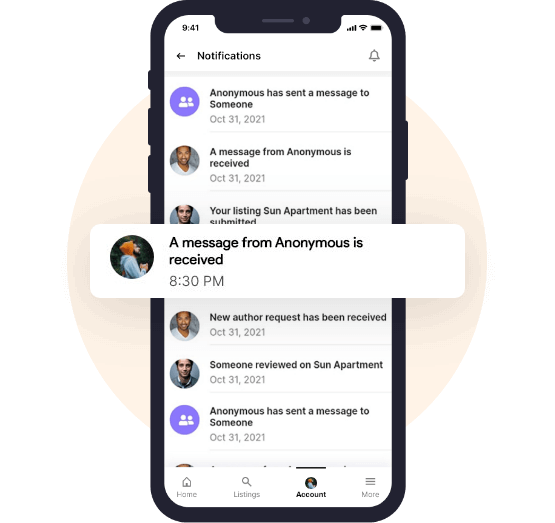 Instant Push Notifications
People love to get important news through mobile push notifications. The Directorist mobile app facilitates this service through its amazing push notification options. Get notified and make the specific authors notified as well when:
A user sends a message to the authors

You want to send notifications via email

You need to review a listing
Multi-directory Listings
Are you using the multi-directory features for different directory listing types (Car directory, Restaurant Directory, Real Estate Directory)? No worries, the app has got you covered.
Let users choose directory types

Show the listings according to a directory type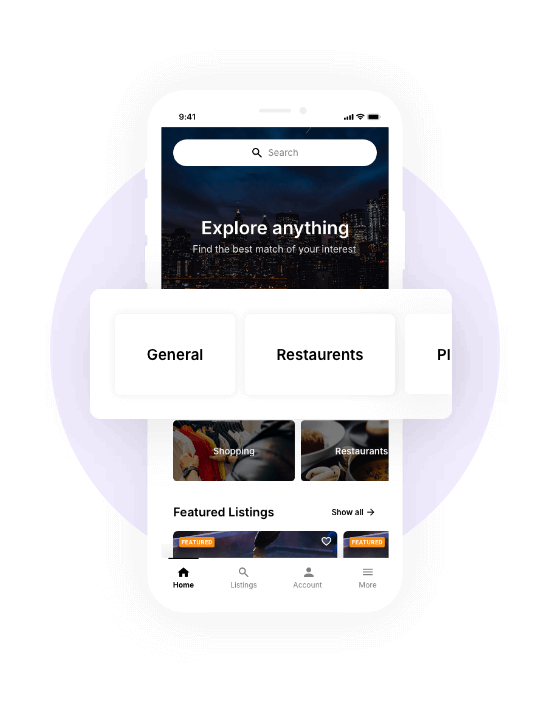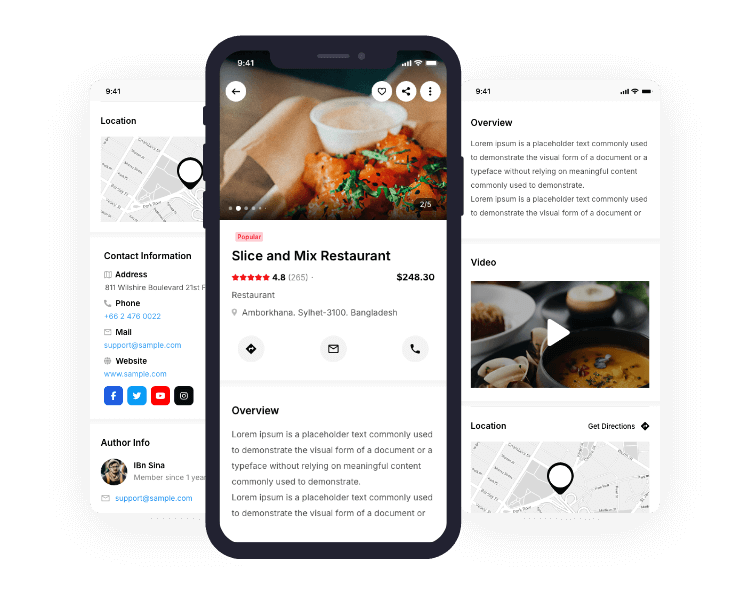 View Single Listings
When a user selects a listing the visitor will be redirected to the single listing view page where s/he will find all the necessary information just like the way on the website.
Contact info, messaging, phone call

Show location

See listing overview

Show special badges like featured, popular, new

And much more
Share Listings on Social Media
Don't just make your users settle on your website, give them the freedom to share any listings on their preferred social media like Facebook, Twitter, LinkedIn and many more.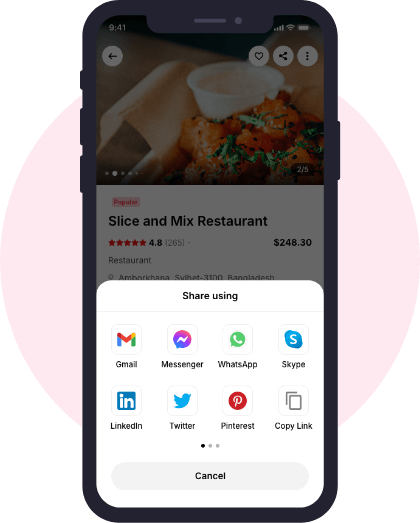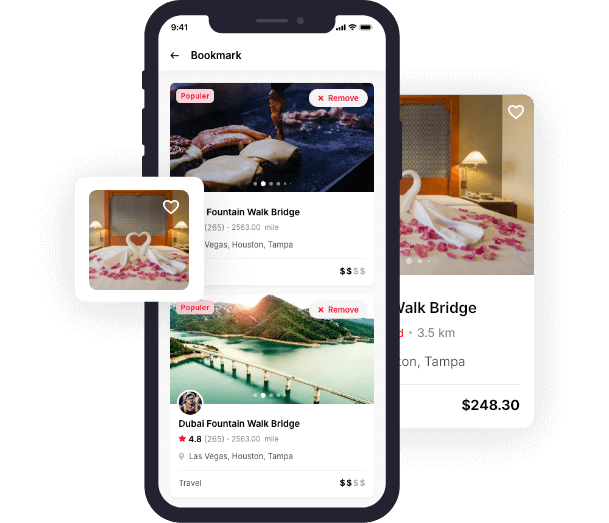 Add to Favorite
Let your users mark a listing as their favorite or keep them in the bookmark list so that they can find them effortlessly later.
Bookmarking the favorite listings

Also, make them unfavorite
Instantly Change the Listings View
The Directorist app allows the users to change the viewing styles of the listings on their own to personalize the app as per their preferences.
Grid view

List view

Map view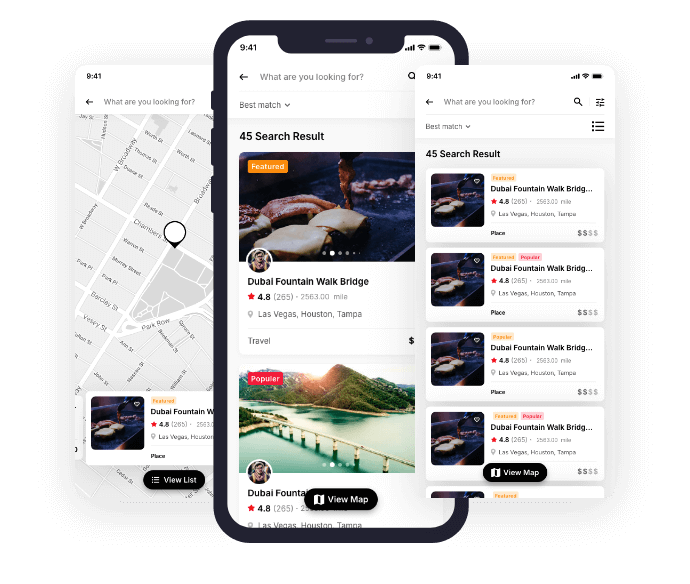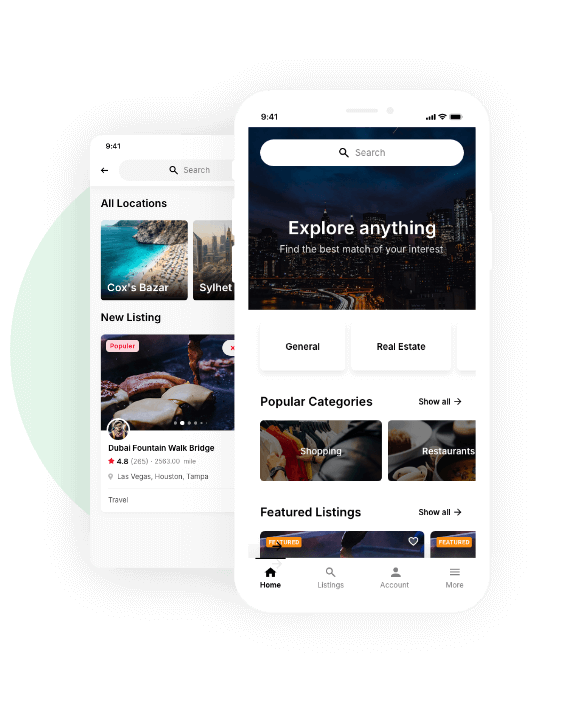 Get a Clean & Easily Navigable Homepage
The homepage boasts of having a clean interface that shows only the bare minimums so that your users don't get confused and distracted. It includes only the following to avoid any cluttering:
Search form

All categories listings

Featured listings

All locations listings

A cognitive navigation bar
Maintain Individual
Profiles
The Directorist mobile app allows the users to have their own personalized profiles updating pictures, email addresses, bookmarks, submitted listings, pending listings, published listings, and expired listings.
Update Profile

Bookmarks / Add to Favorite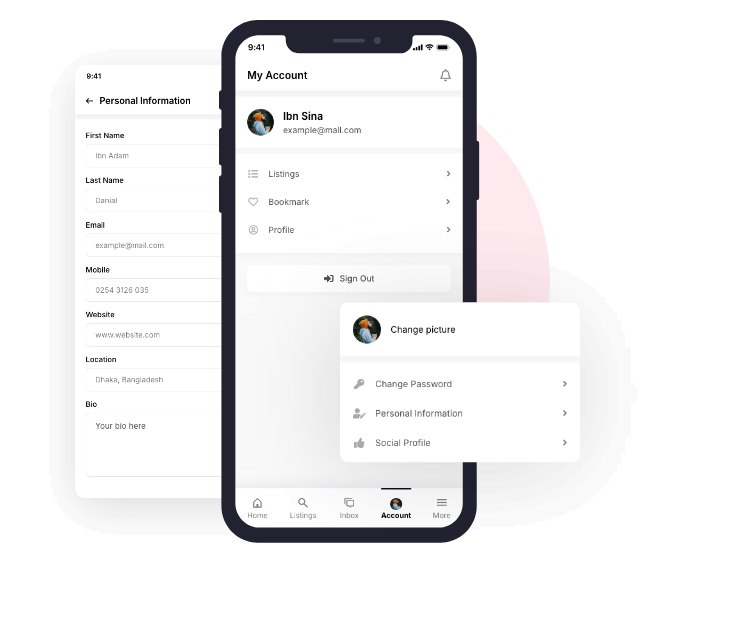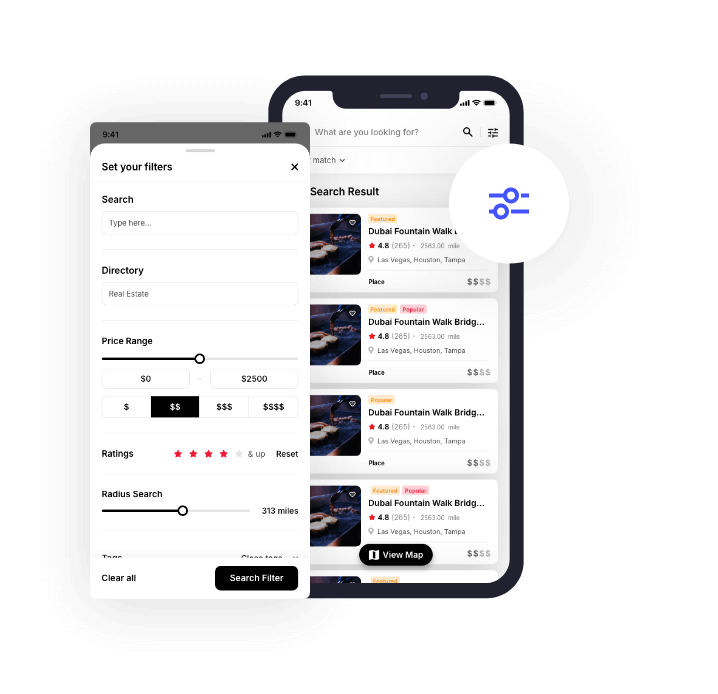 Advanced Search Form
It's a no-brainer if your visitors bounce off just because they don't find their desired listings at once. The Advanced Search Form lets your visitors use specific parameters to filter their listings from the ocean of listings in the blink of an eye.
Search with a price range filter

Search with Ratings

Search with tags, categories, locations, featured only
Show Location Distance
Without indicating how far are the listings from the users' locations, they are almost of no use. Fortunately, the Directorist Mobile app has got you covered with this essential feature.
Show distance in each listing

Make the listings more meaningful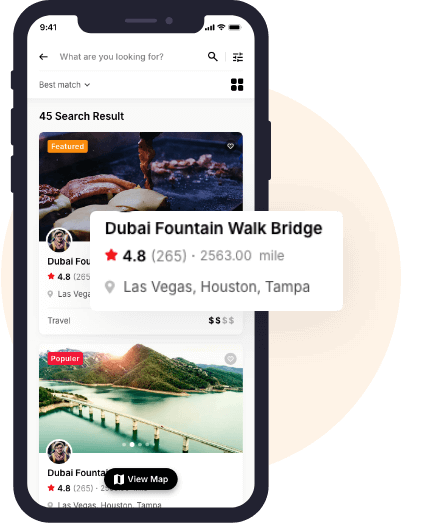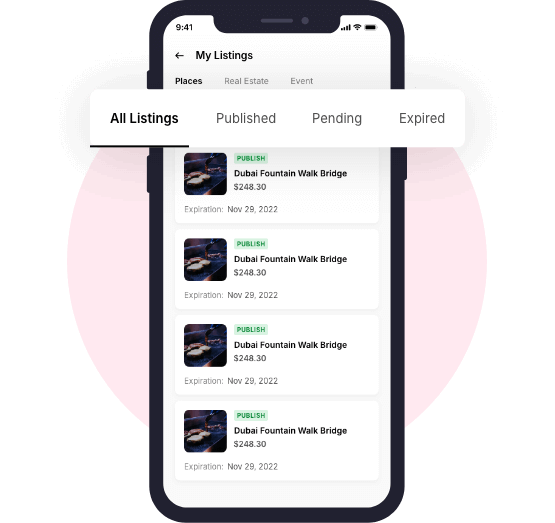 Monitor Listing Status
Don't just make your users settle on your website, give them the freedom to share any listings on their preferred social media like Facebook, Twitter, LinkedIn and many more.
Published listings

Pending listings

Expired listings
Password Recovery
with PIN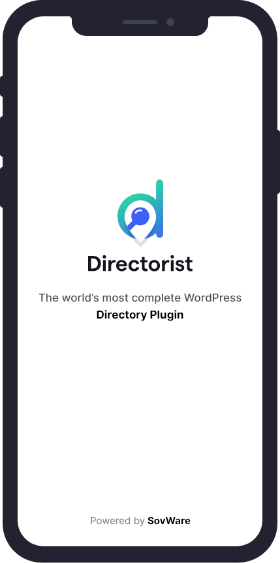 New, Popular &
Featured Badges
Related Listings
Under Detail Page
Try the live demo on your phone
Available on iOS and Android.