GeoDirectory vs Directorist – Which One Is to Dominate?
12 mins read
Creating a directory website exactly the way you want becomes a piece of cake if you choose a solution that can meet all your needs and requirements. In the WordPress world, there are two most popular directory solutions – one is GeoDirectory and the other is Directorist. Both of them come up with all the bells and whistles to align perfectly with your business needs.
Yet they still bear their separate identities and are battling constantly with each other to stay ahead of the curve. Although GeoDirectory plugin has been around for several years, Directorist has joined the party way later. Nonetheless, the latter has burst into popularity within a very short span of time. So, what are all the fusses about them?
Well!, in today's article, we will be digging deeper to know which one gains the whip hand over the other after comparing their features. Now, without further ado, let's get started.
But before we begin…
What Are the Basic Criteria to Judge a Directory Plugin?
Well, it becomes much easier for you to understand the differences if you can see all the features in place. To this end, we would like to make the comparison process simplified by dishing out the essential features a standard directory tool usually puts on the table. Here are some of the essential features of a directory plugin:
GeoDirectory vs Directorist – Feature Comparison
Now that you know the basic features of a directory tool, let's find out the match-up between Geodirectory vs Directorist.
1. Free Version Availability
Those who want to keep their initial investment lower will find this feature the most lucrative one. Both of the plugins come up with a free version. And both of them cover enough features in the free version as well. We will show you the free features as we move forward.
2. Pricing Plans
There is a far cry between GeoDirectory and Directorist when it comes to pricing. Yes, you heard it right!
The lifetime deal for GeoDirectory is $995. But the disadvantage of this plan is it limits to 100 domains.
However, there are 3 other plans too: $199 for 1 year $129 for 6 months, and $99 for 4 months.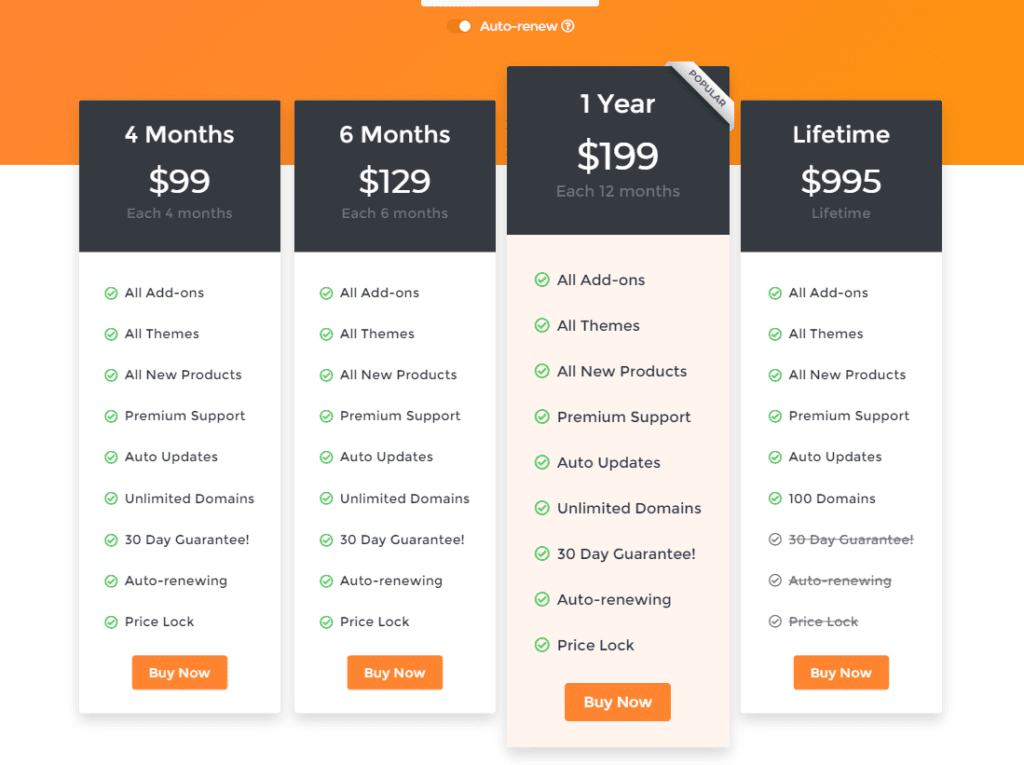 And the lifetime deal for Directorist is only $799 with unlimited domains, lifetime updates, and lifetime customer support. The other two lifetime deals will however only restrict your domain number keeping the other privileges intact.
There are also two other cheaper plans available – One is $179 for 1 year and the other is $99 for 1 year. However, they will give you support and updates for 1 year.
Now you can easily guess how much cost you can minimize if you go for Directorist.
3. User Rating or User Satisfaction Rate
The user rating refers to the satisfaction rate of users during or after the use of a plugin. In this case, they bear an almost similar degree of rating. However, Directorist has a slight edge over GeoDirectory plugin when they battle for the highest satisfaction rate.
The user rating for GeoDirectory is 4.6 out of 5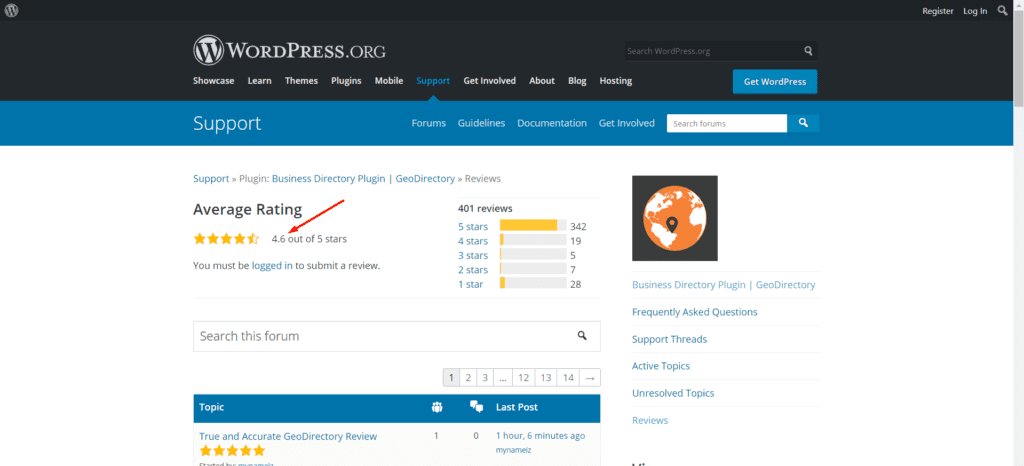 whereas Directorist has 4.7 out of 5.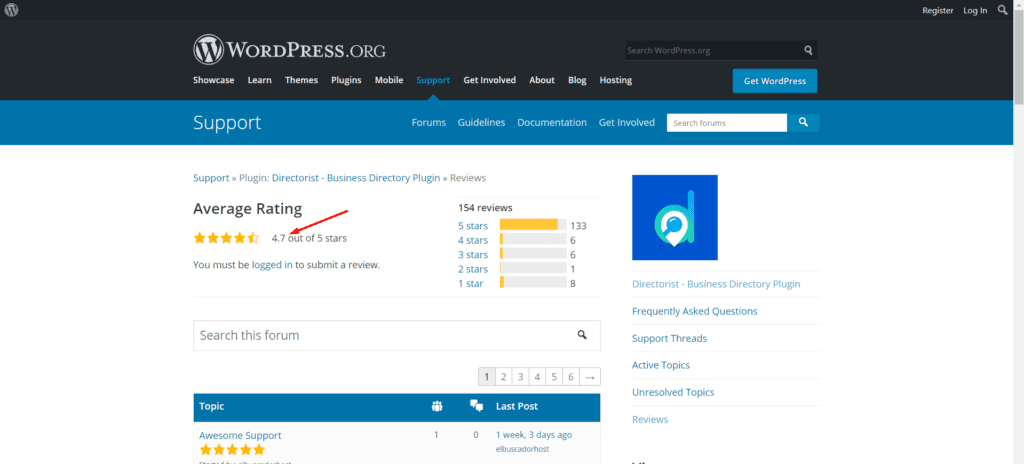 4. Support Duration
This is quite useful if you run into any trouble along the way you are using them. Depending upon the pricing plan you will get 4 or 6 or 12 months or unlimited customer support for the GeoDirectory plugin.
On the other hand, you will get at least 1-year customer support or full lifetime support for Directorist. In this case, Directorist is in a significant lead to ensure the highest possible customer satisfaction rate with their full lifetime customer support service.
5. Mobile Apps Availability
People love to browse the internet with their mobile devices in this era due to their portability.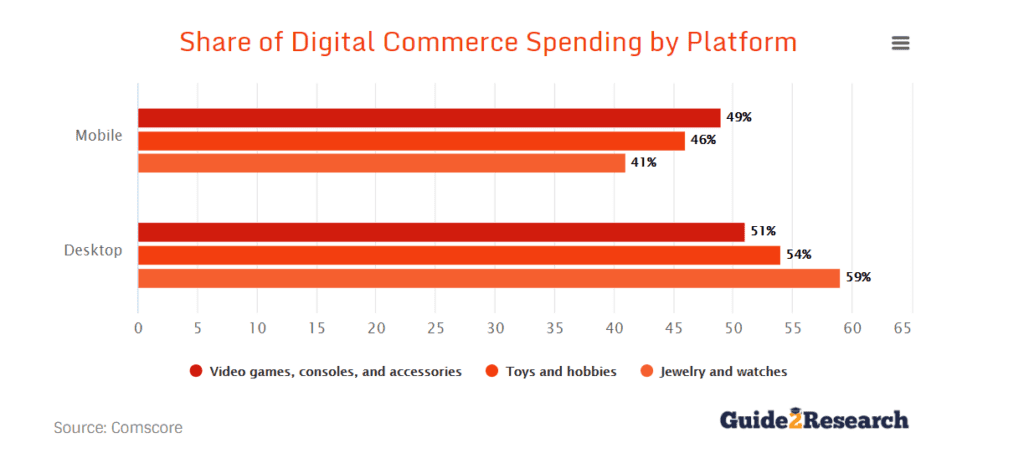 Unfortunately, both of them do not have any mobile apps available right now. But Directorist team claims on their roadmap that they already have started working on building mobile apps. So you may have to wait a few days more to avail the mobile apps.
| | | |
| --- | --- | --- |
| Feature | Directorist | GeoDirectory |
| Mobile Apps | ❌ | ❌ |
6. Advanced Form Builder
The advanced form builder is essential to give your directory listing an attractive appearance with an immersive and interactive editing experience. You can build the single listing layout and multiple listing layout designs with drag and drop functionality absolutely with your own preference.
Both of the directory systems will facilitate you with this advanced feature and will also allow you whether to choose list view or grid view for the multiple listings layout. Further, GeoDirectory and Directorist have a spot on advanced search form filter building service built-in.
| | | |
| --- | --- | --- |
| Features | Directorist | GeoDirectory |
| Drag & drop based input fields | ✔️ | ✔️ |
| Advanced search form builder facility | ✔️ | ❌ |
| Create and customize the listing card for grid view | ✔️ | ✔️ |
| Single Page Layout and Listings Card Layout | ✔️ | ✔️ |
| Personalized builder settings panel | ✔️ | ❌ |
7. Multi-directory Facilities

The universe is expanding at an accelerating rate – why not your directory business? You may start with only one directory niche but later you can use the multidirectory feature to expand just like the universe.
To help facilitate your website with this, both of the solutions will take you to the rescue.
However, Directorist can save your bank significantly because this multidirectory feature even comes with the free version.
Both of the plugins will help you create as many directory types as you wish.
| | | |
| --- | --- | --- |
| Feature | Directorist | GeoDirectory |
| Multi-directory Facility | ✔️ (Free) | ✔️ (Paid) |
8. Unlimited Custom Fields​
The preset fields may not be enough to meet all your needs. You may need customizable fields to insert on the submission form so that you can collect all your required fields from your users.
Luckily they both come up with this custom field feature. Furthermore, if you are using GeoDirectory, you will get 9 different field types whereas Directorist has more than 11 custom fields.
| | | |
| --- | --- | --- |
| Feature | Directorist | GeoDirectory |
| Custom Fields | ✔️ (11 Field Types) | ✔️ (9 Field types) |
9. Social Importer
Social importer lessens the hassle to import business information and events from Facebook, Yelp or TripAdvisor using just the URL of your page. GeoDirectory lets you do this using an API application or go through your own import tool. This is a pretty good feature from GeoDirectory whereas Directorist doesn't have this feature in place yet.
| | | |
| --- | --- | --- |
| Channel | Directorist | GeoDirectory |
| Facebook | ❌ | ✔️ |
| Yelp | ❌ | ✔️ |
| TripAdvisor | ❌ | ✔️ |
10. CSV Bulk Importer
If you are already using a directory solution for your directory business, you may want to switch to GeoDirectory or to Directorist. Assuming that you have at least 1000 listings on your current site, will you import them one by one with manual intervention?
Never! You can use the CSV bulk importer tool to do the migration process automatically. It's an effective tool that radically saves your time and effort.
These two plugins both will allow you to import data using a CSV importer tool. However, Directorist has a slight edge over GeoDirectory as the former lets you map any field types to listing fields for maintaining accuracy while importing data.
| | | |
| --- | --- | --- |
| Feature | Directorist | GeoDirectory |
| CSV Bulk Importer | ✔️ | ✔️ |
11. Search with Advanced Filters
Gone are the days of only adding a search filter to your directory site. To achieve the highest customer satisfaction you have to bring out state-of-the-art facilities for your customers to run a circle around your competitors.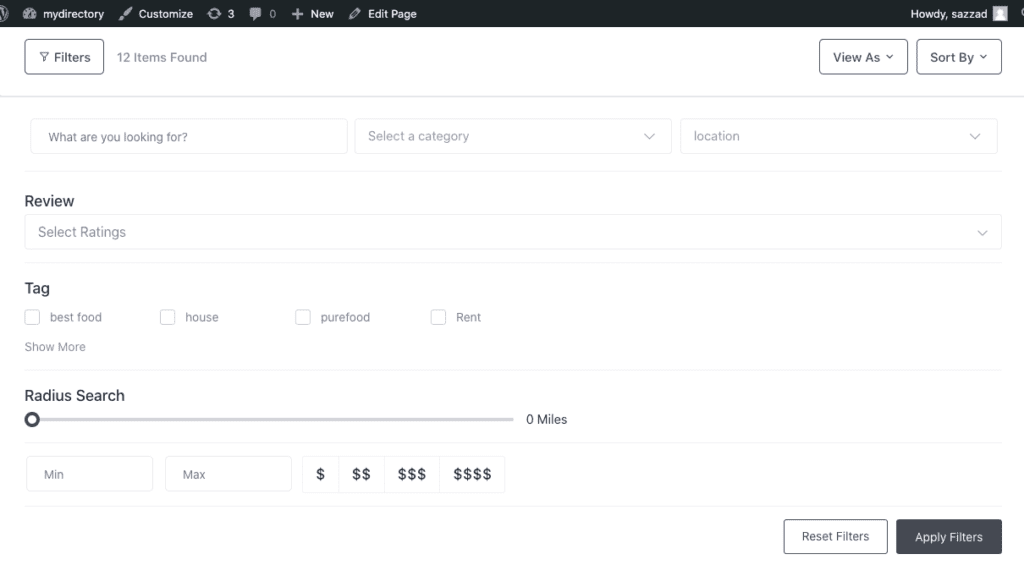 Meaning, you have to enrich the search experience of the customers by adding criteria like adding custom fields, price range, tags, geolocation and nearby listings, radius search, search widgets, and many more along with regular fields like default text field, category, and location field.
GeoDirectory and Directorist both will offer you search filters. But Directorist comes up with advanced custom search filters that contain a drag and drop builder to use.
| | | |
| --- | --- | --- |
| Features | Directorist | GeoDirectory |
| Search Filters | ✔️ | ✔️ |
| Advanced Custom Filters with drag and drop builder | ✔️ | ❌ |
12. Frontend Listing Submission and Guest Submission​
This is another bare necessity for an advanced directory website. If you enable your users to directory submit the listings from the frontend rather than submitting from the backend, they can submit faster. Apart from the humdrum default WordPress backend, the user can get the opportunity to submit from a different interface with a bodacious and unobtrusive interface.
The two of the directory systems not only do have the frontend submission system but also have the frontend submission management system.
However, Directorist also allows the visitor to directly submit a listing even if s/he is unregistered or visiting the site for the first time. In this case, the visitor will only have to insert his or her email to get a password in his or her email inbox.
| | | |
| --- | --- | --- |
| Features | Directorist | GeoDirectory |
| Frontend Listing Submission and Management​ | ✔️ | ✔️ |
| Guest Submission | ✔️ | ❌ |
13. Multiple Mapping Source and Styling
Not all of us bear the same palate. Multiple mapping source helps you to embellish the add listing form or listing submission form with different types of form.
Interestingly, both of the directory plugins boast off from their own perspective. The GeoDirectory plugin focuses on map styling (For instance Default view, satellite view, Hybrid View, etc. while Directorist concentrates more on the mapping source for example Google Map and OpenStreet Map.
| | | |
| --- | --- | --- |
| Features | Directorist | GeoDirectory |
| Multiple Mapping Source | ✔️ | ✔️ |
14. Private Directory
With the Private Directory option, you can restrict your website's listings to logged-in users only so that the visitors can not see them without logging in. This way you can grow your email list like never before.
GeoDirectory does not have this feature but Directorist has got you covered with this exclusive feature.
| | | |
| --- | --- | --- |
| Feature | Directorist | GeoDirectory |
| Private Directory | ✔️ | ❌ |
15. Plugin Integration / Addons
Plugin integrations allow you to extend your directory website's usability more.
Currently, GeoDirectory has 21 extensions. They are:
Surprisingly, Directorist has 21 integrations too. They are:
16. Theme Integration
The appearance of a website matters most because it has the potential to create credibility and an overall good impression on the visitor's mind.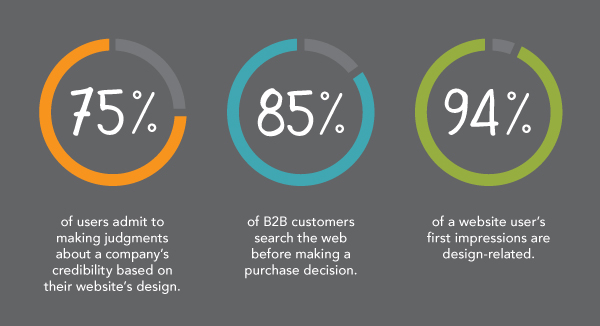 Thus it is imperative for your directory site to have integration with a host of themes so that your website design resonates with your directory niche.
As of now, GeoDirectory has integration with 8 themes:
GeoDirectory Framework
Whoop!
GDF Modern – GDF Child Theme
Geo Bold – Genesis Child Theme
Geo Travel – Genesis Child Theme
Geo 1280 Genesis Child Theme
Supreme Directory
Directory Starter
Conversely, Directorist has the following 3 theme integrations:
17. Page builder support
As we said already, you don't have a choice other than implementing a great design for your directory website. Both of the solutions support the popular Elementor page builder to create pages lightning fast reflecting your design philosophy. Directorist has Elementor widgets while GeoDirectory lets you import Elementor templates.
| | | |
| --- | --- | --- |
| Feature | Directorist | GeoDirectory |
| Page Builder support | ✔️ | ✔️ |
18. WooCommerce Multivendor Plugin Compatibility​
Directorist is completely compatible with multivendor solutions like Dokan, WC Marketplace, WCFM WC Vendors, YITH WooCommerce Multivendor. However, GeoDirectory is not compatible with them so far.
Feature
Directorist
GeoDirectory
Compatible with popular multi-vendor plugins like
Dokan, WC Vendors, WC Marketplace, WCFM, YITH
WooCommerce Multivendor.
✔️
❌
19. Develop Booking System
A booking system is a great way to sell services on your directory website. If you have a plan to integrate such services, you must check out if your directory solution supports Booking System development. With booking system, you can create:
Restaurant Reservation
Doctor Appointments
Service Booking
Event Ticket Booking
Hotel and Apartment Renting
GeoDirectory does not have any built-in Booking system, though Directorist have the Booking system as an extension.
| | | |
| --- | --- | --- |
| Feature | Directorist | GeoDirectory |
| Booking System | ✔️ | ❌ |
20. Push Notification
Sending push notifications is a great way to increase user engagement with your directory website. Unfortunately, none of them will enable you to send push notifications to your visitors who have subscribed or accepted cookies.
| | | |
| --- | --- | --- |
| Feature | Directorist | GeoDirectory |
| Push Notification | ❌ | ❌ |
21. Built-in Checkout and Popular Gateways
GeoDirectory and Directorist both are compatible with popular gateways. However, GeoDirectory can't keep pace with Directorist for not having integration with Stripe payment gateway and not having a Bank Transfer option.
| | | |
| --- | --- | --- |
| Payment Gateways | Directorist | GeoDirectory |
| PayPal | ✔️ | ✔️ |
| Stripe | ✔️ | ❌ |
| WooCommerce | ✔️ | ✔️ |
| Bank Transfer | ✔️ | ❌ |
22. Earn through Monetization
The directory solution you are going to opt for should allow you to monetize in various ways – not just through one or two ways.
GeoDirectory lets you monetize through Paid Listings, Featured Listings, Claim a Listing, Pay Per Submit, Subscriptions, Recurrent Payment Option. Unfortunately, GeoDirectory does not allow your site to rank a featured listing though.
Conversely, Directorist comes up with three more features along with all the GeoDirectory features – One is Rank featured listing, and the other is "Users Can Post Their any Kind of Need or Service".
Features
Directorist
GeoDirectory
Paid Listings
✔️
✔️
Featured Listings
✔️
✔️
Rank Featured Listing
✔️
❌
Claim a Listing
✔️
✔️
EU VAT Compliance
❌
✔️
Pay Per Submit
✔️
✔️
Google AdSense
✔️
❌
Subscriptions
✔️
✔️
Recurrent Payment Option
✔️
✔️
Users Can Post Their Any
Kind of Need or Service
✔️
❌
23. Private Live Chat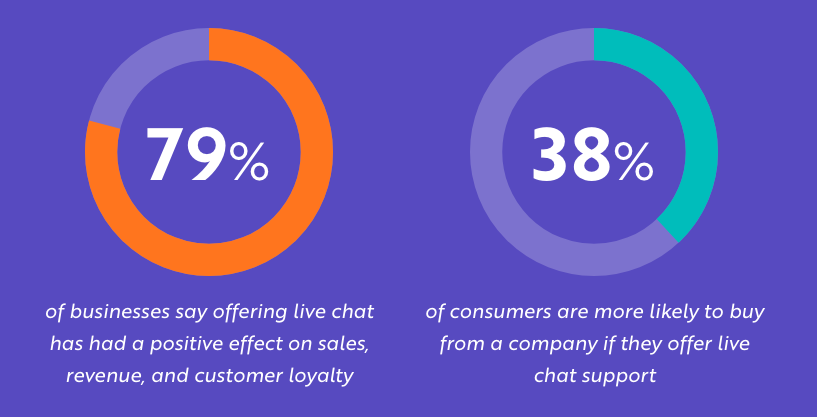 Live chat is a necessary feature to gain customer credibility and customer satisfaction rate. With this feature, the customers can chat privately and directly with the business owners to solve their problems.
Unfortunately, GeoDirectory does not have this necessary feature while Directorist has this feature to keep your customers' worry at bay.
| | | |
| --- | --- | --- |
| Feature | Directorist | GeoDirectory |
| Private Live Chat | ✔️ | ❌ |
24. Ads Manager
If your directory solution allows you to monetize by placing ads, it can be a cherry on top. Nowadays, many directory business owners are showing ads using methods like Google AdSense, Facebook Ads, Affiliate marketing to earn extra money.
You can place ads on targeted pages like on all listings or single listings, all categories, all locations, the dashboard to ramp up your earning.
Again, GeoDirectory can not allow you to monetize with ads while Directorist has this feature via premium extension. In Directorist, you can also inject custom HTML/JS to expand the use-cases and level up the personalized ads.
| | | |
| --- | --- | --- |
| Feature | Directorist | GeoDirectory |
| Google AdSense | ✔️ | ❌ |
| Facebook Ads | ✔️ | ❌ |
| Affiliate Marketing | ✔️ | ❌ |
25. Social Login
The social login feature has become a useful feature not just on a directory website but also on other websites as well. It accelerates the process of signup or registration and login.
With this feature, the users do not need to fill out an entire registration form and wait for the email verification process. This is an effective tool to retain visitors and make your site more user-friendly.
But GeoDirectory has not rolled out this feature yet. Conversely, Directorist has this super convenient feature that lets users log in straight from their social profiles like Facebook and Google.
| | | |
| --- | --- | --- |
| Feature | Directorist | GeoDirectory |
| Social Login | ✔️ | ❌ |
26. More Premium Features
Some other salient premium features of a directory solution should include:
27. Growth Rate
Although Directorist has joined the party much later than its competitor GeoDirectory, it (Directorist) has seen a steady growth even during the global COVID-19 pandemic in 2019, 2020, and early 2021.
As of now, GeoDirectory has seen the highest 0.7% of growth. Conversely, Directorist has seen a whopping 13.3% of growth. Thus Directorist clearly clinches the victory here.
28. Miscellaneous
A standard directory tool should include these miscellaneous yet essential features:
Features
Directorist
GeoDirectory
Right to left language compatibility
like Arabic, Aramaic, Azeri etc.
✔️
✔️
Rating & Reviews
✔️
✔️
Private Directory
✔️
❌
Custom Badges
✔️
✔️
GDPR Ready
✔️
❌
Renew Listings
✔️
❌
Email Notification
✔️
✔️
Scheduling Task (Admin can fix
the time frame after which
submitted listings will be expired.)
✔️
❌
Save & Bookmark
✔️
✔️
Easy Setup
Wizard
✔️
✔️
Direction & Contact
✔️
✔️
Invoice
✔️
❌
Tax Ready
✔️
❌
Flag & Report
✔️
❌
Super Responsiveness
✔️
✔️
Author Public Profile
✔️
❌
Elementor Page Builder Widgets
✔️
❌
Custom user Registration and Login
✔️
❌
Social Media Share
✔️
✔️
Events Manager
✔️
✔️
EU VAT Compliance
❌
✔️
Franchise Manager
❌
✔️
The Final Verdict
Since both are developer-friendly and open source solutions, you can develop and customize their features too in case you need them! In fact, GeoDirectory and Directorist both are pretty cool directory solutions. But in our pick, Directorist is clearly the winner considering its unbelievably lower pricing plans, exclusive premium features, staggering growth rate, lifetime customer support, and great customer satisfaction reviews.
Now, the final decision is up to you which one to choose. However, we would like to encourage you to give the free version a shot so that you can get hands-on experience and make a much better-informed decision. In the end, if you have already used these two awesome solutions, feel free to comment below regarding your experience.
If you liked our posts, don't forget to subscribe to our blog so that we can notify you once any post is published. Directorist is now on Twitter & Facebook! You can also join the Directorist Community for sharing your thoughts and experiences relating to the directory niche. Come and join us to see what we're up to.