How to Create a Business Directory Using WordPress Plugin & Theme
6 mins read
WordPress is not just a CMS but an all in all solution for anything you can imagine under the sun. Be it a project manager or news publishing website or ERP solution, WordPress has got you covered. And this is not an exception if you are onto creating a directory website.
Moving forward, it is a matter of only a few minutes to create your own directory website with the magic spell of WordPress. Sounds cool, right?
In today's article, we shall be showing you how to create a business directory the easy way using WordPress themes and plugins.
So, without any more fuss, let's see how you can create a Business directory website effortlessly using WordPress themes and plugins.
Requirements
Why Use WordPress to Create a Business Directory Website?
Scalable with both free and premium or freemium plugins and themes.
Over 39.6% of the world's website is built with WordPress.
Open-source and customizable.
Over 50,000 free plugins in the WordPress repository.
Most popular CMS on the planet and due to the large community, you will never feel stranded.
And the list goes on.
Why Choose Directorist?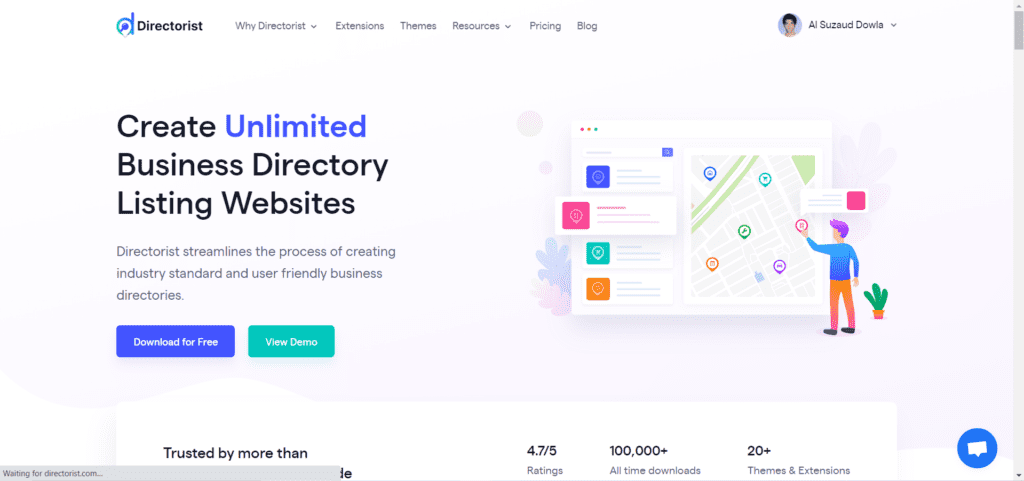 Well, Directorist is the most scalable and comprehensive solution to leverage your directory business and a plethora of other exclusive features that will help your business stand apart from others with zero coding know-how.
Here are a few benefits of Directorist to consider:
Highly optimized and scalable to millions of listings
Customizable & modern design
User-oriented development
A wide range of non-dependent extensions
Distinctive features
Search Engine Friendly
Best coding practices
Support team who cares
Developer Friendly
Multiple Income Streams
A fleet of upcoming features
Related Article: Why Choose Directorist as Your Directory Tool?
Why Choose Directorist Theme for Your Business Directory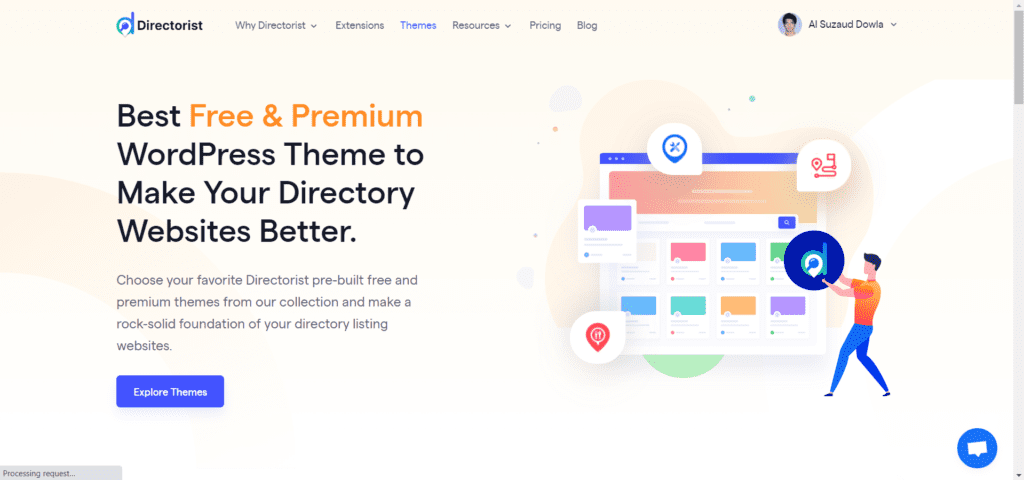 Directorist themes are all tailored to the customers' preferences keeping in mind their requirements. Aside from that, the developers worked quite hard so that the customers can create their own personalized directory website without writing a single line of code. Here are a few exclusive features to look at:
Fully Customizable
Super Responsive
User-friendly UI and UX
Constant updates
Instant support
Follow These Steps to Create Your Directory Business
If you follow this step by step guide, you can create an attractive and scalable directory site within just a few minutes.
Step 1: Installing Directorist
Supposing that you have your WordPress site up and running, now, navigate to the WP Admin Dashboard > Plugins > Add New. Now search for the keyword 'directorist'. Then, click on the "Install Now" button.

After that, simply click on the 'Activate' button.

Now, you will see the following menu item on your WordPress dashboard.
Alternative way: Getting the plugin from the WordPress directory
That's not the end of looking up your favorite WordPress directory plugin, you can also go ahead to the official WordPress repository and search for the same keyword "directorist" and again you will find the plugin from therein.
Here, we are selecting the plugin, 'Directorist':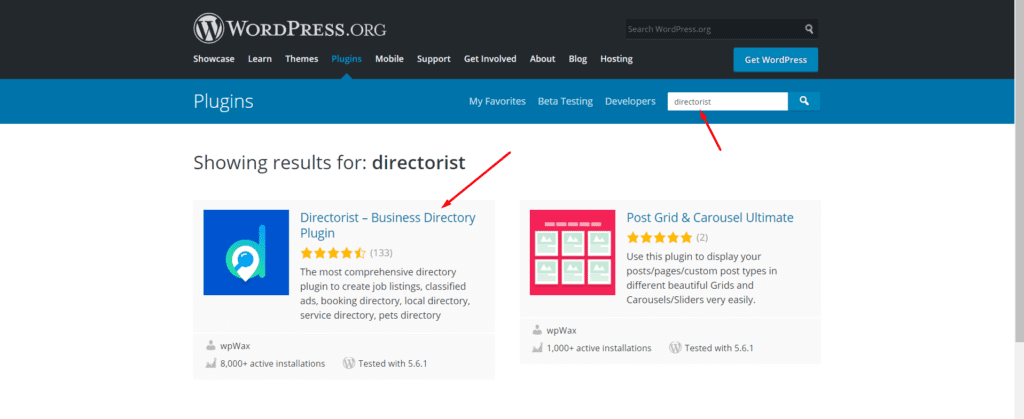 After that, you should see the download option:
Now, you can download or get the plugin in .zip file format and install it just like any other WordPress plugin by simply uploading it from WordPress Dashboard > Add New > Upload Plugin:
Now, choose the plugin from your local storage and upload it:
Finally, activate the plugin.
And congratulations, you are all done with activating your directorist plugin.
After that, you should see a setup wizard you can configure or skip to configure later. Next up, the following navigation bar options on the Admin Dashboard will appear:

Step 2: Time to Install a Directory Theme
Go to this page and get a Directory theme as per your preference. You will find the theme in ZIP file format.
We assume you have got the ZIP file of the dList theme in your local storage. Now, navigate to the WP Admin Dashboard > Appearance > Themes > Add New > Upload theme > Install now.

Finally, activate the theme.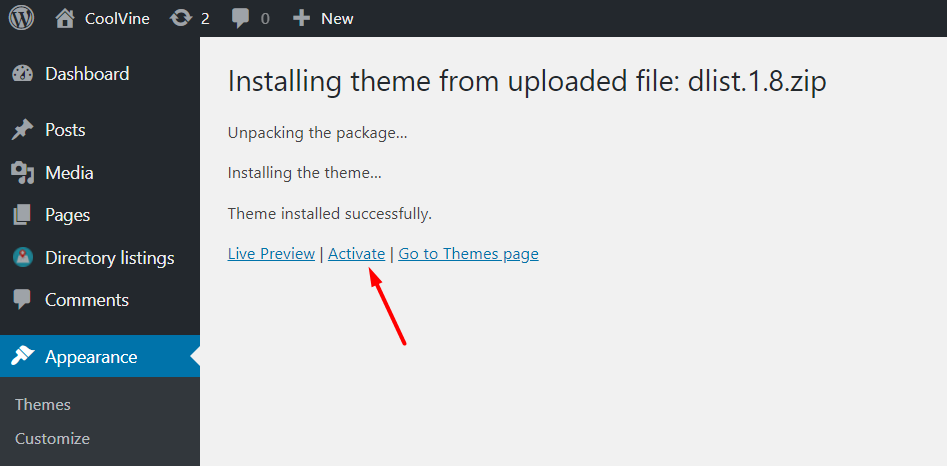 Then you will be required to install some necessary plugins.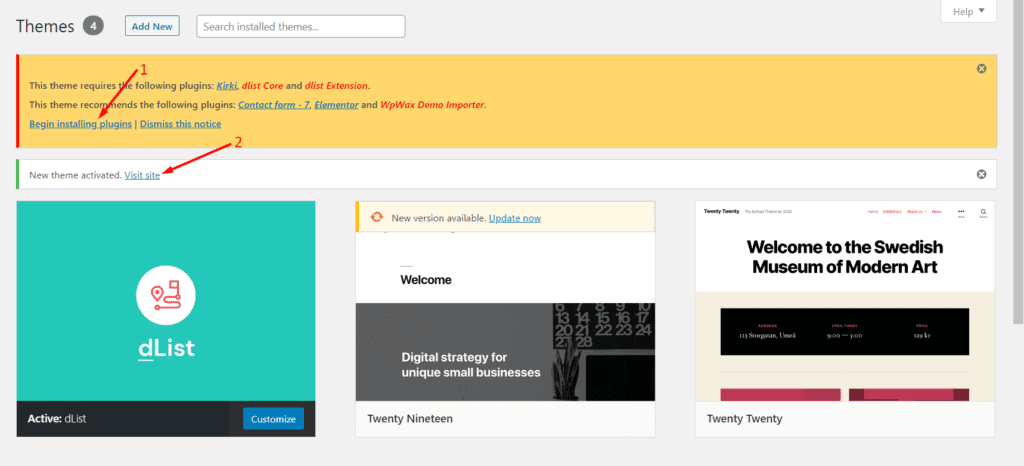 Hit the Begin installing option(1) to create the plugins and click on the "Visit Site" option to see the site from the frontend(2).
After selecting the "Begin Installing Plugins" option, you will find the following screen: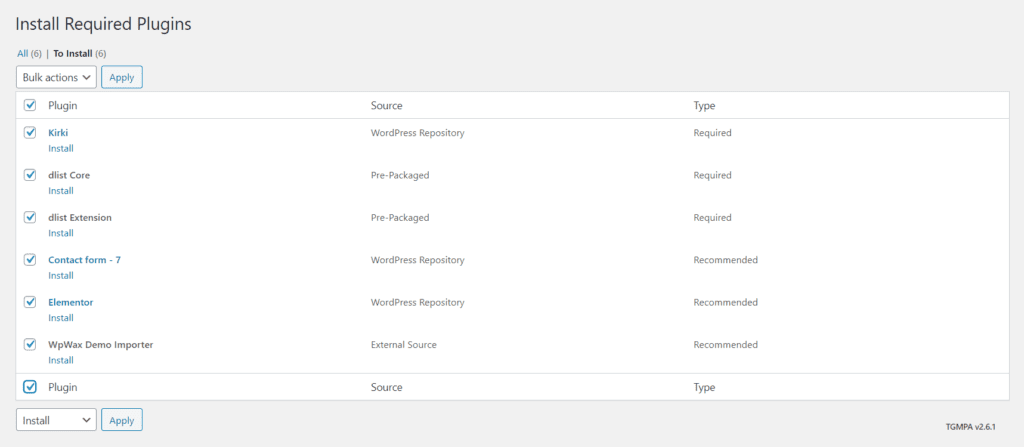 We recommend you install all of them.
Now, activate all the plugins: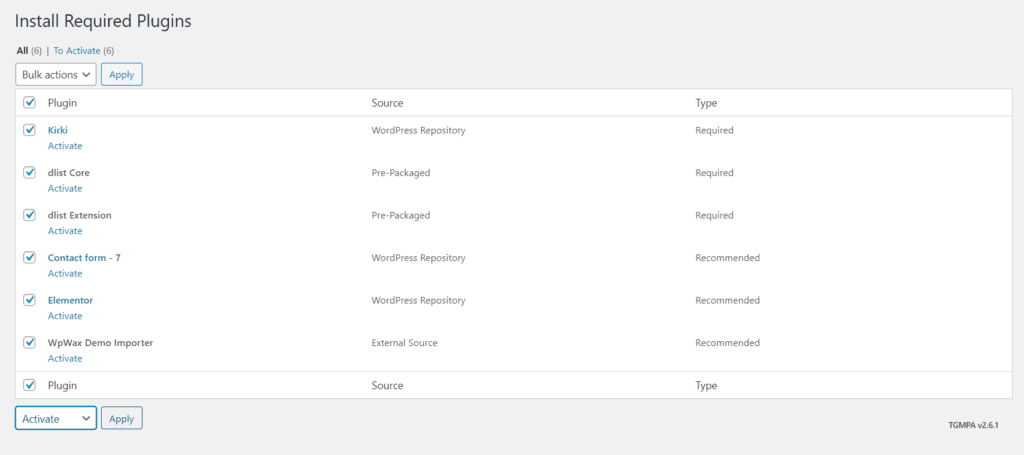 Here is a frontend view after selecting the "visit site" option: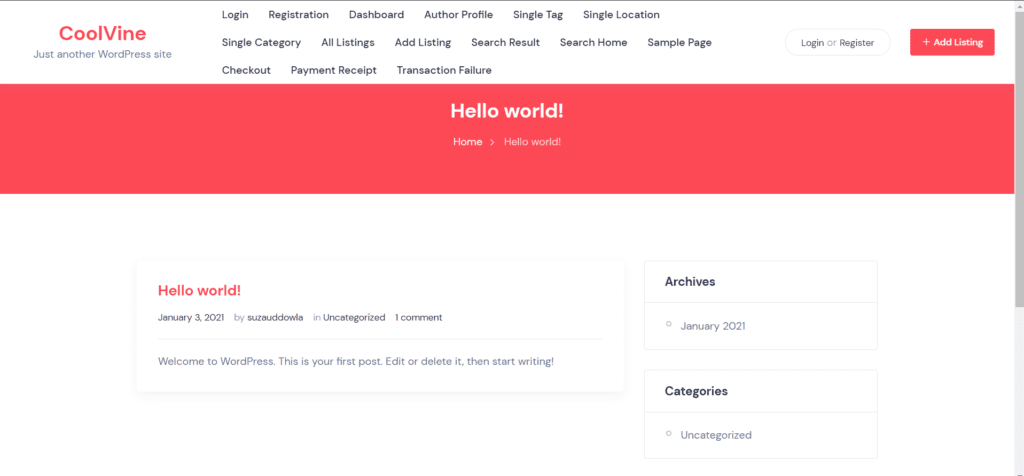 Since the fact the site is all new, there are no listings submitted. Thus proceed to the next step to submit a few listings on behalf of business owners.
Step 3: Add Some Categories (Optional Yet Important)
Navigate to the WP Admin Dashboard > Categories > Add New and add some relevant categories to your website.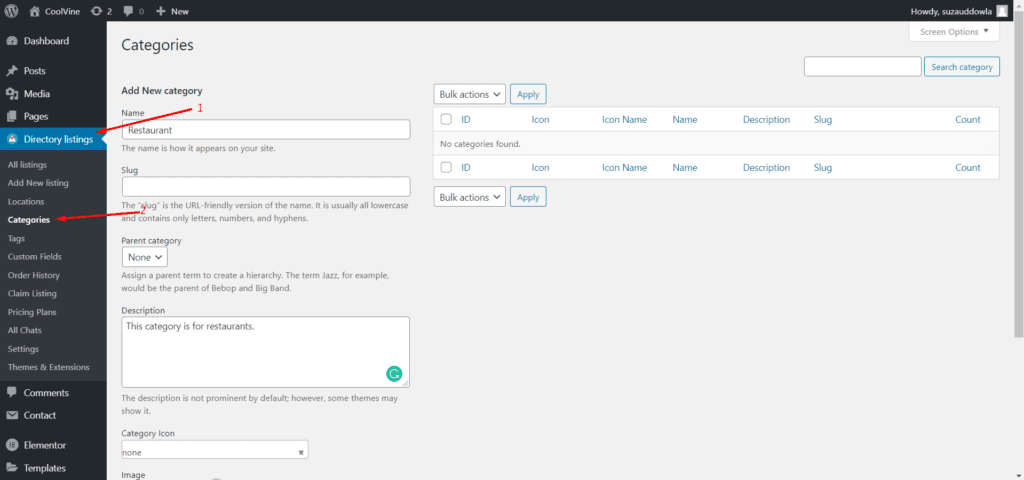 It will be helpful for the business owners to select the relevant categories for their listings.
Step 4: Monetizing (Add Pricing Plan)
Adding a pricing plan is necessary to charge the business owner against the directory service. Before adding a pricing plan, go to the WP Admin Dashboard > Directory Listings > Settings > Monetization > Enable Monetization Feature. Also, select the "Pricing plans" options from the "Monetize Using" option.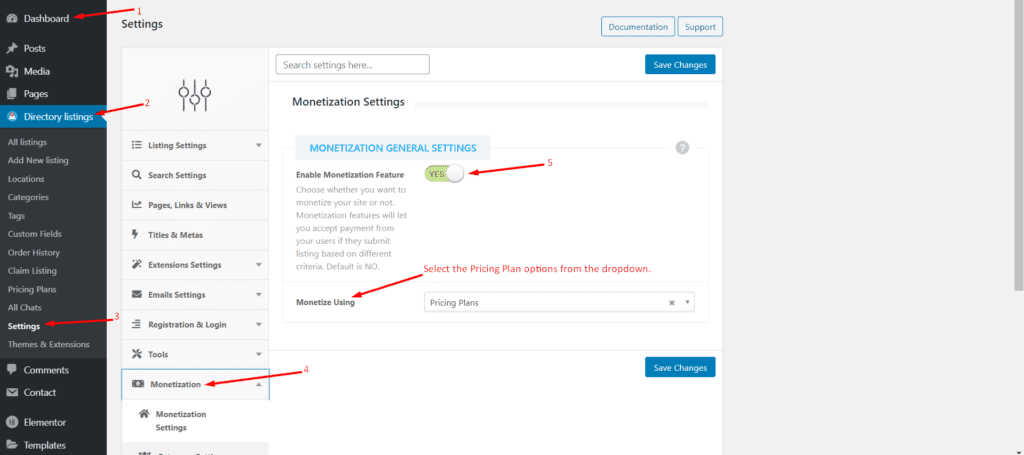 Now, navigate to the WP Admin Dasboard > Directory Listings > Pricing plan and then configure pricing plans. Finally, hit the publish button to publish the plans.
Step 5: Create a Pricing Plan Page
Now, you need to create a pricing plan page to show the pricing plans you have created just now.
Go to the WP Admin Dashboard > Pages > Add New.

Then copy and paste the following shortcode:

[directorist_pricing_plans]
Finally, hit the Publish button. Now, let's take a look at the Pricing plan page from the frontend. Click on the "View Page" option:

After that, you will be able to preview the frontend view of the pricing page: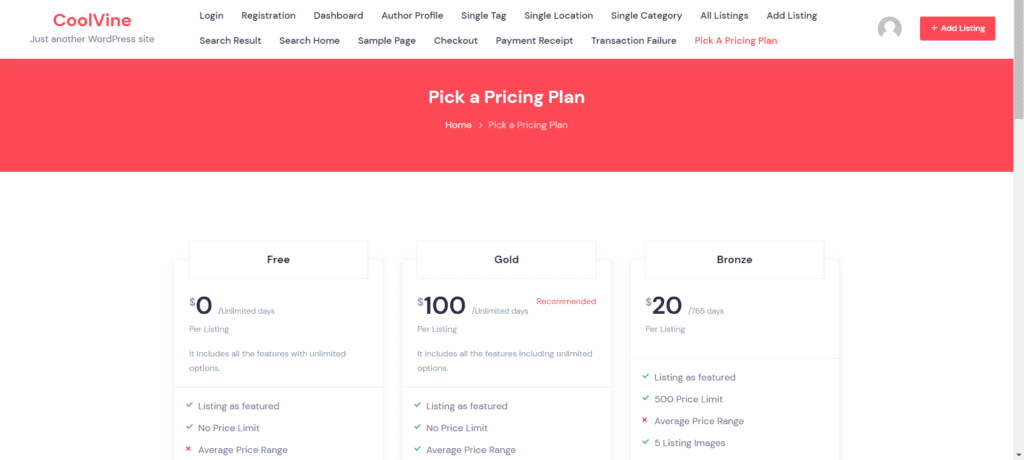 This is exactly what your business owners will see while they land on the pricing page.
Step 6: Add a Few Listings (For Business Owners)
Now, from a different browser, a business owner will be able to register. The business owner should be able to see the Registration option.
This step is mainly for the business owners.
On clicking the 'Registration' option, a business owner (Here, John Doe) will be able to get a sign up form: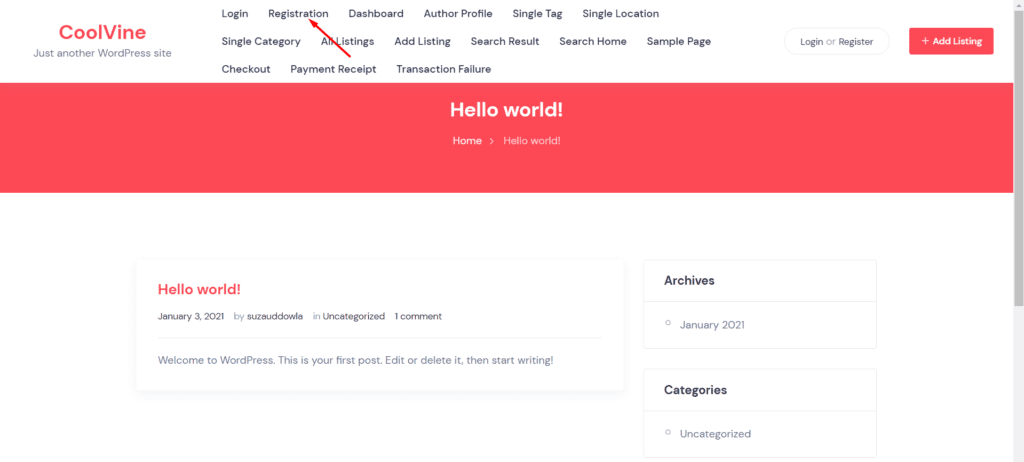 Now, after hitting the Sign up button, he will be registered.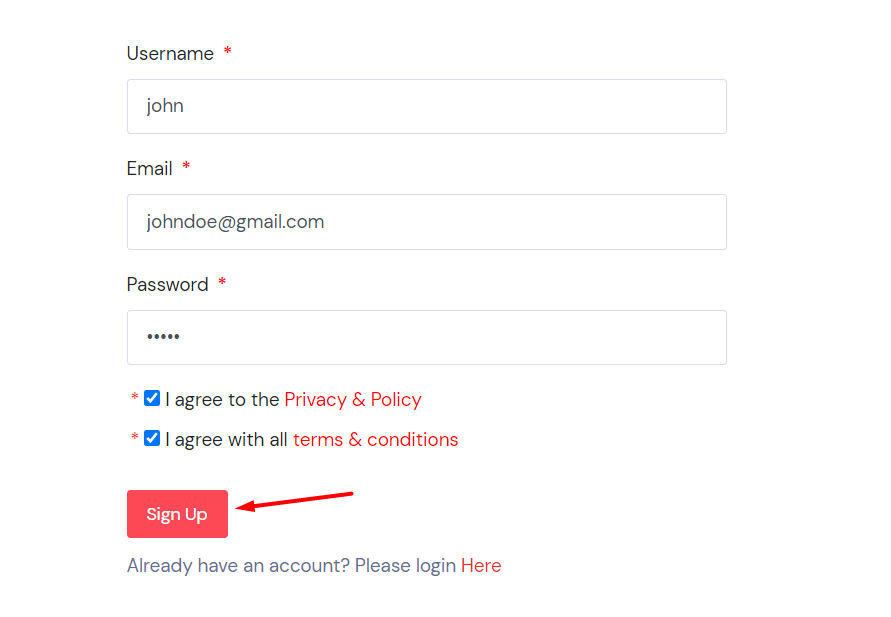 After that, he will have to login again to be able to add listings: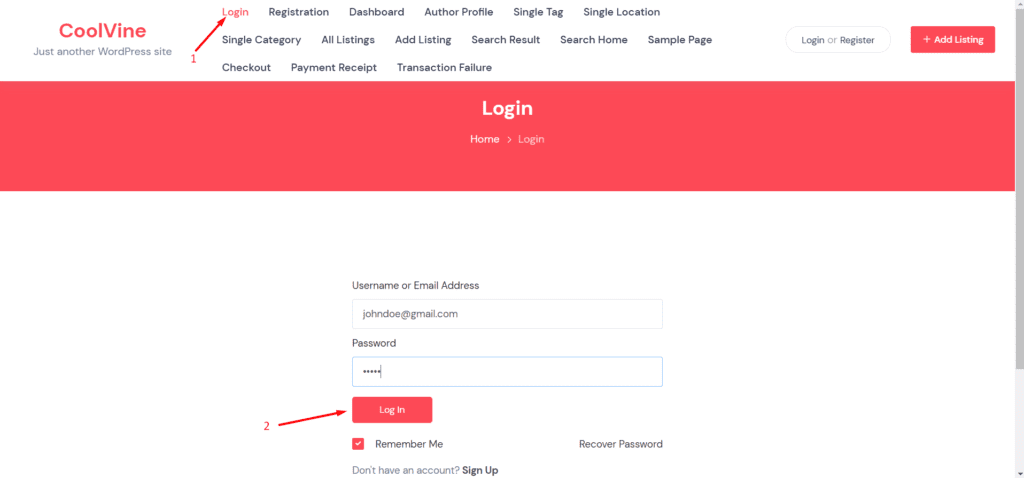 After hitting the login button, he has to select the "Add Listing" option.
Then he will find the pricing plans you created.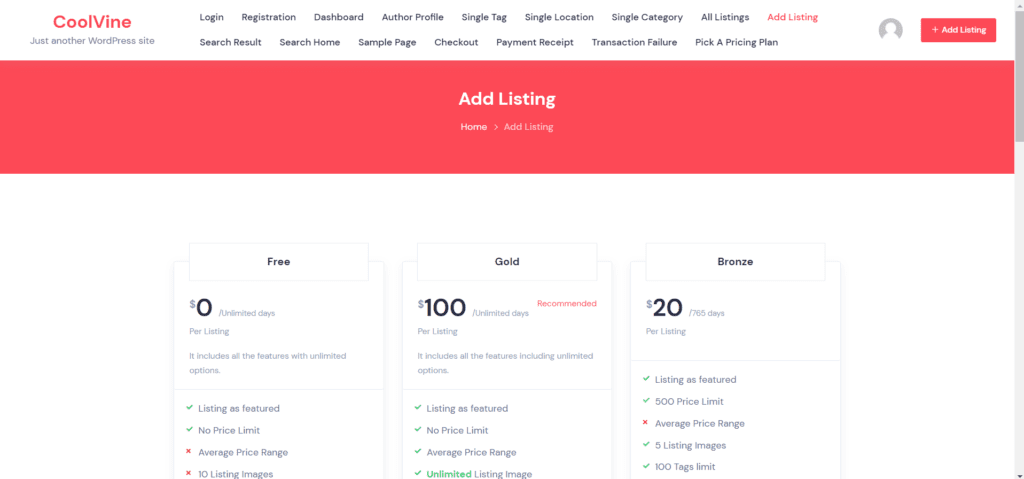 From here, he can choose a pricing plan and submit their listings.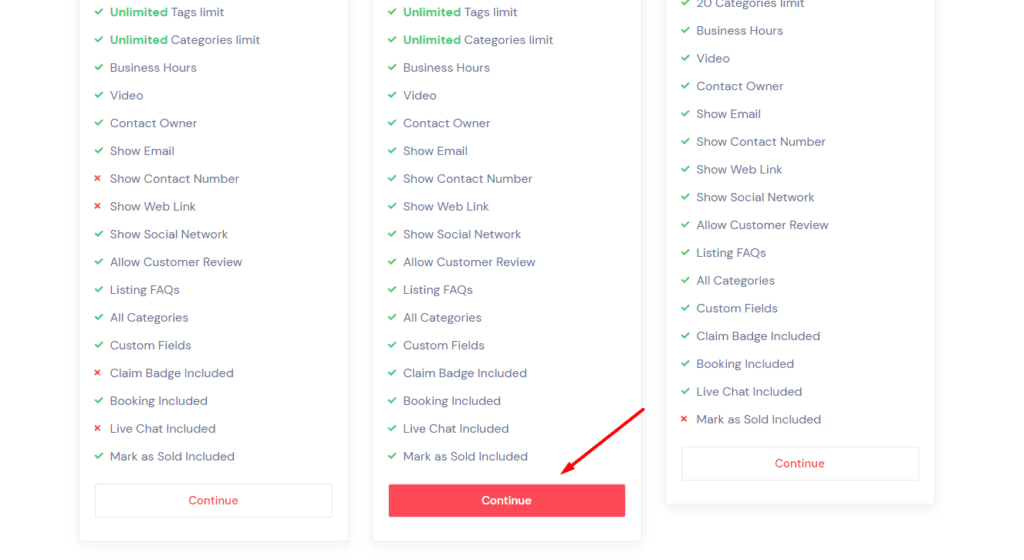 Suppose, John chooses the Gold pricing plan then, he has to select the Continue button to proceed: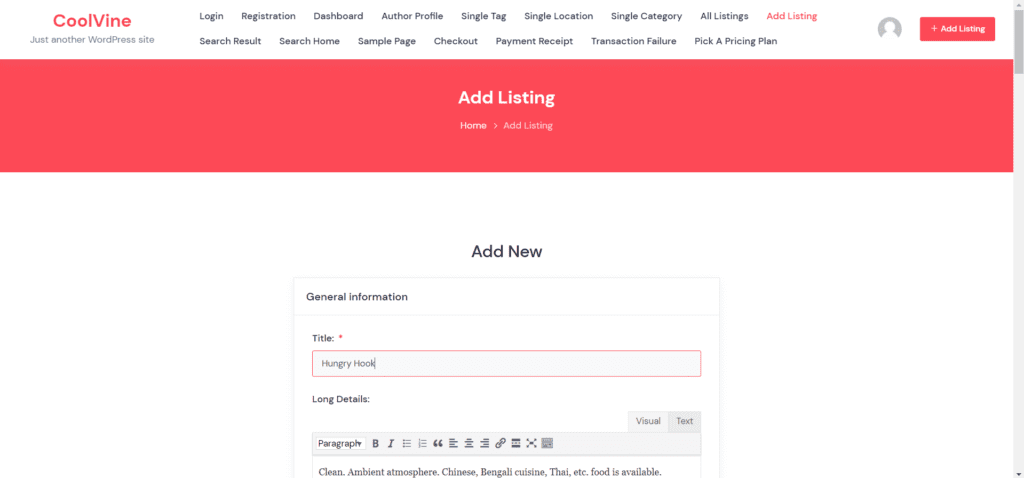 After entering all the essential data he will then click on the Save and Preview button: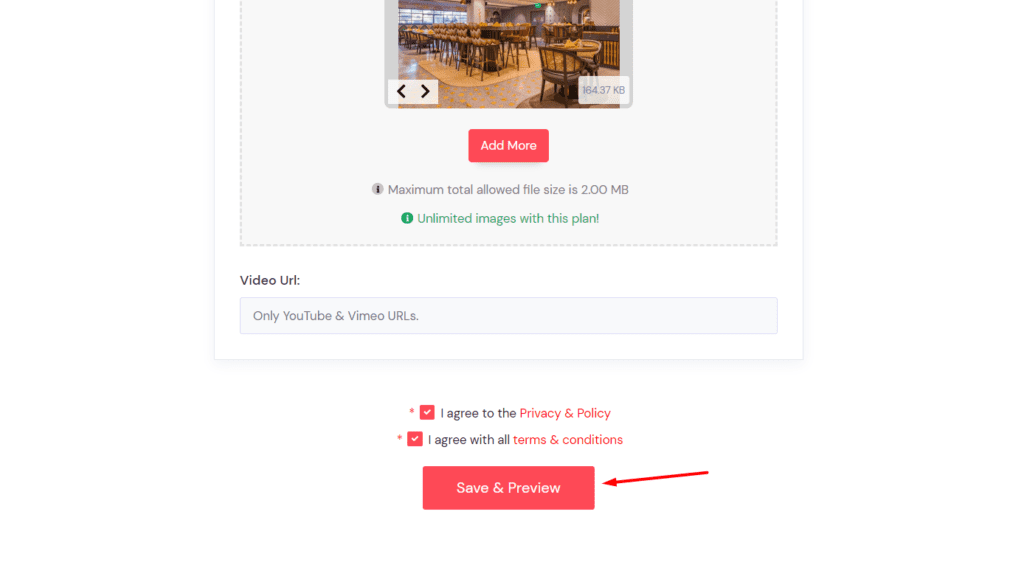 After that, he will hit the Continue button to proceed to checkout: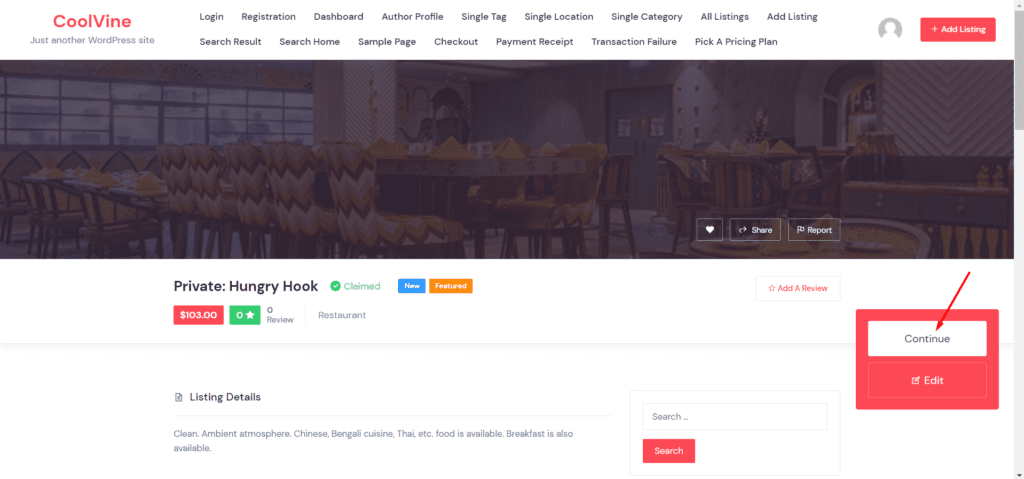 Now, he will see options to pay. Here, John will be paying by Bank Transfer.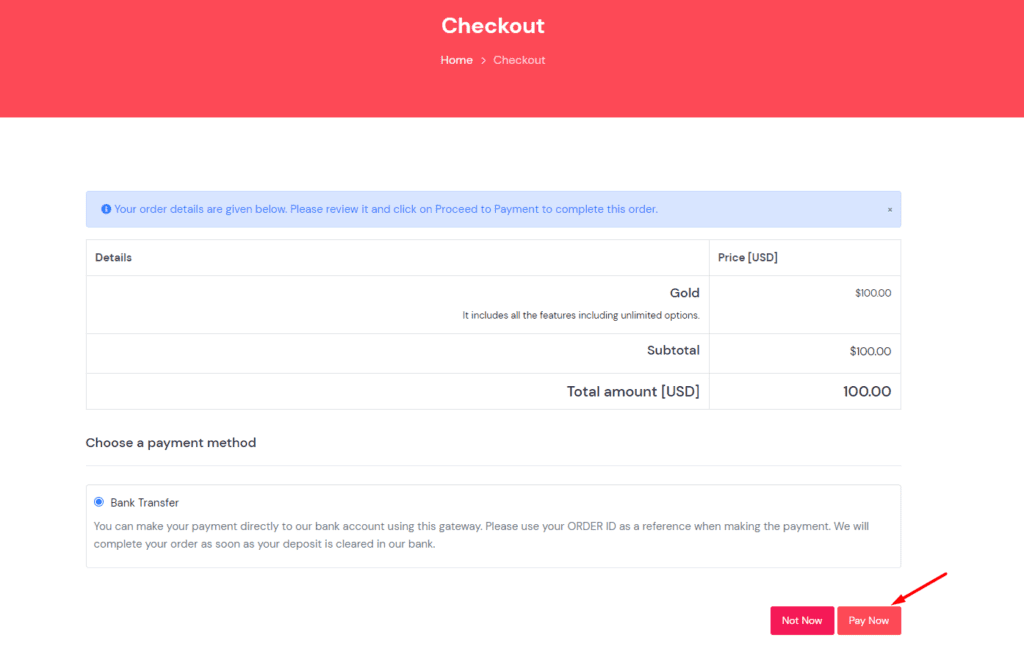 After the payment, he will be able to view a welcome message: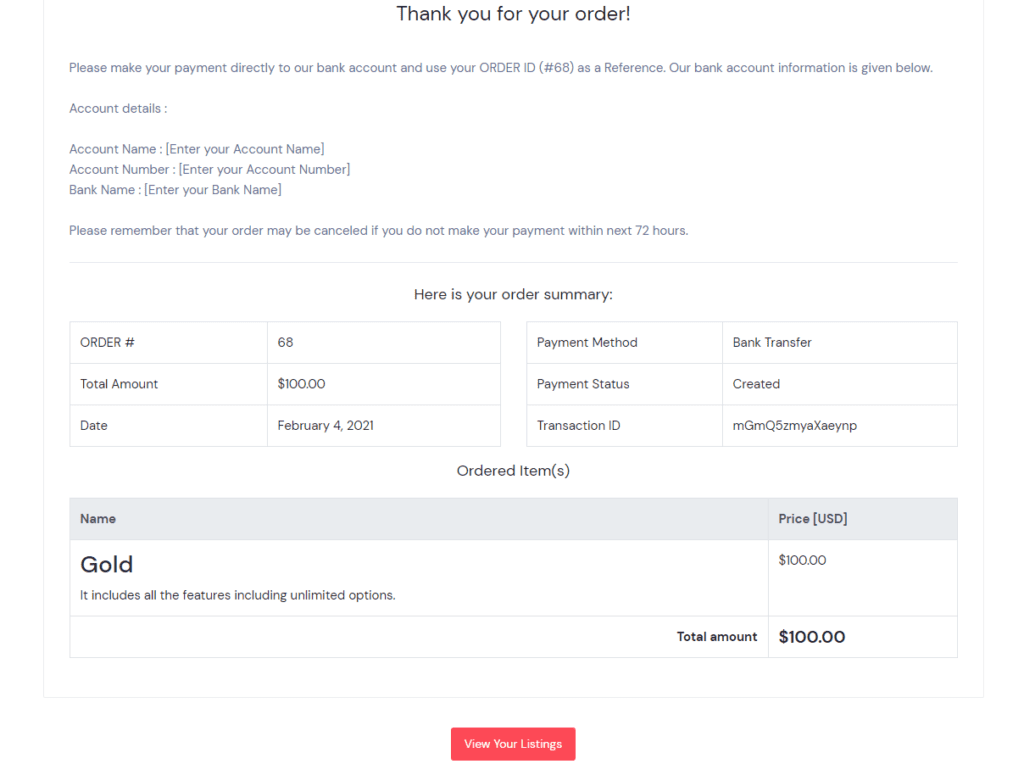 Now, John, can see his listing as pending by default (As an admin, you can change it any time though):

Then again, you can also manually add a business owner from WP Admin Dashboard > Directory Listings > Add New Listings too! This feature will be quite helpful not to wait for the orders from the business owners.
Once, you manually add listings, the business owners will later claim the orders in exchange for a certain charge which is a good way for you (as an admin) to make profit.
Step 7: Accepting Orders
Now, it's time to accept orders! Go to the WP Admin Dashboard > Directory Listings > All Listings > Publish a Pending Order:

Now, John's order status will be changed to publshed from pending:

Preview of the Directory Website from the Frontend
Here we are inserting a few data on behalf of some business owners so that we can emulate a real directory site. This will give you a comprehensive idea of how a full-fledged website will look like: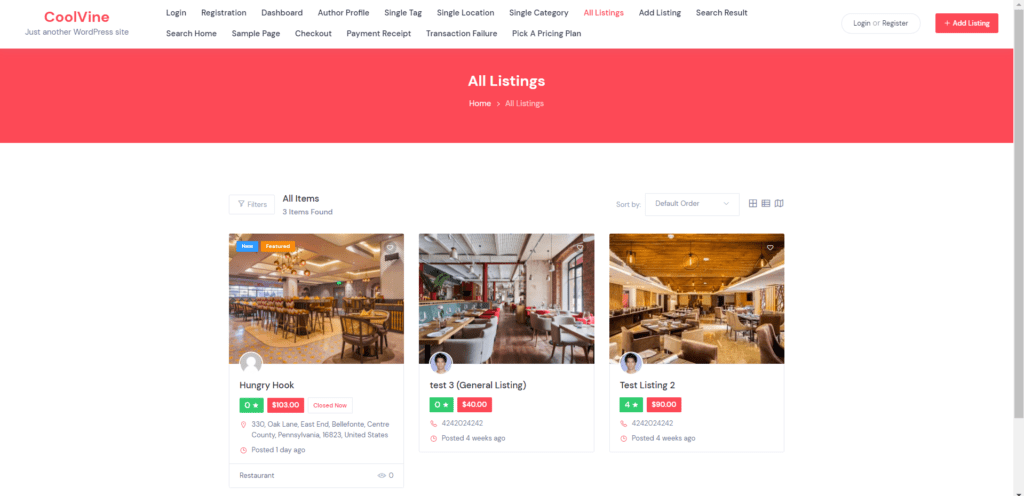 Conclusion
We hope this article will be effective enough to guide you build a directory site with little effort. If you get stuck with any problem, don't hesitate to knock us in the comment section. We will be super responsive to take you to the rescue.