Introducing the Blazingly Fast "Directorist Instant Search" Option
4 mins read
An "Advanced Search" feature has become a bare necessity for a directory website these days. By Advanced Search feature, we mean you have a directory website having a lot of filter options to help your users get the intended results, most relevant to them. But is it just enough for your directory website? The answer is a big "no-no".
Why? Because the big brands are streamlining their directory website with a new searching method called, "Instant Search" which is way much faster than the existing mere "Advanced Search" option. With that in mind, to take your directory listings website to the next level we have developed a new Ajax-operated Instant Search option for your Directorist-powered website. Now, let's dig deeper to know more about the 'Directorist Instant Search' Option.
What Is the "Directorist Instant Search" Option?
The instant search option helps the visitors get their desired search results without any page loading. This means the visitors will get their listings at a lightning speed as soon as they hit the search button. This is a new feature that has just been released to Directorist 7.2.0 version.
However, you can control instant search with a bunch of shortcodes and parameters which we will discuss in the next section.
Why do you need an Instant Search option?
In case, you are not convinced yet, a one-second delay in page load time yields:
11% fewer page views.
16% decrease in customer satisfaction.
7% loss in conversions (Source: The Daily Egg).
a negative impact on your customers' minds making them.
less engagement of visitors which makes it harder to convince them in buying something from your website.
This is why you need to implement the "Instant Search" feature in your directory website so that you can give your visitors a state-of-the-art technology experience right now. Here are the other reasons to consider:

Adopting cutting-edge technology to grow quicker: You will need this Directorist instant search feature to catapult your website to the futuristic and more dynamic technology trends.
Making your directory website more user-friendly and intuitive: With an instant search option, you are helping your website visitors quickly navigate to their desired listings improving user experience and user-friendliness. This is a pretty effective way to make your website more intuitive, attractive, and functional.
Increasing brand value: If you make your directory website smoother for the users, they will have a buttery experience with your brand. Again, with this faster way of searching option, you are creating a brand value which is not possible the other way around.
Optimizing conversion rate: This instant search option will attract more visitors which will eventually convince more listing owners to submit their listings.
How does it work & make the filtering process faster?
As we already said, it works with the power of Ajax's fast operation method allowing your websites for searching instantly. But you may be wondering how it actually works under the hood.
To make it work properly, you must upgrade to the Directorist (version 7.2.0 or higher). Next up, navigate to the WP Admin Dashboard → Directory Listings → Settings → Listings → All Listings → Turn on the Instant Search toggle button → Save Changes.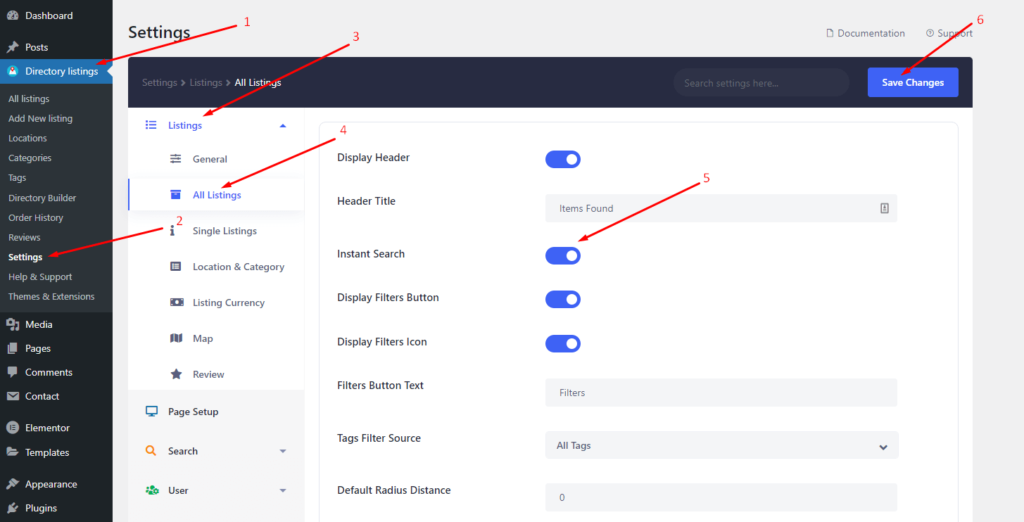 Bam! It's as simple as that! Now your directory website is ready with the Instant Search feature.
However, please note that the Instant Search feature will only work in the filter option of the All Listings Page and Search Result Page. Again, to make it work your users must perform the search on the all listings page or search result page.
Notice, how the reload page icon of the browser is not changing and the results are quickly shown even if I am using the apply filter button.
Control the Instant Search option with shortcodes & parameters
The instant search option comes with a shortcode parameter with a yes|no value.
Parameter: instant_search="yes"
You just have to add the parameter with the shortcode of each page except the search result page.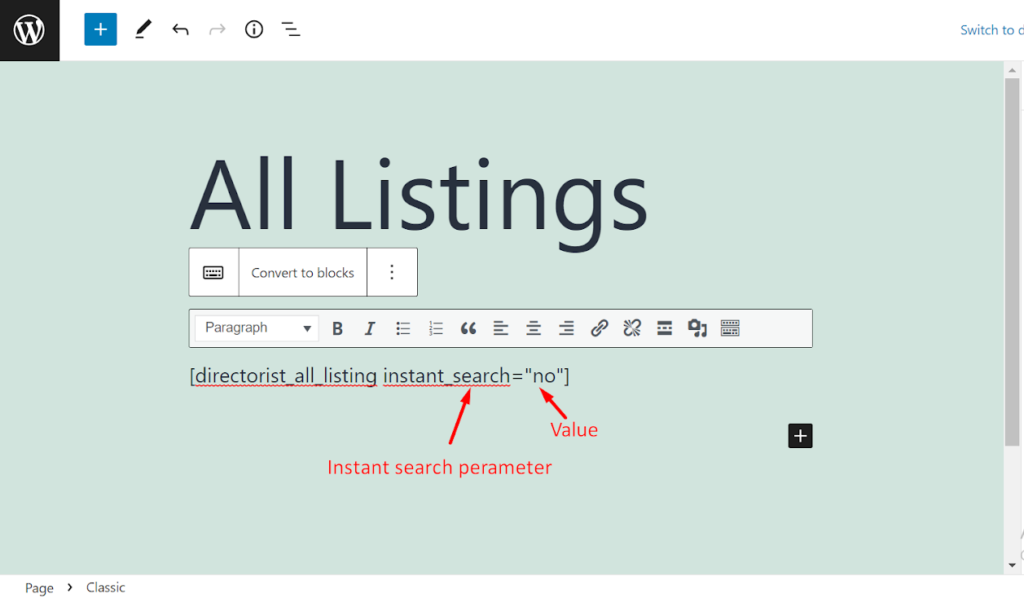 These are the shortcodes which the instant search parameter works with →
[directorist_all_listing instant_search="yes"]
The shortcode has a higher priority than the settings option. In other words, if you use these parameters they will overwrite the default settings. For example, assume that you turn on the toggle button of the Instant Search option, but use the parameter 'no'. This will turn off the Instant Search option as the latter has the higher priority.
The Final Outcome
We hope embellishing your website with cutting-edge technology like the Instant search will not only benefit your users' time but also help you attract more visitors. This way you can expand your business more and run circles around your competitors.
If you liked our posts, don't forget to subscribe to our blog so that we can notify you once any post is published. Directorist is now on Facebook, Twitter, and LinkedIn! You can also join the Directorist Community for sharing your thoughts and experiences relating to the directory niche. Come and join us to see what we're up to.