8 Best Classified WordPress Themes to Boost Your Business
It is important to choose a classified WordPress theme that is not only functional but also looks good on the screen. But how can you choose the right one while there are tons of options out there?
Choosing the best classified WordPress theme for your business depends on what you want from this theme. There are many different types of classified WordPress themes available in the market and each one has its own set of features. Some of them are more suitable for selling products while others are more suited for providing services.
With thousands of WordPress themes out there, it's hard to decide which ones are the best. Sad but true, there are many themes that look great on the surface, but underneath the hood, there are bugs and issues that may impact your business to a greater extent. That's why we have gone through a lot of classified WP themes to find the best ones.
Here, we will be taking a closer look at the list of best classified WordPress themes and why it's important for businesses to start using classified WordPress themes to elevate your business to a whole new level.
Let's make it go to seed.
Why Should You Use a Best Classified WordPress Theme?
In the digital marketing world, there are always new things to learn. One of the most interesting topics that have emerged in recent years is the classified ads listing business. Creating a quality classified site could be a daunting task if you don't know how to start. Choosing the right classified WordPress theme can make the whole process way easier. You will find tons of options out there in the market, but these are not just regular themes that you can purchase off of theme marketplaces. Instead, these are custom-made themes that you can use to create online classified sites that will bring in a lot of traffic.
As we all know, WordPress is the most popular content management system (CMS), which powers millions of websites. In fact, 40% of all websites are running on WordPress. The WordPress platform is not just for blogs and personal sites, but you can also use it to create a successful classifieds website for which you need a classified theme.
Moving forward, if you're looking to create or improve your business website, then a WordPress theme with classified ad functionality is the way to go. Classified ads have been around for decades, but they're still an incredibly effective means of attracting new customers and generating revenue. Also, the best part about using a classified theme is that it's relatively easy to set up and comes with powerful features and customization options.
Again, there are many classified sites that don't get recognized just because of the poor layout and less customizability with a poor appearance that eventually drives to no traffic. But, choosing the right WordPress classified themes offer a lot of features & functionalities with more customizability that can help your business grow exponentially. Moreover, these themes help you to start a marketplace website for selling products or offering services. 

Top 8 Best-Classified WordPress Themes for Your Business
Picking a theme for your classified ad website is just as important as picking a theme for your blog or business site. You should make sure you put your best foot forward and take advantage of every feature available to you.
Interestingly enough, we've looked through so many classified WP themes out there and have picked out the eight best ones. We will tell you what they are and why they're the best. Let's set the light.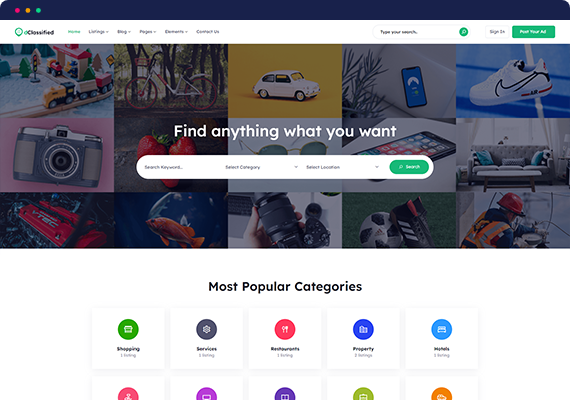 The first classified listing theme on this listicle article is dClassified. It is a theme that is rigged up to build classified listing websites in the easiest way possible. Sincerely speaking, the theme is clean and simple yet one of the most powerful Classified WordPress themes with a swarm of sparkling features that you need to create your classified listing website.
Talking about features? A modern user dashboard, a built-in SEO system, unlimited custom fields, and a multi-directory option, all are the key components of this theme to make your site prolific exactly to the extent you want.
What's more, the theme allows you to collect money even from the faraway land using the payment methods like PayPal, Stripe, etc. Meaning you are almost open to the World when it's time to talk about the payments you earn through your classified ads website.
Not to mention, dClassified is a 100% mobile responsive theme that has brought itself to the light of native mobile apps ( Android & iOs) enlightening the lives of millions of people from different parts of the world. Listings with Map, Social Login, Pricing Plans, Directorist – Live Chat, etc, are the features the theme can boast of.
Finally, if you want to switch on the best in you with worth a bundle classified website, then it's the right time to start with dClassified theme with no looking further for other WordPress classified themes.
Classiera is a classified theme for WordPress that lets you create your own classified ads website. It has all the features that you need to create a successful online classifieds website and even more. Interestingly enough, the theme comes up with a beautiful and very intuitive interface, to make it easy to navigate and search the ads. The theme is suited for people who are interested in making a site that allows users to buy and sell their products.
Moving forward, this best classified WordPress theme will let your users add listings to your website through front-end submission. Moreover, it will allow you to monetize your classified site by setting up even your own payment gateway to receive money from adding the listings or selling products & services by the users.
Moreover, this theme is built with an advanced admin panel that allows you to manage everything from categories to products, ad listings, and category listings. Last but not least, Classiera paves the way for the admin to create video listings so that the users of the site can promote their products, services, or even businesses to the utmost possible level.
Classiads is a WordPress classified theme with a modern design and an intuitive interface. It has a responsive layout so it is compatible with any mobile device, making it perfect for posting your classified ads on any kind of site. Moreover, Classiads comes with a fully-featured contact form, Google maps integration, and social media sharing buttons. The theme allows your users to submit their listings in a few clicks and to customize the look and feel of the listings using the frontend submission feature. Also, WooCommerce and powerful page builder plugin integration give it extra value in the industry.
Finally, some of the game-changing features we can mention are monetization options, social logins, different payment gateways, Slider Revolution, and complete RTL support.
Classima is a fully responsive, retina-ready WordPress theme for classified websites. It is perfect for your business, corporate, agency, or any other type of website. This best classified WordPress theme is a WordPress theme for classified websites and it helps your customers to submit listings in a clean and professional-looking way.
Some of the sparkling features that the theme comes up with are advanced search, reviews, ratings, unlimited custom fields, multiple ad types, and different payment gateways.
Classipress is a powerful and flexible theme with an intuitive admin panel, packed with useful options to control your website's design and functionality. It has been built using the latest web standards as well as Page Builder which allows you to create complex layouts using nested elements.
Moreover, this theme is one of the most popular and powerful classified themes out there. It is easy to use with a simple installation procedure but packed with many features.
Classipress is responsive and retina-ready with a mega menu for easy navigation. It has custom page templates for the product and category pages that make it visually appealing on any device. This theme is best suited for business websites like job portals, real estate sites, or any other classified websites.
Listify is a simple, clean, responsive, and feature-rich WordPress theme with a beautiful design. It was developed for creating lists of any kind: product showcases, services, or blog posts.
This theme is also the most popular free classified theme. No matter what kind of classified website you have in mind, this theme can get the job done. The possibilities are endless with Listify! Again, one of the goodies of this theme is the WooCommerce payment plugin integration which allows you to receive money from the users for featured ads and add listing fees.
Lisfinity is a fully responsive Bootstrap template that comes with unique features and unlimited customization options. The theme has a clean, minimalist design that looks beautiful on any device. It is ideal for all types of classified websites such as job boards, real estate listings, auction sites, or any other business directory. Moreover, this is the best WordPress theme for classified website that is highly customizable and well-documented.
Classify is a flexible, customizable, and highly useful theme for classified ads. It's a great choice for anyone who wants to build a marketplace or marketplace-style site in WordPress. There are many features that give you such an excellent solution for classified sites. As a part of the Classified Theme, it has plenty of features that allow users to create a variety of different types of classified ads.
Additionally, you can choose from a variety of ad layouts and customize the appearance to suit your own design. Interestingly enough, this theme is compatible with many functional plugins like WooCommerce, bbPress, WPML, and more.
To Wrap Things Up on Best WordPress Theme For Classified Websites
It goes without saying that a classified website is a powerful business platform that allows you to connect with customers from different points. Since your business deserves to be recognized, it's important to choose the best WordPress theme for a classified website that will not only offer you an excellent user experience but will also help your brand stand out from the crowd.
Thankfully, there are hundreds of free WordPress classified themes around. And, out of them, we handpicked the above list. You can use any theme from the list which suits your needs the most.
If we have missed something out of the above list, feel free to let us know in the comment section below. We will try to solve your problem as soon as possible. Also, if you think that we deserve a share, then don't hesitate to share our guide with your friends, family, or colleagues.
If you liked our posts, don't forget to subscribe to our blog so that we can notify you once any post is published. Directorist is now on Twitter & Facebook! You can also join the Directorist Community for sharing your thoughts and experiences relating to the directory niche. Come and join us to see what we're up to.