How to Make a Classified Ads Website for Free with WordPress
10 mins read
Do you want to launch your business even if you don't have any physical products? Do you want to avoid the risk and high initial investment of developing your own products? Do you want to keep the business wheel running while you are sleeping or hanging out with your friends? If you are looking for such business tactics, you have landed in the right place. Well, among only a few business models, creating a classified ads website is the rarest one that will help you achieve a stable profit with the least effort exerted and the least money invested.
Having said that, you will find a wide range of classified ads website builders out there. Unfortunately, very few of them seem to be worthy of recommending as they come up with an enormous burden of initial cost that is hostile to a wannabe entrepreneur trying to launch a classified ads website. Besides, most of the classified ads website solutions also fail to check the essential boxes when it comes to scalability and low maintenance cost down the line.
Not to worry – as the saying goes, "While there is a problem, there is a solution." In this article, we will not only be showing you the ways how to create a classified website like Craigslist, or OLX for free with WordPress but also will show you how to monetize them with ease. So let's get the ball rolling.
A Detailed Guide on How to Create a Classified Website
Make sure you have the following requirements to create a classified website:
To know how to implement these more efficiently, you can proceed to the next steps of this tutorial.
1. How to create your own classified website – Domain & Hosting
Whether you are to create a classified ads website or any kind of website, you must need to purchase a domain. In case, you did not know it is nothing but the unique website address or the URL of your website. While choosing your domain name, it is always wise to pick a domain that resonates with your brand or business type.
While it's not necessary to pick such a domain but it is good for search engine optimization in that your website will easily get indexed due to the relevancy of the keywords of the domain. For example, you can choose something like ukclassifieds.com or usclassifieds.com to maintain relevancy. Moreover, if you do not get a .com domain extension followed by your preferred domain, feel free to buy other extensions like .net or .io, etc.
Next up, you need a reliable hosting service to host your website. In this regard, we will be suggesting you purchase a basic hosting plan due to the low traffic coming to your website initially. However, once you start getting a good amount of traffic, you can go for the premium plans.
You can buy domain & hosting services from popular websites like GreenGeeks or Bluehost or GoDaddy and Kinsta or from anywhere you want.
2. How to create a classified website – Download & install WordPress
Now, you need a content management system to manage your website data. For this tutorial, we will be using WordPress because:
it is powering up 40.0% of all the websites on the internet.
in the CMS market, it is leading with a 60.8% market share.
14.7% of the world's top websites are being powered up with WordPress.
The official WordPress Plugin Directory features 59,000+ free plugins including security plugins and SEO plugins.
the WordPress community is helpful and you will never feel stranded.
you will get 8,800+ free themes on the official repository in WordPress.org.
it's open source.
We suggest you use WordPress for your directory website for scalability, stability, and versatility or customizability using open-source code.
With that in mind, you can contact your hosting provider to install WordPress on your behalf. However, if you are a tech-savvy guy with a DIY mindset, you can do it all by yourself taking help from here.
3. How to create a classified website – Install & activate Directorist
For this tutorial, we will be using Directorist as it offers the most versatile features even in the free version. In addition, it has 8,000+ active installations with more than 4.7 ratings on WordPress.org. Besides, its versatility allows you to create any type of directory website within just a few minutes.
Once your fresh WordPress website is up and running, you can go to WP Admin Dashboard > Plugins > Add New > Search for the keyword 'directorist' > Install the following plugin as indicated with an arrow.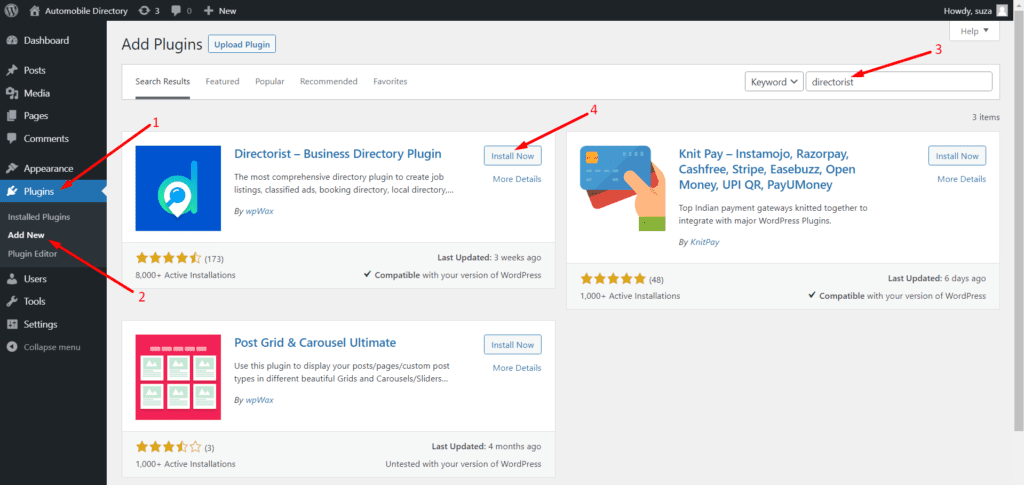 Next up, you need to activate and configure the setup wizard to get the ball rolling. We recommend you visit our official documentation that will help you to do so
4. How to build a classified website that looks cool – Install a directory theme
You can use any theme for your directory website but choosing a directory website-optimized theme will add extra flavor to the appearance. Thus we will be using a free and Directorist optimized classified theme called 'OneListing'. You can get the theme for here.
Once you get the theme, navigate to the WP Admin Dashboard > Appearance > Themes > Add New.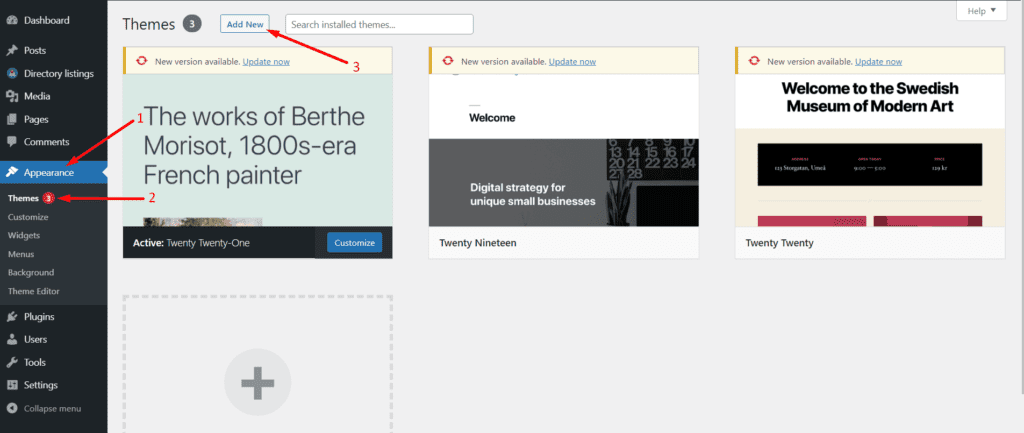 Then click on Upload Theme > Choose File and select the 'onelisting.zip' > Install Now.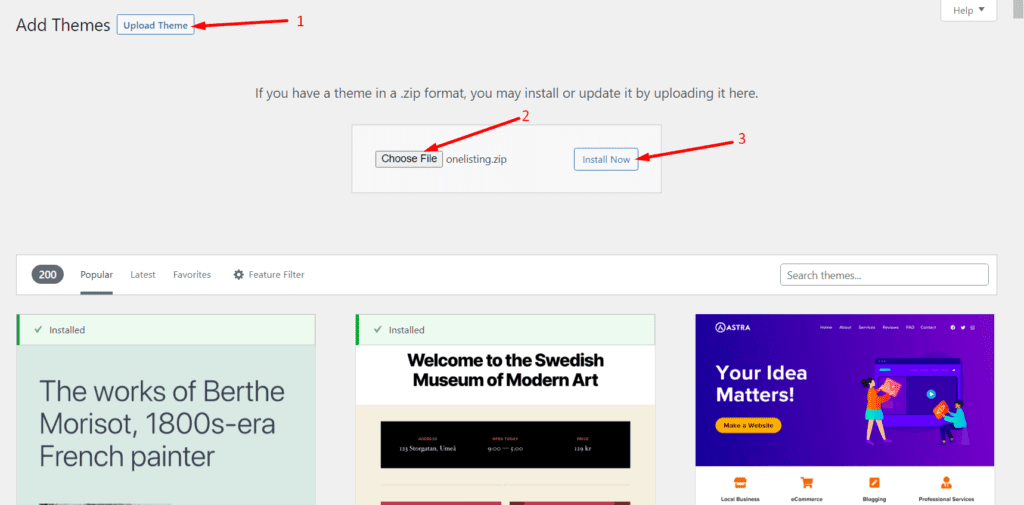 Now, activate the theme to take an effect:

And that's it!
You can also use the premium version of the theme which will be available soon.
But we recommend that instead of upgrading the OneListing theme to its pro version, you can pick another premium theme called dClassified which is solely developed to meet all the visual needs of a great-looking classified website.
5. Create & save a menu adding a page for your classified ads website
If you used wpWax Demo Importer in the Setup Wizard to import the demo listings to your website, the Directorist pages will automatically be added to the menu. In this case, all you need to do is to create and save the menu.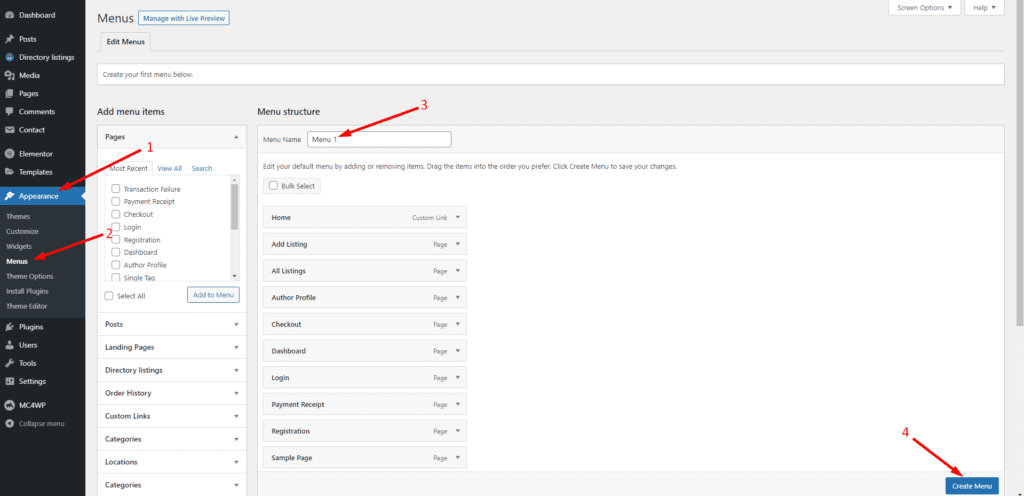 After creating the menu, check the "Auto add pages" and "Display location" boxes and then hit the Save Menu.

However, if you did not use the demo importer in the setup wizard, you must create and save the menu. Then you have to add the pages manually to the menu and save the menu. If you face any difficulties, go along with this documentation to learn how to do it.
6. Turn the monetization feature on from the Directorist settings
If you are creating a classified website, you must ensure how to earn money from classified websites. Luckily, in Directorist, you can turn on this feature while you get the setup wizard right after installing Directorist for the first time. Again, you can take help from this documentation to set up the monetization feature. Usually, the monetization feature of the setup wizard looks like this: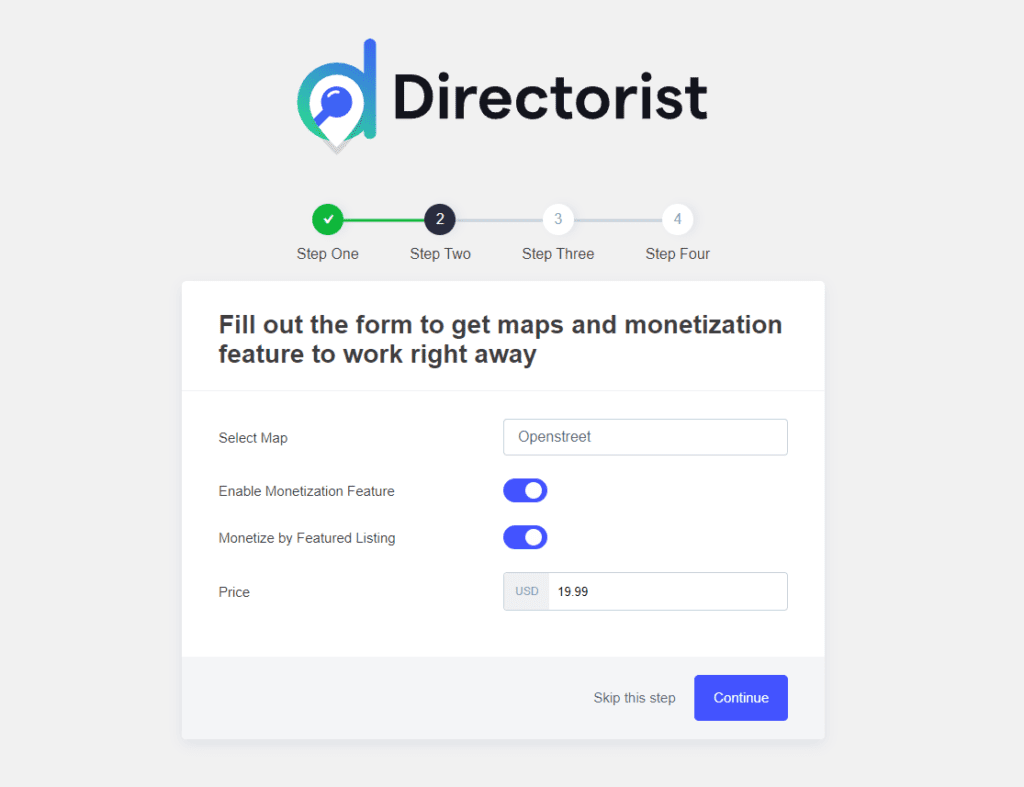 While installing for the first time you must make sure you turned on the "Enable Monetization Feature", "Monetize by Featured Listing" and Price for the featured listings in the setup wizard.
However, if you missed it or to make sure that the feature is turned on, navigate to the WP Admin Dashboard > Directory Listings > Settings > Monetization > Featured Listing > Turn on "Monetization by Featured Listing" > Save Changes.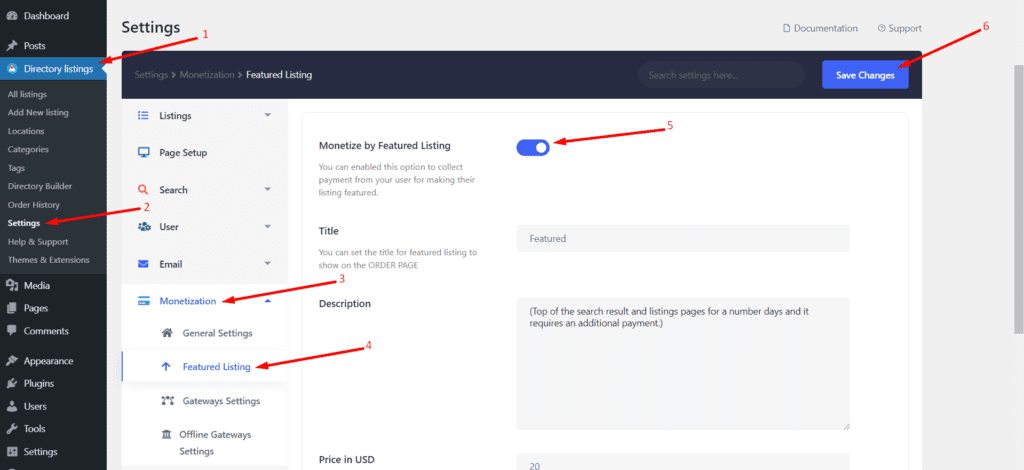 Unfortunately, one important thing on how to create a classified website with Directorist free version is that you can only monetize the featured listings. Thus to charge for each and every listing or to create an amazing pricing plan for the business listings, you will have to buy the premium extensions, Pricing Plan, and Rank Featured Listings.
The Pricing Plan extension will allow you to create any type of pricing plan tier whereas the Rank Featured Listing will help you to show the featured listings according to the amount the users are paying. The more the users pay to you the higher their listings will appear on the All Listings page.
Related Post: How to Set Listing Rates for Your Business Directory that Attracts New Customers
7. How to create a classified website – Spice up with Featured Listings to earn money
If you are on the quest to know how to create a classified website that generates profit then this is for you. You need to go to the Directory Listings > Directory Builder > Add Listing Form > Drag and drop the Listing Type field to the form.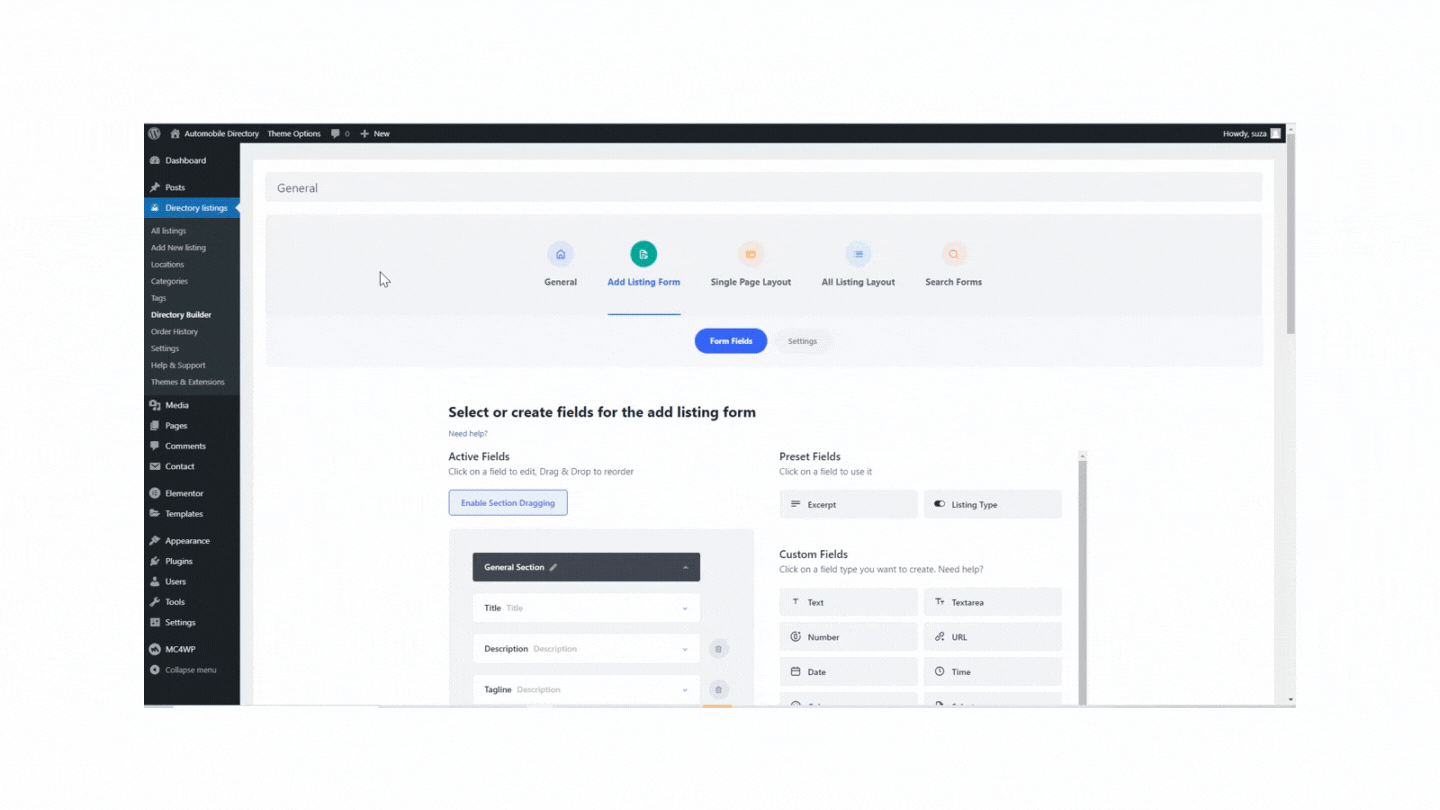 This will allow the users to select whether they want to submit regular listings or featured listings.
8. Create categories & tags for your classified ads listings website
Categories are really important for the visitors to find their desired product faster. Without adding a category, it will be much harder for a listing owner to make his ads actually classified. With Directorist, you can not only give a name to a certain category but also assign it to a parent category, give a description, add an image, and assign a category icon & color to it.
To do so, navigate to the Directory Listings > Categories > Fill out the fields and make sure to hit the "Add New Category" button.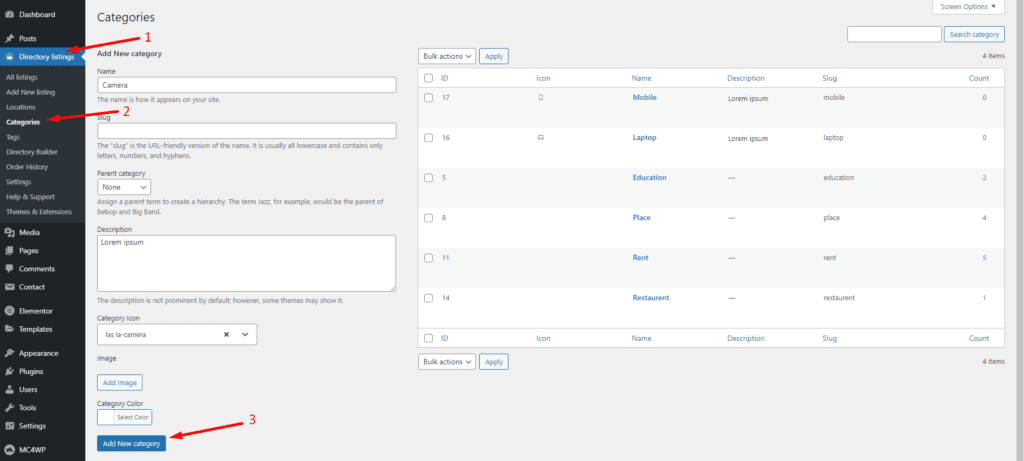 Similarly, you can add tags so that the visitors can find their desired item as fast as possible. You can do it from Directory Listings > Tags > Enter Credentials > Add New Tag.

9. How to make a classified website – Add new locations
This is just like adding categories or tags. It helps the users show relevant ads to the relevant locations. To add locations, you have to go to the Directory Listing > Locations > Enter credentials > Add New Locations.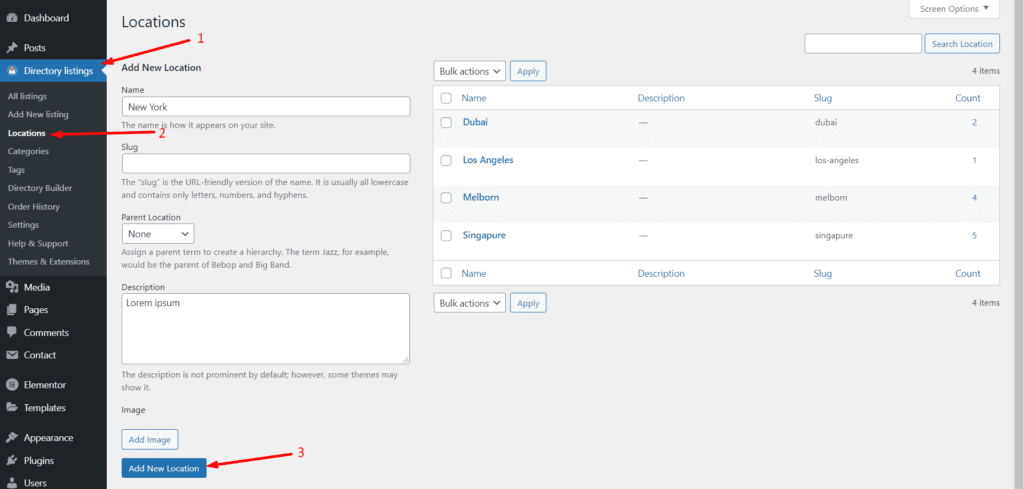 10. How to create a classified website – Submitting classified ads
Now it's your visitor's turn to add classified ads. When a user lands on your website, s/he would see a navigation bar where the user can add the classified ads from. Generally, the user needs to click on the "Add Listing" button to submit his or her ad.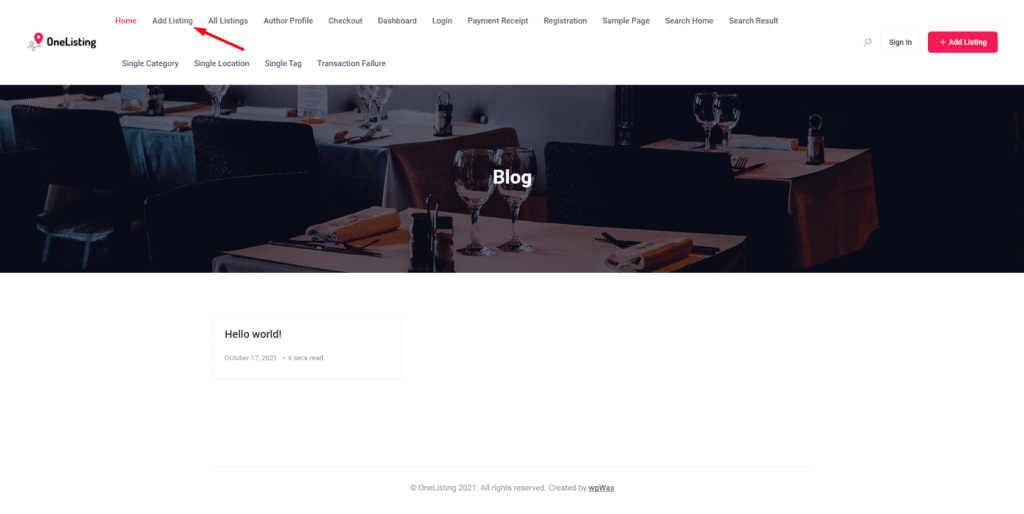 In this case, the user must sign up and confirm the email address before s/he can submit the listings or classified ads. But this is a great way to lose many customers. Because customers are too lazy to submit the registration form. So why not enable a way that does not require signing up before posting classified ads?
Surprisingly, Directorist has a special feature of guest submission which means you can let your users submit the ads even if they are not signed up or logged in to the website. You can enable this feature from the following settings: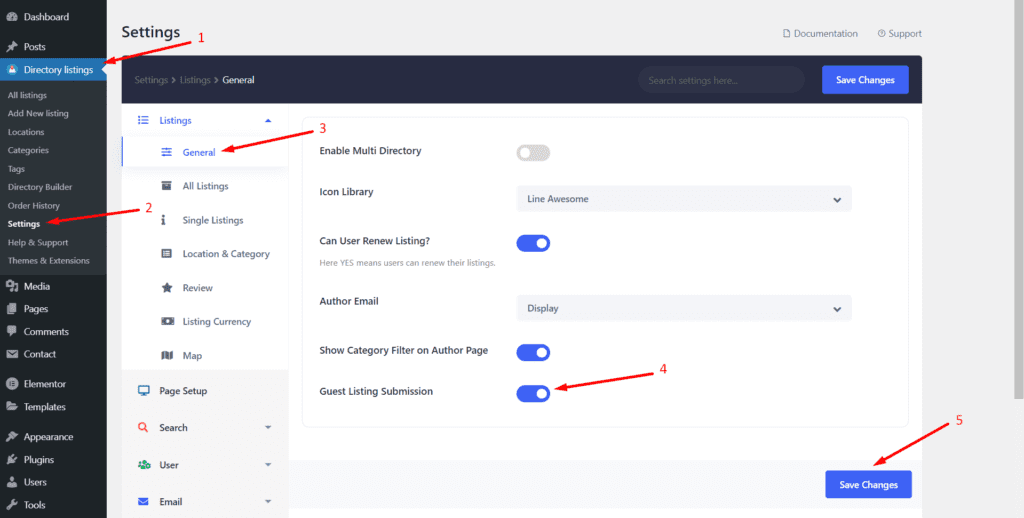 Now, as you have enabled the "Guest Listing Submission" feature, the visitor will get the add listing form to submit his/her classified ads after s/he clicks on the Add Listing option:

Finally, the user needs to hit the "Save & Preview" button to preview the ad s/he is going to submit. Next up, s/he will have to hit the continue to finalize the process: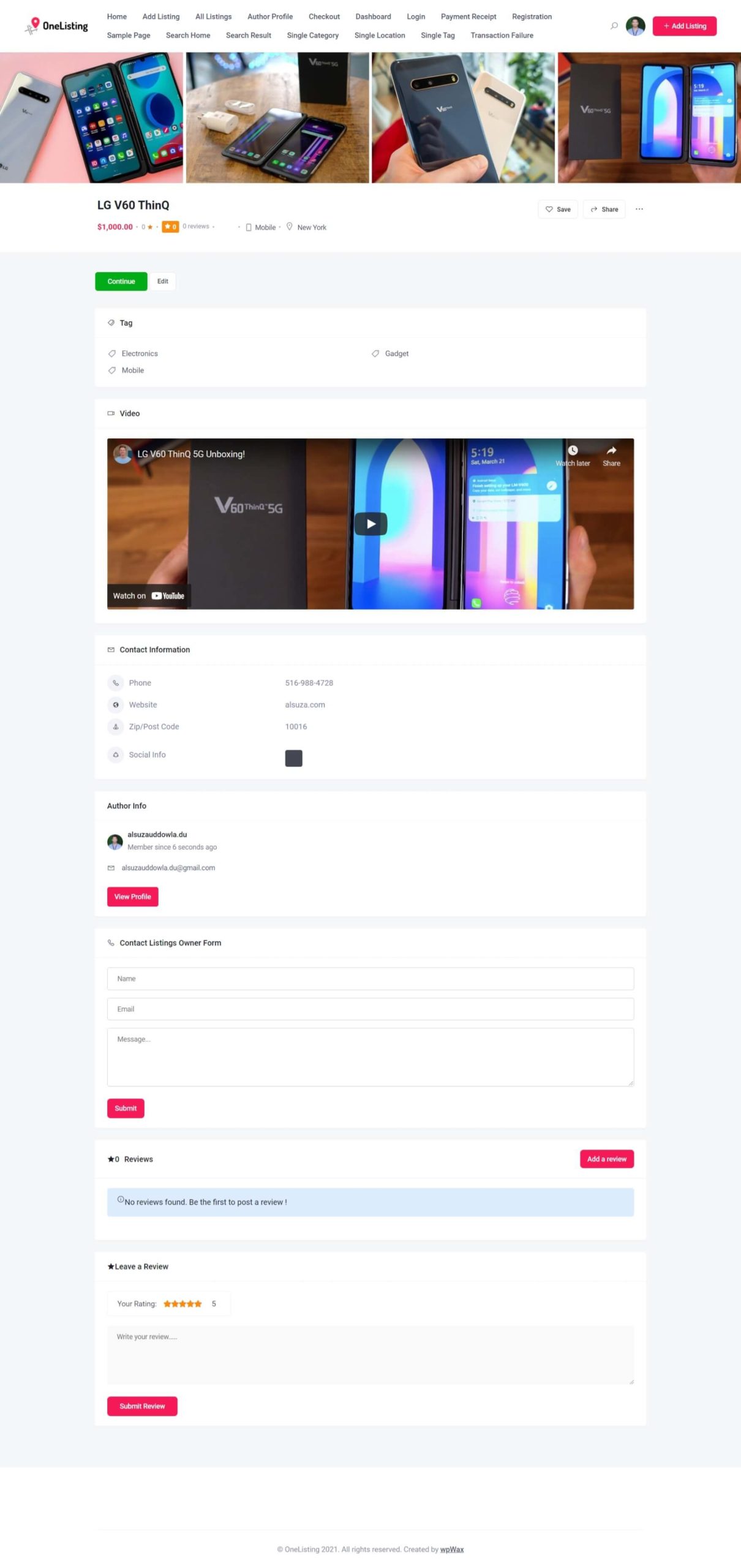 But, as you can see from the screenshot above, the single listing page is not showing up the product description that the user added in step 10. Thus, to add this, you need to go to the Directory Listings > Directory Builder > Single Listing Page Layout > Content > Drag and drop the description field to the form > Hit the Save button.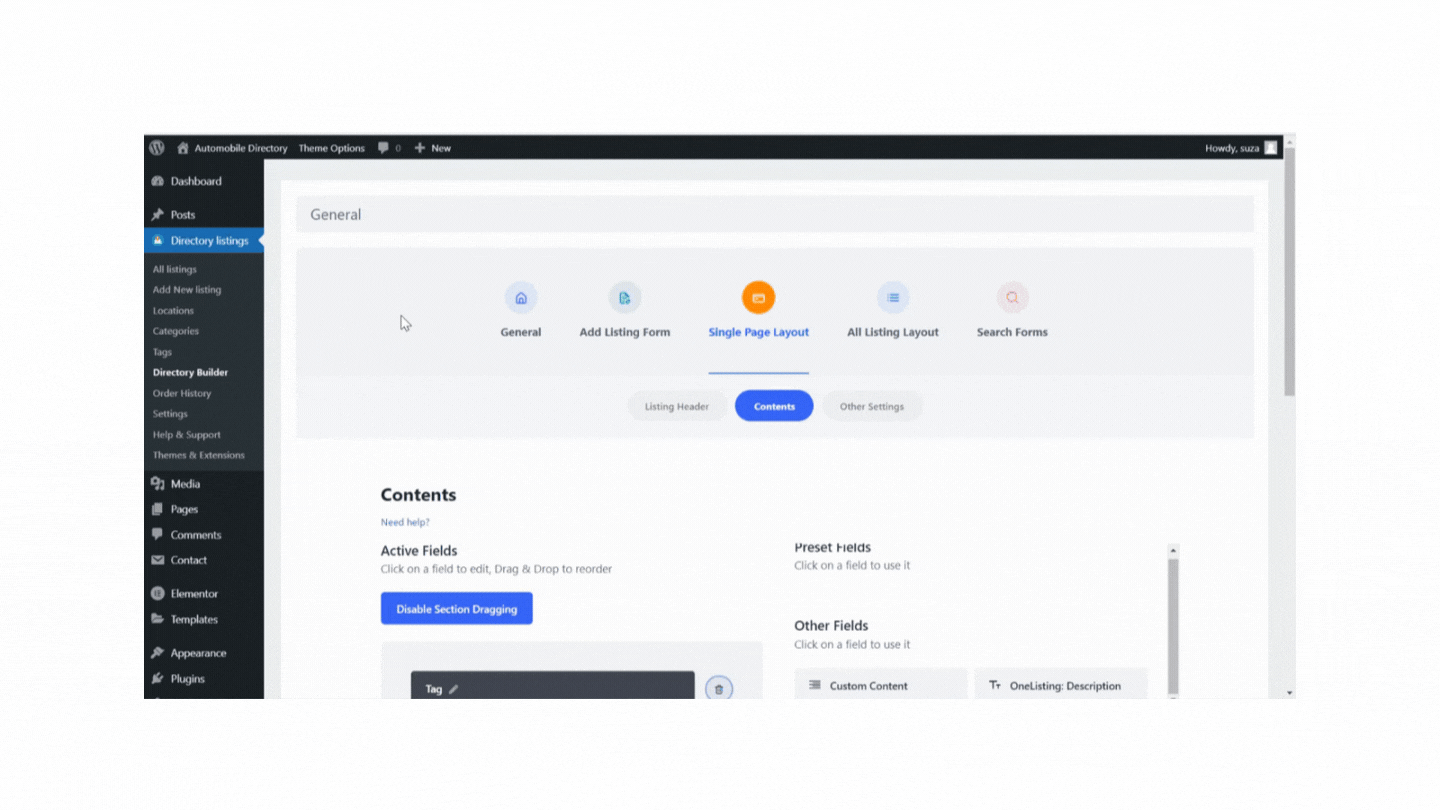 ---
Finally, the user will be able to see the confirmation message once the user submits the ad.
---

11. Review & publish the classified ad listings
Now, if you are on how to create a classified website, you must look for a method to review & publish the ad listings. In this regard, Directorist boasts of this feature which you can avail yourself of in the WordPress admin dashboard right away.
To do so, navigate to Directory Listings > All Listings > Hover over the Pending Listing > Hit the 'Publish' button.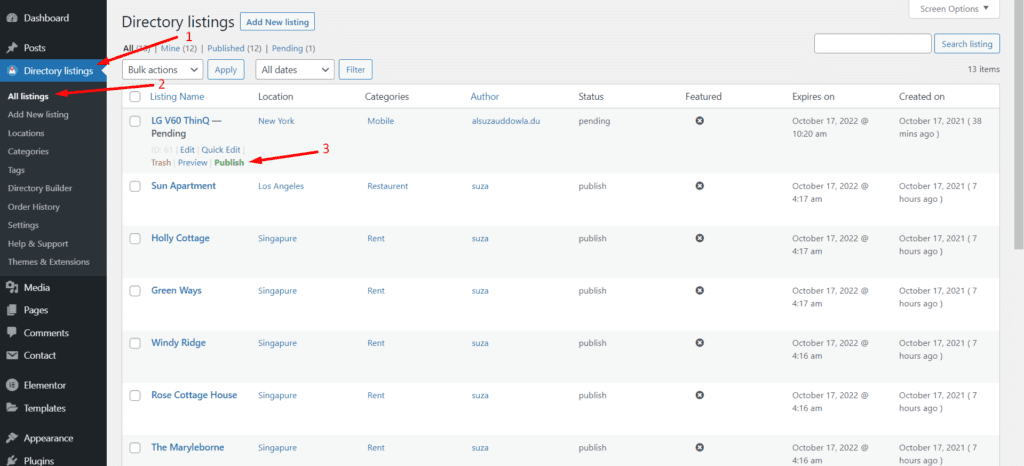 After you publish the listings, they will appear like the below on the All Listings page: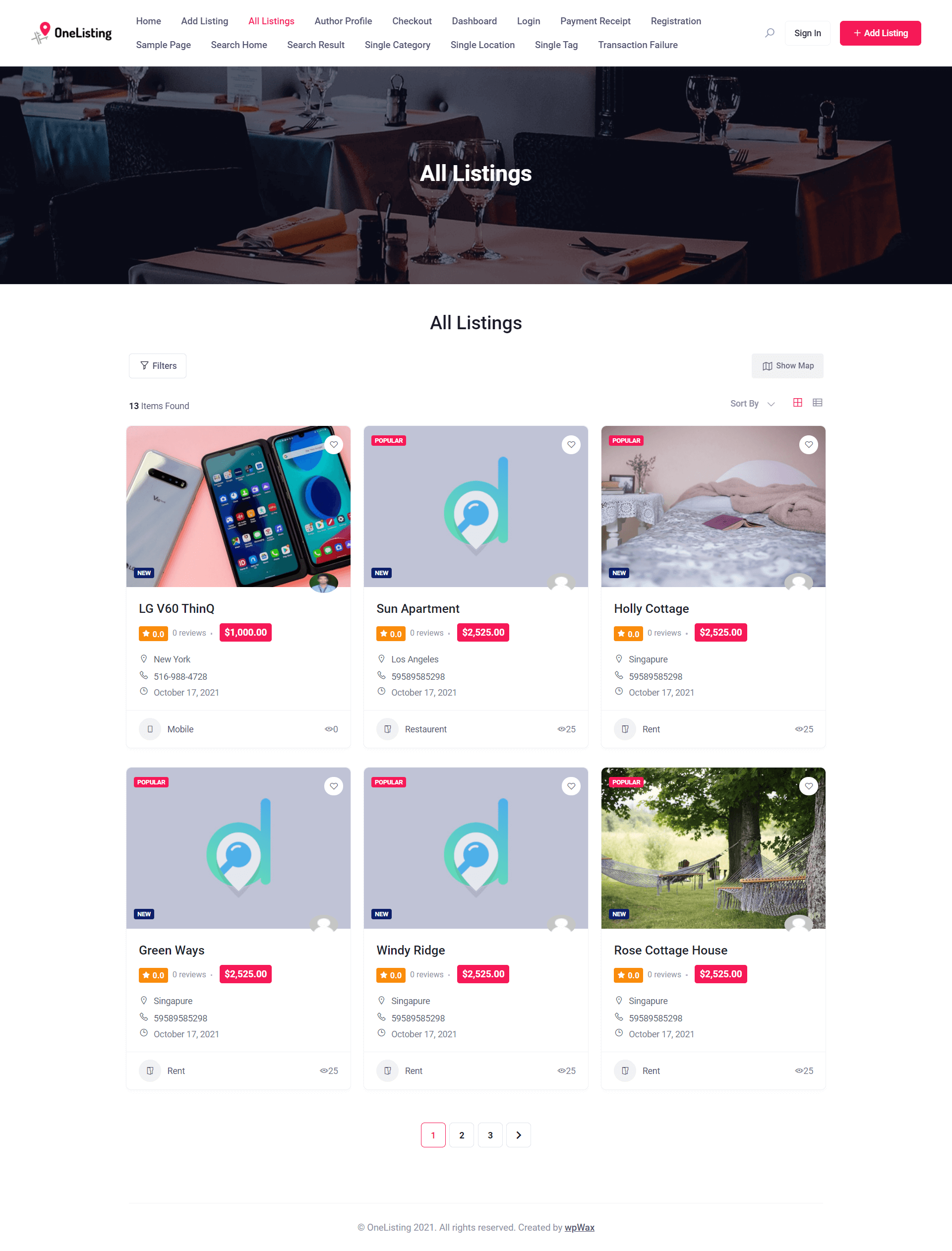 Have you noticed that the Listing with the headline "LG V60 ThinQ" does not have the 'Featured' ad badge?
Thus, when a listing owner pays you to make his listing featured, you have to change the status of the order from 'created' to 'completed' so that the listing gets a featured badge. To do it, you must go to the Directory Listings > Order History > Check the box of the order > Select "Set Status to Completed" > Apply.

This way, you can make changes to the status of orders. Finally, the listing will have a featured badge on it: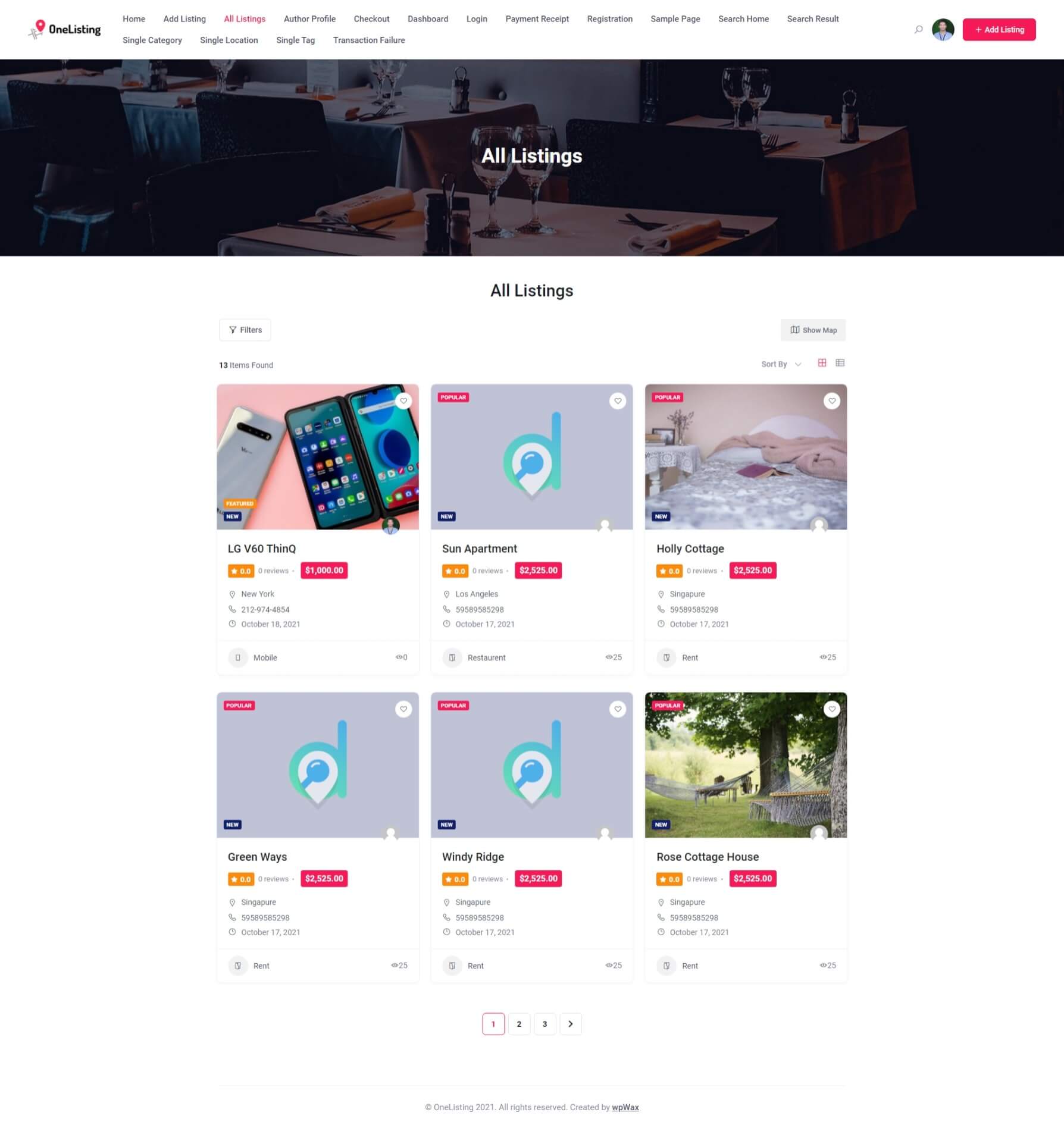 However, you can allow the user to publish the classified ad directly without reviewing it or publishing manually if it is free or is not related to any financial transaction. But the submitted listing will neither be published nor be featured if it is a paid submission even though you had predefined the default status to 'pending' in the Directory Builder.
To keep the listing status pending while a user submits an ad, you can go to Directory Listings > Directory Builder > General > Default listing status > Change to 'Publish' from 'Pending'.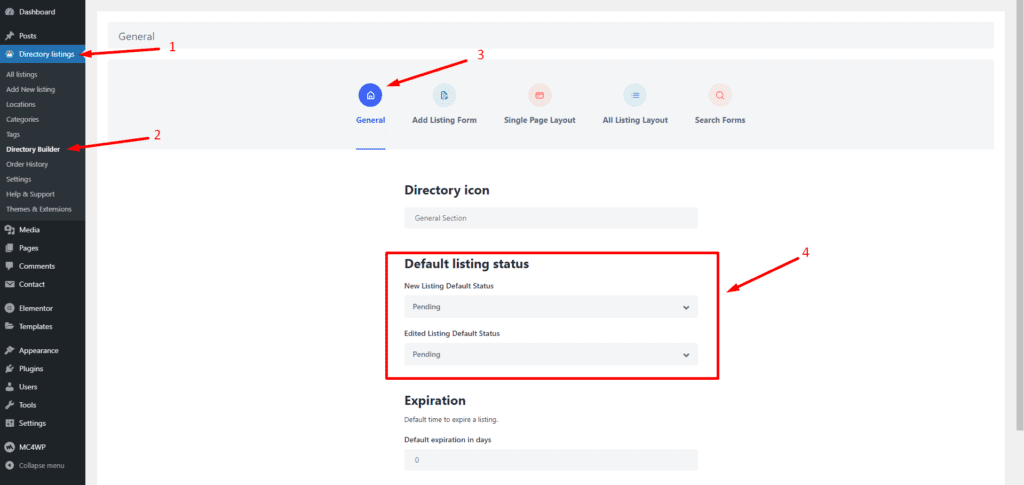 The good news is you can even control an edited listing's default status. That means you can make an already published listing's status 'pending' whenever the owner edits it with the "Edited Listing Default Status" option as shown in the above screenshot.
Bonus Tips: Change the Default View of the Classified Ads
If you don't like the default grid view of the listings or classified ads, then you can change it to the listing view. You can do it very easily from Directory Listings > Settings > All Listings > Default View > List.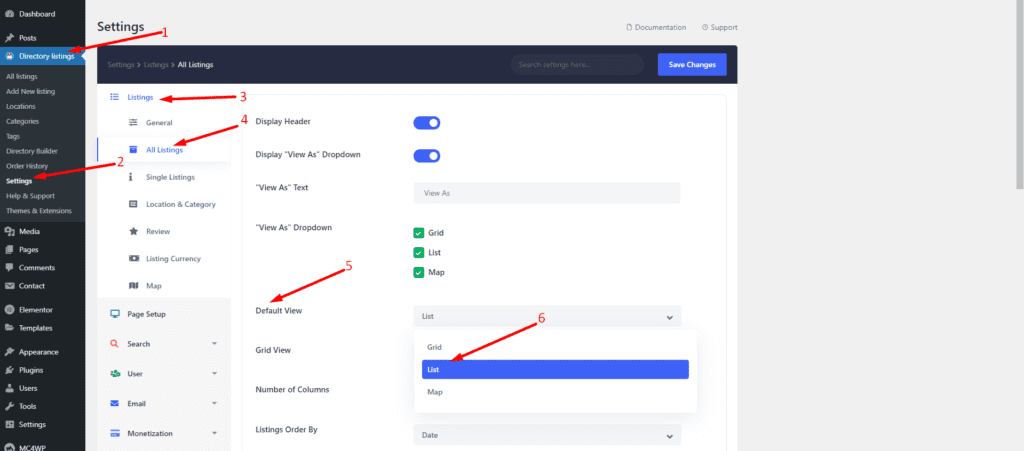 Now, every time the users visit the default view will be list just like below: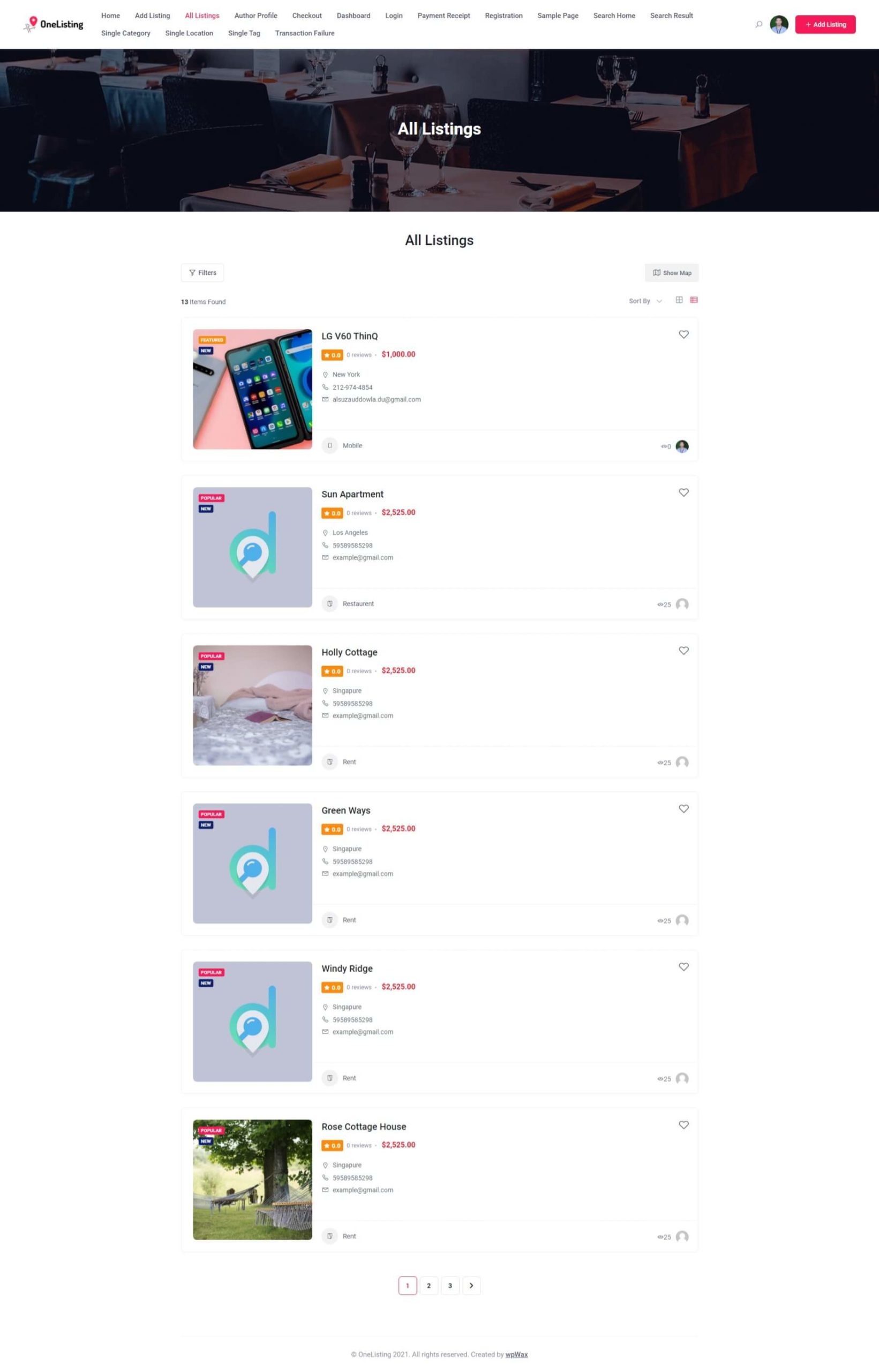 Wrapping up on How to Create a Classified Website
That's all there is to it! At first, it may seem a little bewildering if there is no step-by-step tutorial on how to create a classified website. Howbeit, we hope this tutorial will help you set up a classified ad site with great efficiency that will save your time, effort, and above all hard-earned money. Once you start to play around with Directorist while creating the website, you will get the hang of it. Finally, don't hesitate to ask questions in the comment section below so that we can come up with a helping hand.