How to Create a Directory Website in WordPress for Free
7 mins read
A WordPress directory website is a great platform to help people find their desired listing (such as a desired local business, hotel, restaurant, hospital, doctor, lawyer, location, real estate property, etc.). Once monetized properly and managed to get some traffic, it can be a lucrative way to make money.
Creating a directory website may sound a little intimidating at first as it has to have a stream of complex features. But in WordPress, it becomes as easy as pie to create a directory website due to the simplicity and power of plugins and themes. As we often get the question from our visitors, "how to build a directory website with WordPress?", we will be answering this question in the form of a tutorial today.
Once you follow this article, you will be able to start a directory website just like Yelp, Foursquare, eBay, Yahoo, or even like Facebook. So, sit tight and follow the tutorial.
Requirements
To build a directory website with WordPress, you just need two things –
a WordPress website and
a WordPress directory plugin, Directorist.
Why Choose Directorist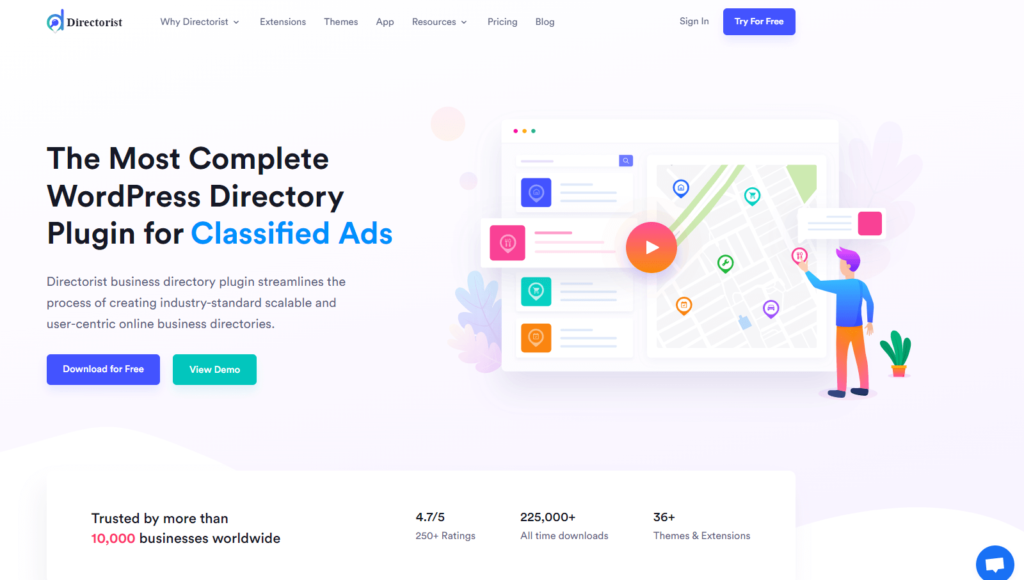 Directorist is a popular directory website builder plugin that has more than 10,000 users from around the world with a 4.7 customer rating out of 5. It comes with the following benefits:
Core (free) features include:
includes a drag-&-drop based form builder with unlimited custom fields
17 Elementor widgets
16 Gutenberg blocks
monetization with featured listing
charge for every listing
receive payments through offline bank transfer
CSV export-import
one-click demo import
google maps integration
OpenStreet maps integration
free support via WordPress.org
free directory themes like OneListing, Directoria
100% mobile responsive with intuitive design
RTL Support
Loco translate support
WPML integration (upcoming)
and much more
Premium features include:
comes with a flutter-based native mobile app, compatible with both Android & iOS
integration with Oxygen Builder, MailChimp, Google reCaptcha, BuddyBoss, BuddyPress, etc.
integration with popular payment gateways such as Stripe, PayPal, Authorize.net
niche-based themes (dPlace, dRestaurant, dLawyers, OneListing Pro, dDoctors, dRealEstate, dCar, dList, dService, and more upcoming)
monetization with regular subscription plans
monetization with WooCommerce Pricing Plans
monetization with Rank Featured Listing
advanced review system (upcoming)
and many more
See all the premium features from this link.
If you want to pick the best directory website builder, it is an unparalleled one. We believe this directory builder tool will be the perfect one to know how to start a directory website.
How to Build a Directory Website in These 5 Easy Steps
We assume that you have a WordPress website up and running. Now the only thing you have to do to create an online directory is to follow these steps:
Step 1: Install & Activate Directorist
Navigate to the WP Admin Dashboard > Plugins > Add New > Search for the keyword 'directorist' > Hit the "Install Now" button (as indicated with arrows).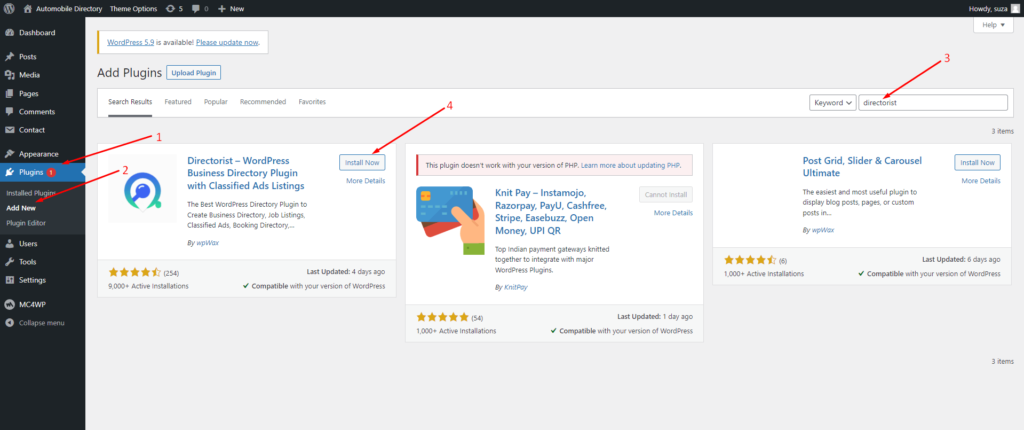 Next up, you need to activate and configure the setup wizard to make a fresh start. We recommend you to visit our official documentation so that you can configure it perfectly or the way you want.
Step 2: Install a free directory theme
Directorist is compatible with all WordPress themes. You can choose any theme that you like but choosing a directory theme will add extra flavor to the appearance.

For this purpose, you can install the directory niche-centric 'OneListing' theme which comes completely free of cost. In case you want to take your directory website to the next level, you can upgrade to the premium version later.
Once you get the theme, navigate to the WP Admin Dashboard > Appearance > Themes > Add New.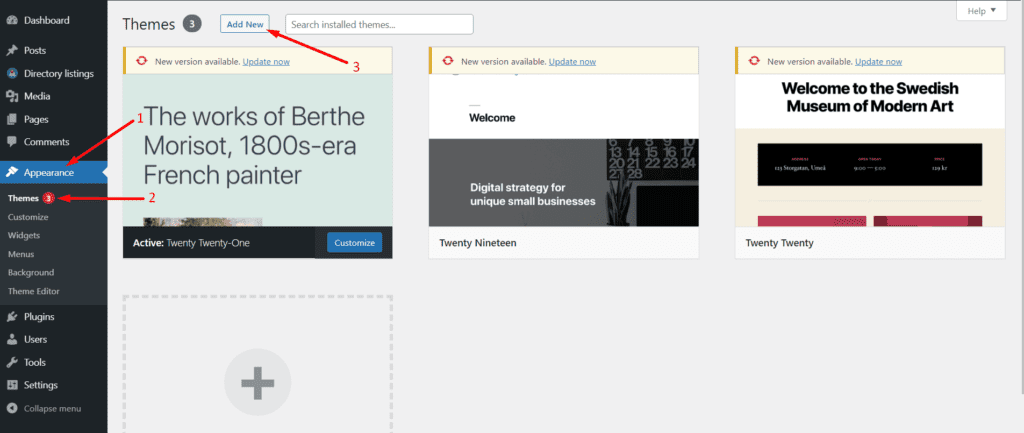 Then click on Upload Theme > Choose File and select the 'onelisting.zip' > Install Now.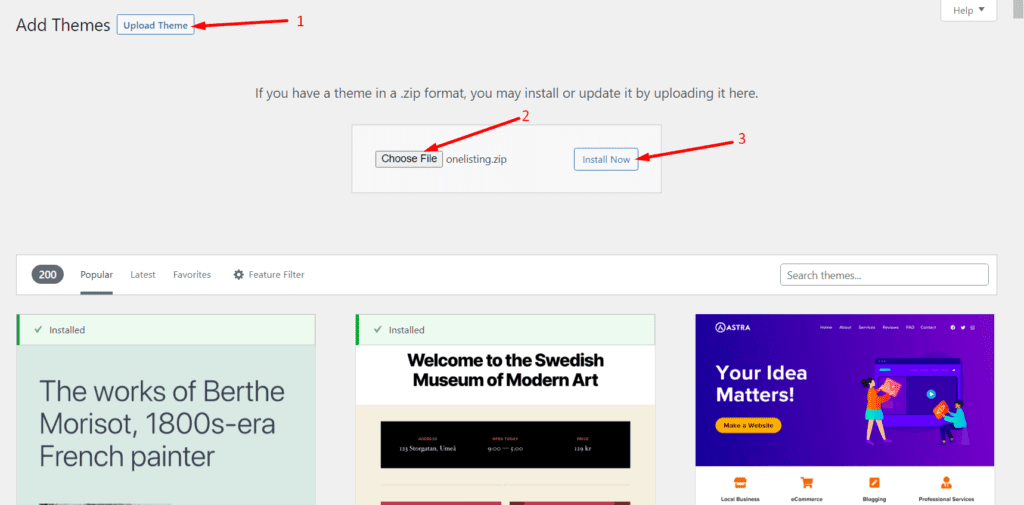 Now, activate the theme to take an effect:

Upon installing the theme, you will see some plugins and tools suggested to install. So, make sure you have installed all the suggested ones so that the theme works perfectly fine. For example, you must install & activate the Elementor, Contact Form 7, MailChimp, and a Theme ToolKit. So, we recommend you hit the "Begin Installing Plugins" option to install them all at once.

And that's it!
Step 3: Create categories & tags for your website
A directory website must be user-friendly in a way that visitors can find their listing item in a flash of an eye. Upon creating relevant categories, Directorist can suggest related listings according to the visitors' choice.
To this end, you need to create a set of relevant categories and tags. In the Directorist menu, you will find both of these items where (category) you can also add images, assign the category to a parent one, give a description, add icons & colors.
To do so, you just need to go to the Directory Listings > Categories > Fill out the fields > Hit the "Add New Category" button.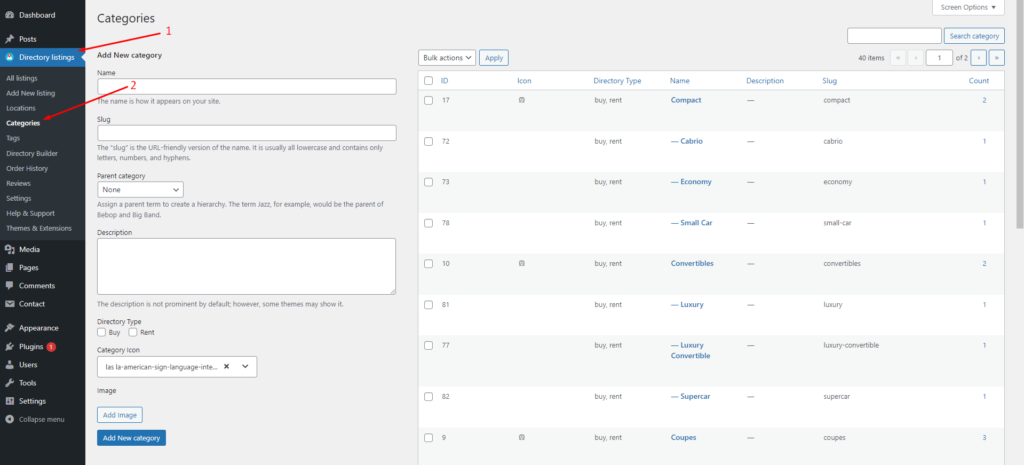 Similarly, you can add tags so that Directorist can show the relevant listing item to the visitors. You can do it from Directory Listings > Tags > Enter Credentials > Add New Tag.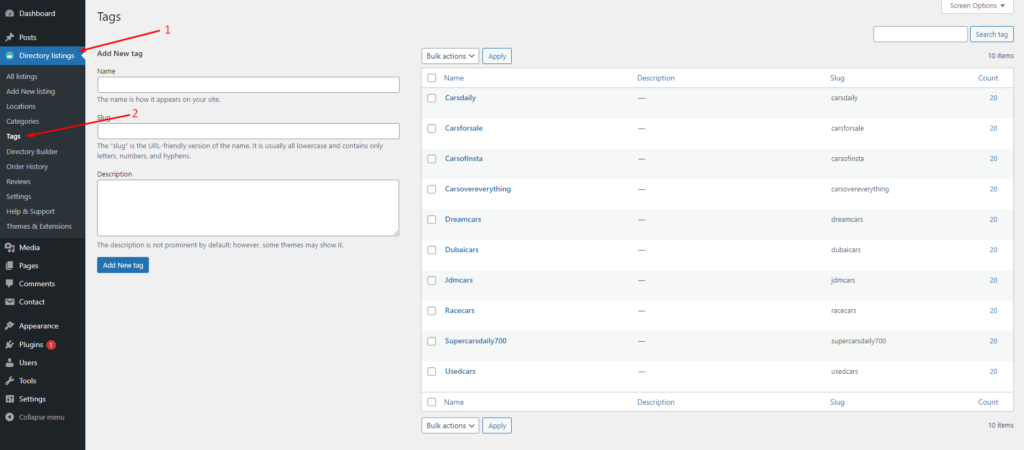 Step 4: How to add new locations
Just like adding categories or tags adding locations helps the users find the desired automotive listing from a car classified ads website. To add locations, you have to go to the Directory Listing > Locations > Enter credentials (name, description, directory type, etc.) > Hit the Add New Location button.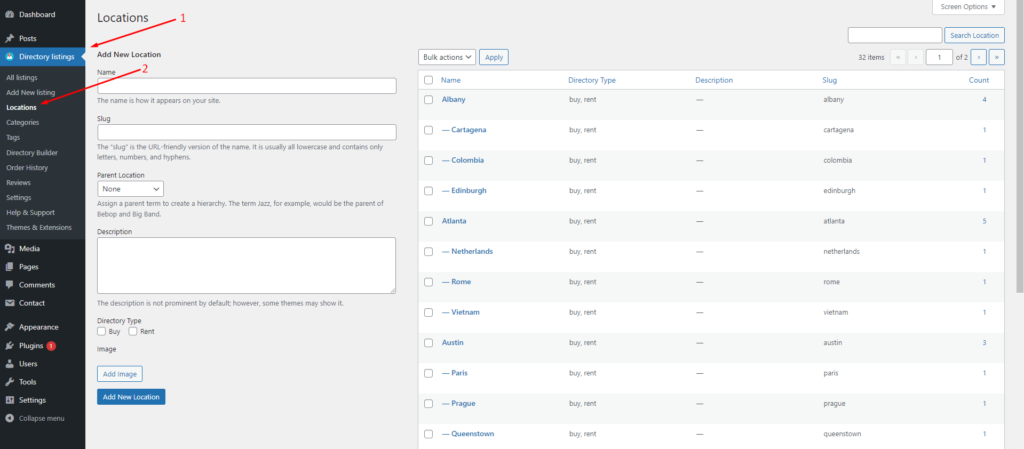 Step 5: Listing Submission by Users
Now, it's time to upload some listings on your directory website. Assume that we are building a car directory. Now, to upload car listings the users will need to navigate to the "Add Listing" button on your website. Next up, the user will find the following form. To submit his or her listings, he or she must fill out the required fields.
After you have a series of listings on your automobile directory or classified ads website, the all listings page will look something like this:
So, you are already done with creating a basic automotive directory website. Now, let's add some advanced features so that you can start earning from your website.
Step 6: Adding Advanced feature: Monetizing your directory website
Monetizing is what makes your website lucrative. With Directorist, you can monetize your website in a number of ways:
Charge for listings (Free)
Featured listings (Free)
Charge for viewing private listings (Premium)
Allow private/sponsored advertising (premium)
Charge for membership (Premium)
Sell business leads (Premium)
Promote affiliate products (Premium)
Allow sponsored articles/guest posting (Premium)
Access control
Want to learn these ways in detail? Give a read to this article, "How to Monetize a Directory Listing Website" now!
Step 7: Adding a Free Payment Gateway
Directorist free version supports only the offline bank transfer method to receive payments. To add your bank account details, navigate to the WP Admin Dashboard > Directory Listings > Settings > Monetization > Offline Gateways Settings > Insert your details > Save changes.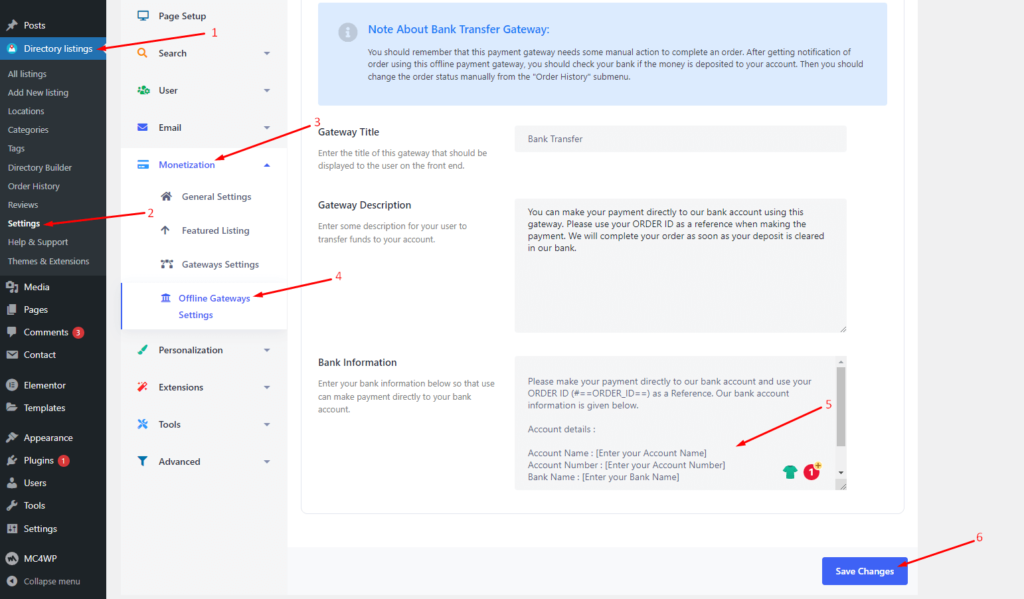 Note about Bank Transfer Gateway:
You should remember that this payment gateway needs some manual action to complete an order. After getting a notification of an order using this offline payment gateway, you should check your bank if the money is deposited into your account. Then you should change the order status manually from the "Order History" submenu.
Apart from the offline Bank transfer method, Directorist also supports online payments gateways like Stripe, PayPal, and Authorize.net. However, they are available in the premium version only.
Related Post: How to Add Payment Gateways to Monetize Your Directory Website
Bonus Tips
Free Elementor Support: Directorist is fully compatible with Elementor. For example, you can effortlessly put the "filtered Search Bar" from the Elementor editor panel. As we are using the OneListing theme, we can see the "Theme Element" section. And we have to insert the "filtered Search Bar" in the following way from the theme Elements section:
However, you can also insert or customize the search bar from the Elementor editor panel like any other widget.
Just like the Theme Elements, you can effortlessly edit the Directorist Elementor widgets too.
Free Gutenberg Support: The best part is that Gutenberg block editor comes free out of the box with WordPress. You don't have to install it separately. What's more interesting is that Directorist is completely compatible with the editor. You can also generate directorist pages with the Gutenberg blocks within a second. Currently, Directorist comes with 16 Gutenberg blocks. For instance, here we have created the all listings page using the Directorist Gutenberg block:
Wrapping up
You can thus effortlessly build a directory website in WordPress with Directorist. As the free version boasts of so many features which are often found in the premium versions of other directory tools, we highly recommend you Directorist.
We have built a free online demo version just for you so that you can enjoy a quick hands-on experience before you start downloading and using the plugin. The demo link is available below.
In case you are stuck with one of the steps mentioned above, don't hesitate to drop us a line below. We will take it seriously and someone from us will reply to your query. if you are already using Directorist, don't forget to share your thoughts in the comment section.
If you liked our posts, don't forget to subscribe to our blog so that we can notify you once any post is published. Directorist is now on Facebook, Twitter, and LinkedIn! You can also join the Directorist Community for sharing your thoughts and experiences relating to the directory niche. Come and join us to see what we're up to.