How to Dramatically Increase Your Online Visibility with Directory Listings
9 mins read
A business, whether it is small or large, should have a strong online presence, especially in a world where everything's going digital. Adding your business to the online directories can be a powerful way to increase SEO online.
Moreover, the directory listings will add more backlinks to your website and they will help you to bring your business to the next level on the search results. Thus, people can easily get your business and are more likely to become your customers. Also, your online local search visibility will dramatically increase if you make sure that you add your business to the relevant and great directories as well.
In this article, I will take you through some steps that will help you gather a proper understanding of how to increase search results on google.
Let's sunlight in.
Why Do You Need a Strong Online Presence?
Having a stronger online presence can scale your business up. In contrast, a poor online presence can break your small directory business. Also, a digital presence makes room for your brand to communicate with consumers. Let's discuss the benefits of a strong online presence for a directory business.
1. An online presence enhances accessibility
One of the main reasons to build a strong online presence is that it broaches up more accessibility to your customers and makes you able to stay straight in the competitive market.
Nowadays customers are very smart and they google your products and services in your town or state. If they don't find your presence online, they are more likely to go to your competitors. Hence, you should ensure your name appears atop Google's search results.
The more online presence you have, the more accessible you are to your customers or clients. Moreover, it's an easier way for customers to google prices and hours and they can compare all these factors with your competition with a few clicks. How amazing it is!!! Isn't it? Your online presence allows the customers to answer any type of question regarding your products or services. If customers find that you aren't available to respond to queries, then make sure your contact information is displayed properly.
2. An online presence reaches a wider audience
If your business has a strong online presence, then it will pull the customers to your business. The interesting fact is that even if you are sleeping or going on an outing, your business makes money just because of the strong online presence. The amazing fact of online presence is that your business can easily reach a wider audience, such as people who are unable to make it to your physical shop for whatever reason, be it disabilities, lack of transportation, or even because they live in another country.
3. Building customer relationships and trust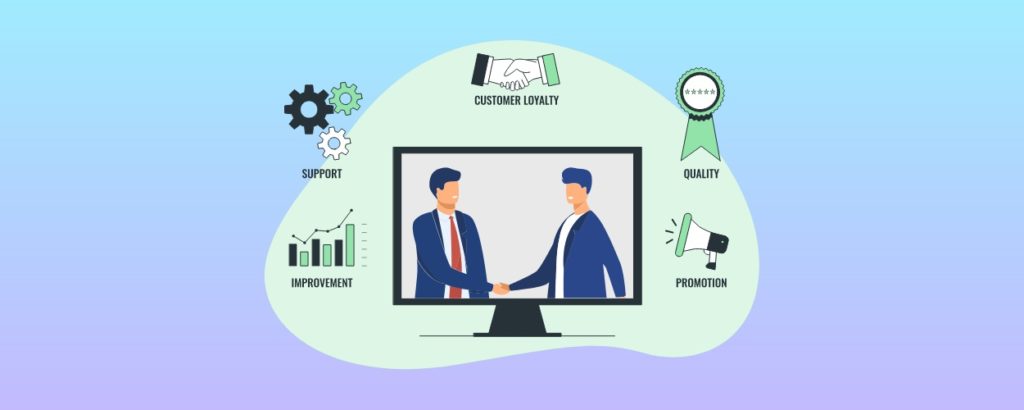 An online presence makes bonding between customers and sellers/ business owners. But how? Suppose, a business owner has a site, blog, and social media accounts that allow customers to review and comment about your products. As the owner of your business, you are more likely to answer any queries quickly and thoroughly. A positive review can escalate your business as the review goes public. And people can easily learn about your products and they become your customers.
In case you don't get satisfactory reviews or comments, you still have a chance to reach out to those customers who are dissatisfied with your brand and resolve the issue so that your brand remains intact. If you fail to convince the unhappy customers, then other customers will learn that you have tried to resolve the issues of unhappy customers. Thus, you can build the trust of customers.
4. An online presence enables effortless marketing
Selling any type of goods or services of your business becomes an effortless process when you have a strong online presence. Customers will come to your business online and choose your products and they will buy according to their needs. In contrast, if you don't have an online presence, then customers can't choose their products according to their preference. In case they buy your products or services, they will do it either by the force of sales associates or their neighbors. The customers' positive feeling toward your brand is a positive sign for your business. And, as we said, you don't have to be there for this entire process to take place.
Moreover, customers can easily buy their necessary commodities even at night. How amazing it is! And all these things happen just because of the online presence. Marketing yourself online can cost as much or as little as you decide.
How to Improve Google Searches with Directory Listings (Step-by-Step)
improving google search results with directory listings isn't easy if you don't follow the right procedure. In contrast, following proper steps can make everything easy to increase your online presence. Let's have a closer look at the steps.
Step-1. Find the top directories for your business
Choosing good quality directories for your business is the first thing that will skyrocket your online local search visibility. If you search for a web directory on Google, you will find millions of results. In this case, you should make a list of 100 + top directories which you can start with. Here are some top directories.
Local directories
There are many local directories you will find for your local business. The best thing for beginners is to start with general local directories. Yellow pages, Yelp, Yahoo Local, and Manta are the general local directories.
The next option can be location-based directories. If you search on Google with the city, region, or state directory, then you will see many options there.
After that, you can choose industry-specific local directories. Many industry-specific local directories are out there. Wedding planners and photographers are industry-specific local directories. If you search on Google with wedding planners, you will find many options there.
Directories competitors use
One of the best ways to increase your online local search visibility is to list your directory business in the top directories where your competitors are listed. How do you find where your competitors are listed? No worries!!!! If you analyze their backlinks profile, you can find their presence very easily. To analyze your competitors' backlinks, you can use tools like Ahrefs.
Using Google is another effective way to discover the directories your competitors use by searching for their company name plus directory.
Customer directories
Customer directories can be used to find other customers. Many service providers use customer directories. If you are one of the customers of those service providers, then you are more likely to find the other customers of the service providers.
Alumni directories
The Alumni Directory is another powerful source to increase your online visibility. If your university or college, or school has a business directory on their sites, then you can search on Google with your college, or university name with a business directory. Then let people know about your business. Thus, you will have more exposure to the audience.
Certification directories
If you or someone at your business has a particular certification, see if that site has a listing for certified experts. For example, you can get your business listed on Google if you are a certified partner of Google. And nobody will miss the chance of getting a link from Google.
Step-2. Identify quality directories
Assume you have already selected a list of great directories. Now, it is time to narrow down the list to the ones that are safe and profitable for your business. And, these directories will help you dramatically increase your online visibility. It is wise to identify between 25 – 50 top directories.
Step-3. Submit to your selected directories
Now that you've already narrowed down your list, it's time to submit it to your chosen directories. Here are some effective tips to successfully submit your selected directories.
Create a Template
Submitting directories is a hard and slow process. It's a time-consuming process. However, there is a way to expedite this process. What is the process? Creating a template for submitting your directory that includes the standard information can be an easier process.
Randomize Your Anchor Text
Google has been vigilant about penalizing sites that heavily use over-optimized keyword anchor text in their link building. Therefore, you don't want every link to your website pointing to a web designer. As a matter of fact, you don't even need to use keyword anchor text in most cases if you are getting listed on a directory page that is specific to your business, i.e. having your business listed under the category for web designers
As you're creating your directory submission template, be sure to include several different website titles/anchor text for your link such as your business name plus different variations of the keyword phrases you are targeting. This way, you will have different options to choose from as you go from one directory to the next, based on each directory's rules.
Search for Coupon Codes
Lots of directories provide coupon codes. Before you submit, do a quick Google search for the directory name plus coupon code or discount code. It never hurts to try a few, and it could save you a lot in the long run.
Step-4. Rank higher, and get noticed
Writing about keywords and properly placing those keywords on your pages will help Google notice you, but if you want more people to notice you, you've got to rank higher.
The secret of how to improve SEO on Google is quality. There are no shortcuts. Google looks at how long visitors are staying on your site and whether they are navigating to other pages before exiting.
Step-5. Make it easy for Google to crawl your pages
Google is constantly crawling the web, adding new pages to its index, and updating its profile of existing pages. The easier you make it for Google to go through your website and learn what it needs to learn, the more quickly it can add you to its index and retrieve it for search
Insert keywords related to your targeted topic in the meta title, URL, meta description, and image tags of your pages.
Internally linking your website's pages so that your website as a whole is easier to crawl.
Run a technical SEO audit of your site to ensure there are no indexation holes.
Step-6. Maintain and monitor your listings
Without the proper care, your listings can develop inconsistencies or inaccuracies day by day. The majority of your existing customers will lose trust in your brand just because of inconsistent or incorrect information. Hence, making all the listings updated over time can retain the customers' satisfaction like before. Also, having a closer look at the reviews of your directories is important.
Step-8. Add your website to online directories
Do you want to get your website ranked on Google? You will find many online channels which are suitable platforms for you to create profiles and add your directory site. Listing your business and adding your website to more places means getting noticed over your competitors more frequently. Here's where to get listed:
Facebook
Instagram
LinkedIn
Yelp
Local.com
Manta
Yellowpages.com
CitySearch
Metromix
Kudzu
City-Data
Angieslist
BBB.org
Foursquare
LocalGuides
Step-9. Have a proactive review strategy
It is obvious that proactive reviews are one of the most powerful weapons for Google search. Keep in mind that simply providing a review-worthy service will not do it. So, make sure you have followed a proactive strategy in the proper way to keep a healthy stream of reviews coming in.
Step-10. Populate every field, meticulously
Basically, an algorithm determines the listings results. That's why good-quality listings are very important. Hence, ensure populating each listing with the necessary information available. For example,
Contact information
Business hours
Images
Menus/offerings
Booking/reservation
Description
Social login
Pricing plans
Once you make sure you have populated every field with the necessary information, then you are more likely to bring your brand to the whole next level on Google search results.
Final Appearance
That's it. No doubt that finding great directories can easily increase your online visibility. If you gain the expected online visibility, then your business is more likely to make money with extreme ease.
If you have already got online visibility with directory listings, then please don't forget to share your experience with us by leaving a comment in the comment section.
Finally, if you liked our posts, don't forget to subscribe to our blog so that we can notify you once any post is published. Directorist is now on Facebook, Twitter, and LinkedIn! You can also join the Directorist Community for sharing your thoughts and experiences relating to the directory niche. Come and join us to see what we're up to.