Benefits of a Live Chat Option & How to Add It to a WordPress Directory Website
4 mins read
Be it a directory website or a general website, a live chat feature is just like an oasis in a desert. Why? Because the visitors can interact with each other. However, in the case of a directory website, the visitors usually need to communicate with the listing owners.
Definitely adding a live chat feature to a website requires a coding expert. Luckily enough, in WordPress, you just need to install & activate a Live Chat plugin to have the feature in place.
In this tutorial, we will show you the easiest way to add the Live Chat in WordPress directory website that won't cost your arms and legs. Now, let's dive in. But before we move on to the tutorial.
Why Do You Need a Live Chat in WordPress Directory Website?
We have already compared the Live Chat feature to the Oasis of the desert. Why? Because it helps the listing owners in numerous ways:
Live chat builds trust to the buyers. This way the buyers or visitors ask their queries instantly instead of calling them via the phone number or sending them a time-consuming email. So, the listing owners really want this feature in place.
Buyers are more likely to purchase a listing item if they can chat live with the listing owners. Consequently, it increases conversion rate for the listing owners.
As the support agents can handle mutiple customers at a time unlike a phone call, your listing owners will need a smaller crew to provide customer care serivice reducing their support costs.
With Live Chat feature, the listing owners can provide 24/7 customer support which is necessary to create a good customer experience.
Adding live chat feature will give you a competitive advantage as not all other directory website has this feature.
Live chat allows the visitors and the listing owners to share links, images and attachments without using any third party platforms which is really handy.
This is why the listing owners of your directory website really want the Live Chat feature on your directory website. We can assure you that if you implement this feature on your directory website, more and more people are going to submit their listings or buy your subscription plans.
Add a Live Chat Feature to Your WordPress Directory Website
To add a live chat feature, you must have a Directorist-powered directory website up and running. We assume that you already have a Directorist website in place.

In case, you do not know how to create a directory website with Directorist, we recommend you follow this article on, "How to Create a Multi Directory Website with a WordPress Multi Directory Plugin for Free". or, you can also follow this quick setup tutorial video:
Now that you have already set up your WordPress directory website according to the above tutorials, follow these steps:
Step 1: Get the Live Chat Extension
You can get the live chat extension from the extensions page. The basic plan starts from $29 per year. Once you get the zip file, navigate to the WP Admin Dashboard > Plugins > Add New > Upload Plugin > Choose File > Install Now.

Now, activate the plugin like any other WordPress plugin.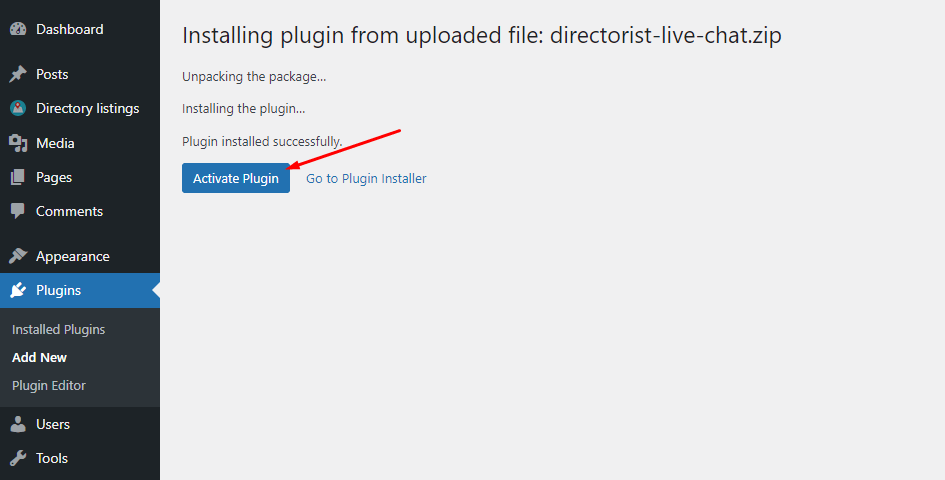 Step 2: Configuring the tool
Now, navigate to the WP Admin Dashboard > Directory Listings > Directory Builder > Edit Directory > Single Page Layout > Contents > Drag-&-drop the "Live Chat" field to the builder > Update. That's it.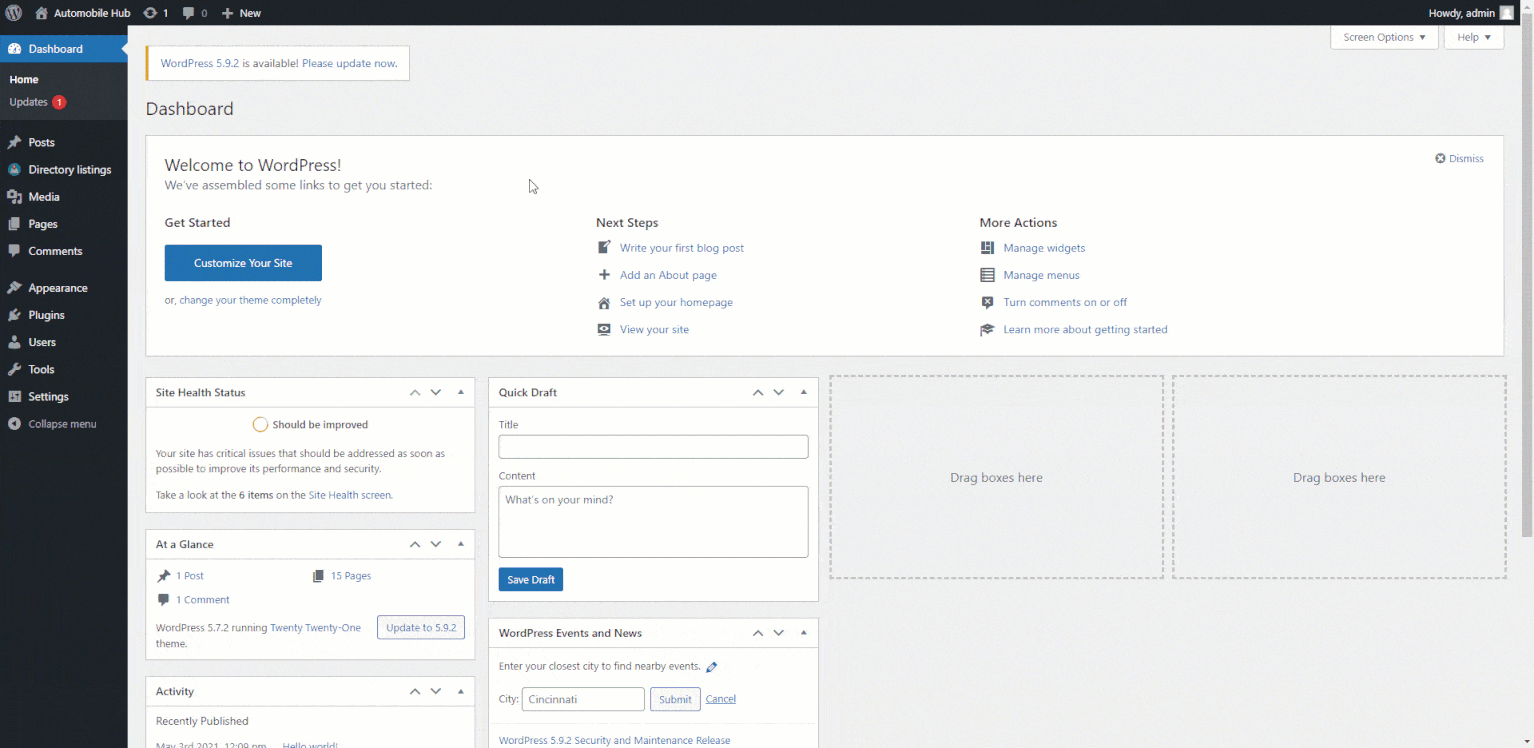 Please note that you have to register and be logged in to be able to chat with a listing owner.
Real-life Live Chatting Example
Once you register or log in to the website as a regular visitor, you will have to click on the button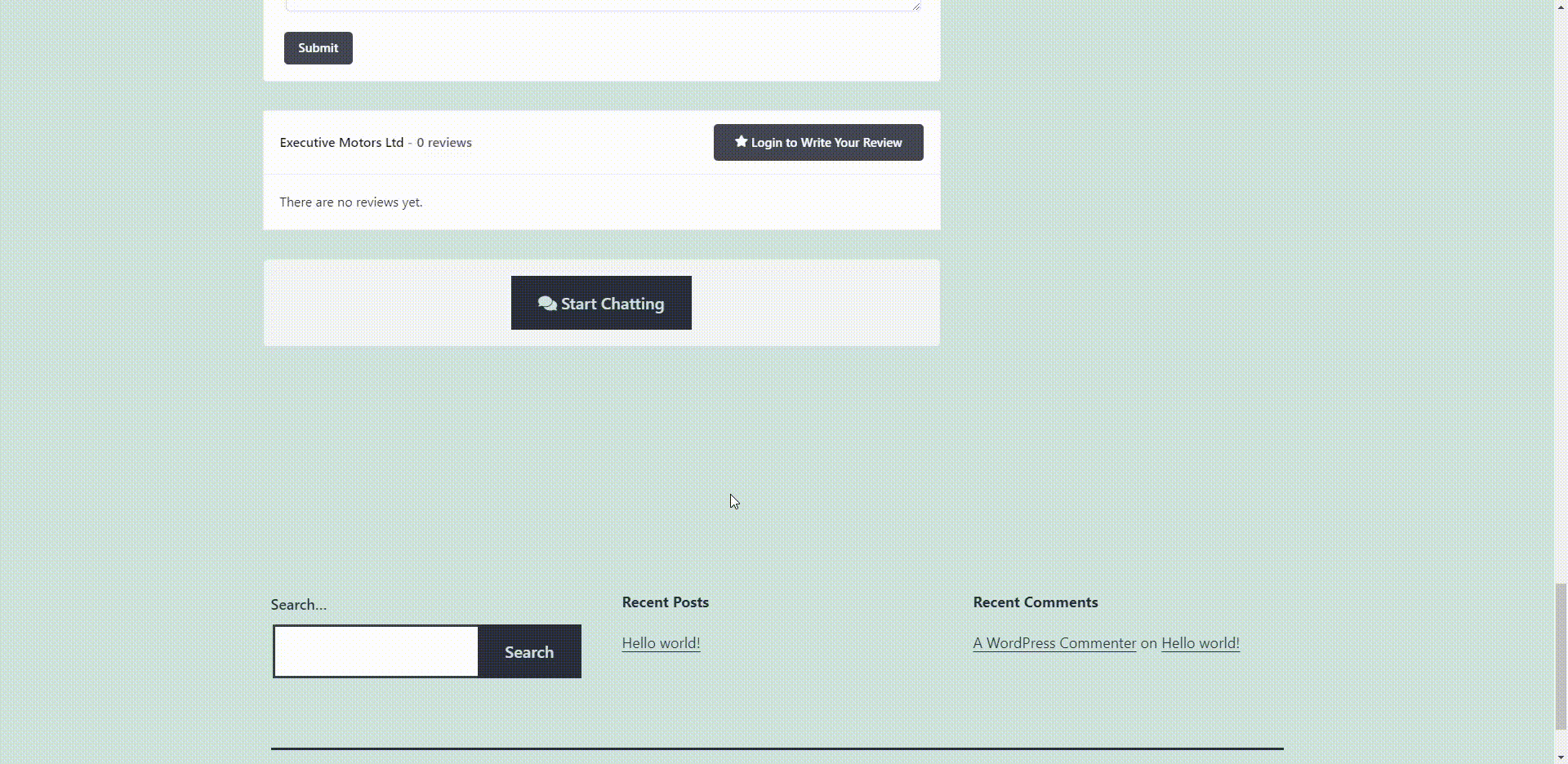 See? When your visitors chat with the listing owners, they will feel like they are messaging just like Facebook Messenger. Isn't that cool?

Can I Edit the "Start Chatting" Button Text?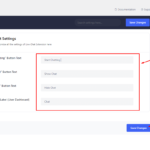 Answer: Definitely. You can do it effortlessly by navigating to the WP Admin Dashboard > Directory Listings > Settings > Extensions > Live Chat > Edit > Save changes.
Is guest chat available?
Ans: Guest Chat feature is not available at the moment. Hopefully, it will be available in the near future.
Is there any Shortcode available so that I can di? 
Ans: Yes. You can adjust the position of the live chat using the following shortcode [directorist_live_chat]
Will the listing owners get notified?
Ans: Yes. The listing owners will get notified via email.
Is it possible to send an attachment?
Ans: No. But we will add this feature if we get customer requests.
Wrapping up
Adding a live chat in the WordPress directory website is that easy with Directorist. If you want to really engage your users with each other, nothing can beat the idea of implementing a live chat feature on your listing website. Undoubtedly, it will give you a boost to your website's credibility and popularity. So why wait? Get the tool and make your website more user-friendly right now!
If you liked our posts, don't forget to subscribe to our blog so that we can notify you once any post is published. Directorist is now on Facebook, Twitter, and LinkedIn! You can also join the Directorist Community for sharing your thoughts and experiences relating to the directory niche. Come and join us to see what we're up to.