Why Directory Builder Is an Essential Feature to Create a Business Directory Effectively?
5 mins read
Long gone are the days when we had very limited options to create and customize a business directory website. With the advent of modern and unique WordPress business directory builders, you can create and customize your directory website with greater control.
After the release of Directorist 7.0, the tool contains a feature called "Directory Builder" which allows you to build and customize different pages including "Search Form Filter" options with preset fields, and custom fields as well. Most importantly, you can also export your page layouts to use with Elementor later on. Sounds cool, right?
You are here for a treat because I have handpicked all the benefits you will get if you are using the Directory Builder feature in Directorist. Now, let's discover, how the Directory Builder feature can help you zig when your competitors zag.
Introduction: Directorist as a Directory Builder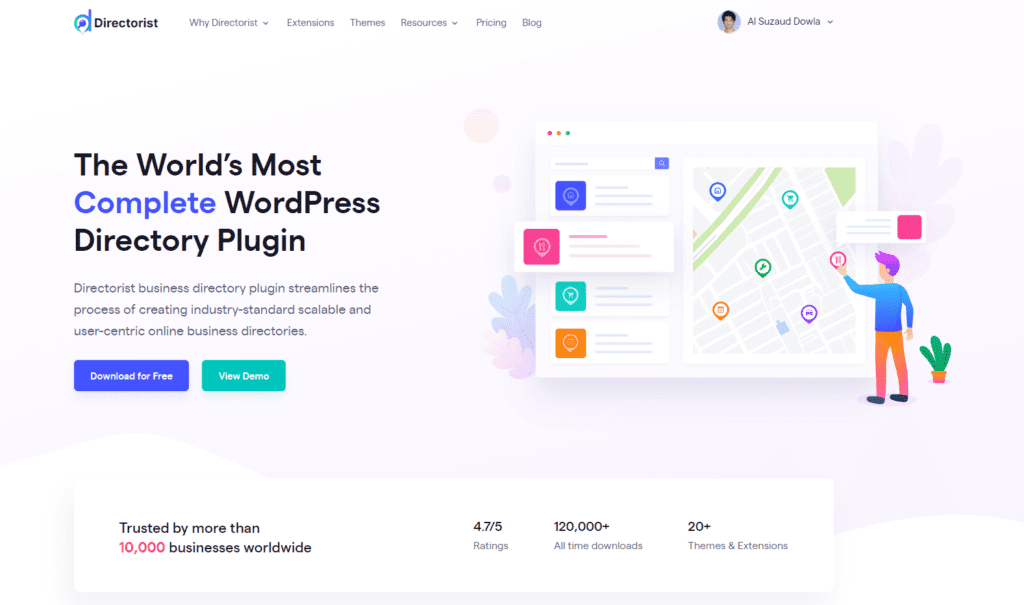 Directorist is a popular WordPress business directory builder tool that allows you to create any kind of directory website within just a few minutes. As of now, it has more than 10000 active installations with a whopping 13.3% growth rate on WordPress.org. With Directorist, you can build:
Local Business Directory
Restaurants Directory
Service Directory
Event Directory
Hotel and Apartment Directory
Real Estate Directory
Classified Ads Directorist Solution page will provide you.
Directorist was first launched back in 2017 to address the difficulties a directory website owner typically faces along the way. As of 6th June 2021, Directorist has got 24 extensions in its pocket. Though Directorist joined the market much later than its competitors, it has managed to get a good rating of over 4.7 right now on WordPress.org.
Thus Directorist plays a host to most of the important features as a directory website builder solution. Besides, if you ask us whether you will get the best from a free directory website builder solution like Directorist, the answer would be "An emphatic yes!".
How Directory Builder Helps You Create Your Directory Website the Most Efficient Way?
As we already mentioned it allows you to create & customize different pages like Add Listing Page or Submission Page, Single Listing Page, All Listing Page, and even Search Filter Form.
1. Create Multi-directory Website for Free
The first X-factor that makes a Directorist exclusive from its competitors is its capability to create multidirectory websites with its free version. Yes, you heard it right! The builder comes with a general type of directory out of the box. You can however, turn on the multidirectory functionality from WP Admin Dashboard > Directory Listings > Settings > Listings > General > Enable Multi-directory.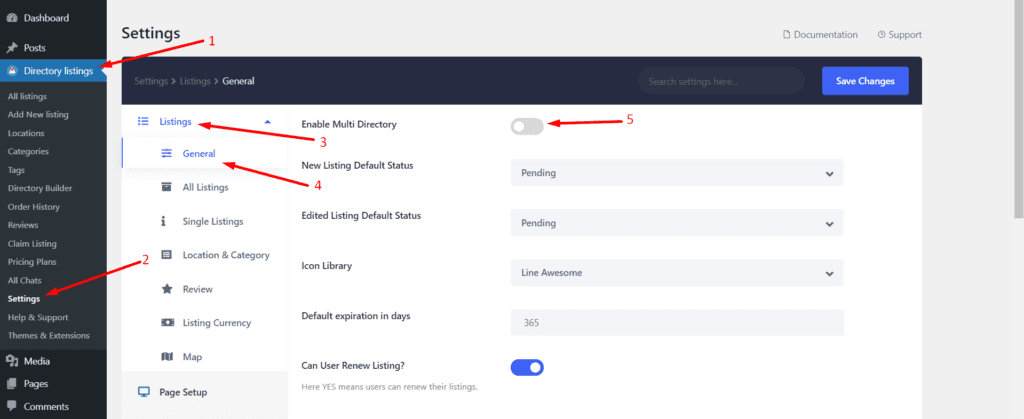 Next, hit the 'Yes' button:

Finally, don't forget to save the changes.
After you turn on the multidirectory feature, you will find an option to create other directory types.
After that, you will have to input the name of the new directory and you will eventually be able to create as many directory types as you wish.
So, what's the usecases then?
If your directory website is currently selling automobiles, you can expand your business by adding another directory niche like adding automobile parts as your new directory.
This way you can:
significantly cut additional costs of creating a new directory website for a peripheral niche.
expand website even with different niches.
gain more audience with ease for the new niche as you already have an army of users in your current directory website.
When a user submits a listing from the frontend, s/he just needs to select the type of directory before her or his submission. It's that easy!
2. Edit Different Pages with Drag and Drop Fields
What could be more intuitive and playful than using a drag and drop functionality when creating pages for your directory website? Yes, you heard it right! Directorist comes of an amazingly intuitive interface with drag-and-drop functionality you can use to create the important pages for your directory website.
Here is a screenshot while editing the submission page form builder: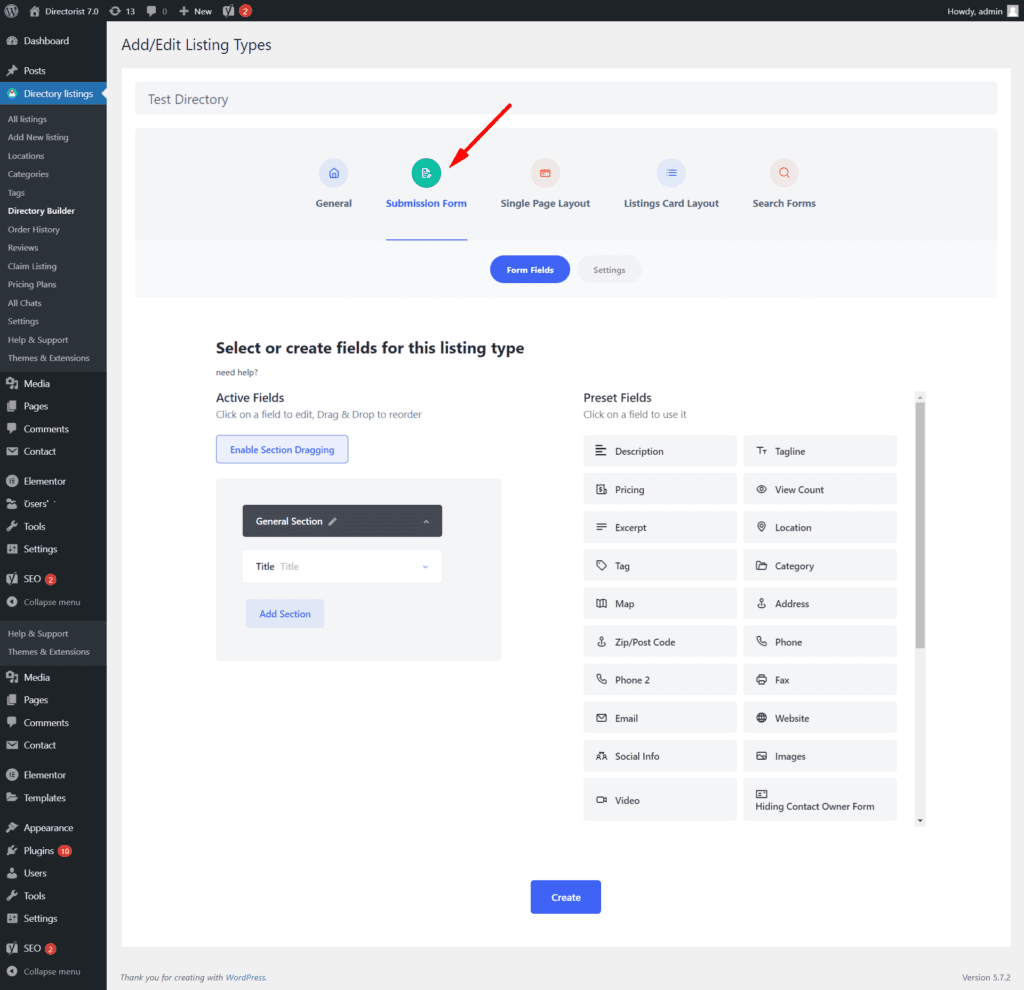 And here is another screenshot of the single-page layout while editing in the directory builder: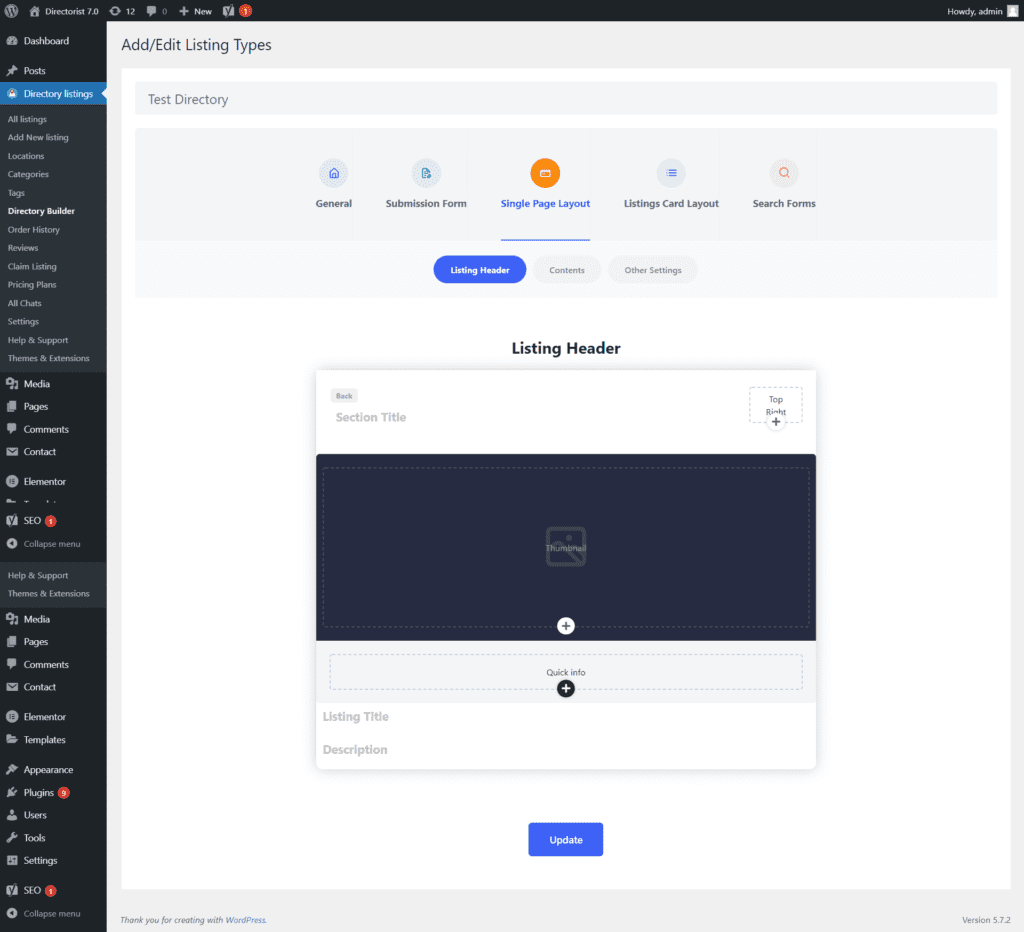 From here, you can specify the exact layout of your Single Listing Page.
3. Add Unlimited Sections
By default, you will get to see one section for the submission page. However, you can add practically unlimited sections. Our developers did a fantastic job to make the solution more flexible so that you can embellish the page with your own requirements.
Here is a screenshot that demonstrates multiple sections: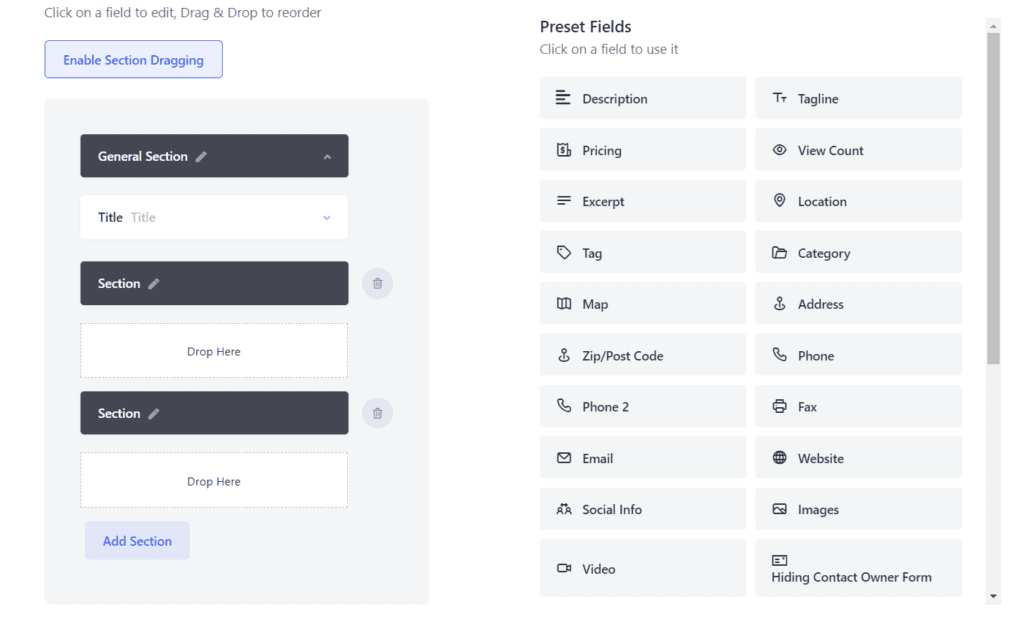 4. Add Custom Fields
If you are an advanced user, there is a fat chance you will be satisfied only with the preset fields. Hence, we have put together 11 different custom fields in place in an attempt to customize the pages just like the way you want.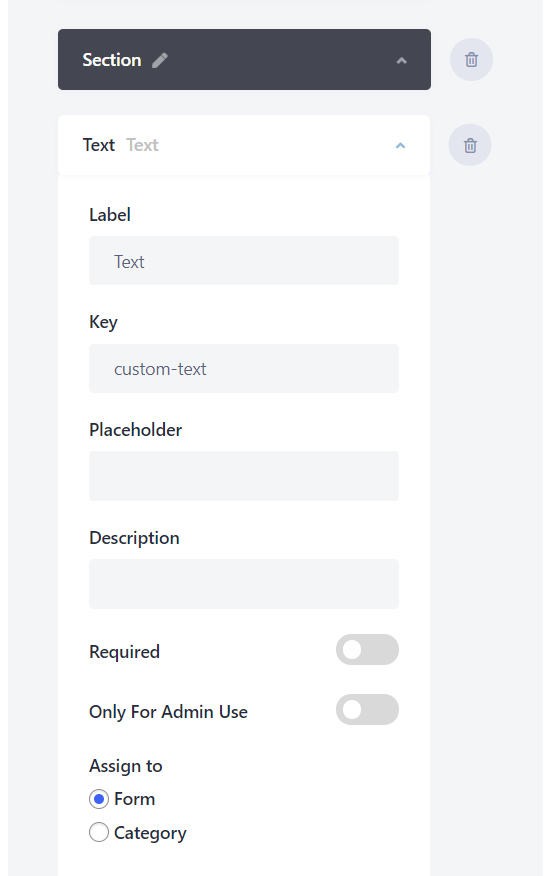 Interestingly enough, you can play around with the custom fields much like the preset fields too! But the key difference is that you can use custom fields over and over again. That means you can use the same custom field type as many times as you need them. In addition, you can also customize their label and other parameters as well.
Related Article: Directorist Custom Fields – Elevate Your Directorist Experience with Custom Fields
5. Change Listing Layouts
Without variation life is monotonous – the same goes for a directory website. By changing the layout, your business directory website happens to be the exact fit for certain themes.
Currently, Directorist offers two different layouts – one is a list view and the other is a grid view.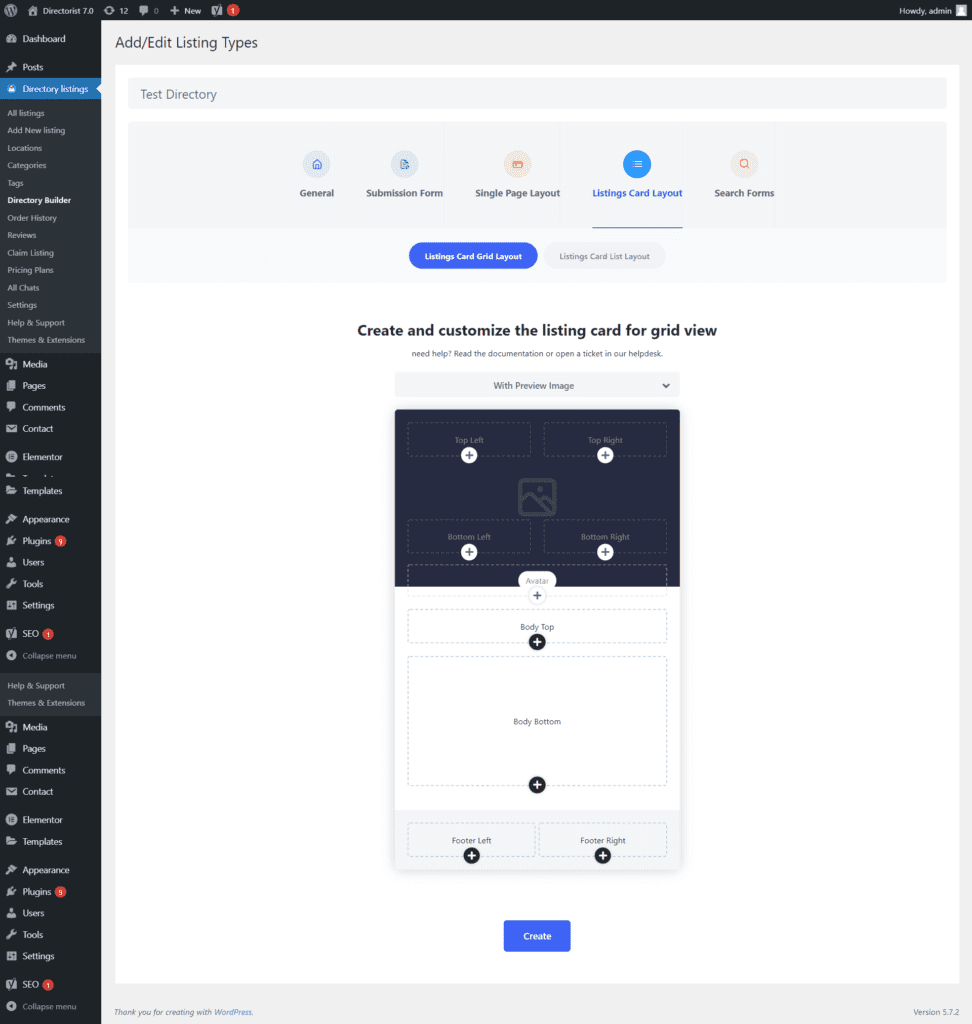 6. Export/Import Listings
The most exciting part is that the layouts you create with Directory Builder can be exported to use with Elementor afterward. What it means is that you can export or even import listing layouts at your disposal. This makes the Directory Builder feature completely compatible with the most popular page builder, Elementor. How cool that is!
7. Edit Search Form
Due to poor search options on your directory website, a visitor can lose herself or himself in the sea of listings while trying to find the most appropriate one s/he is looking for. Directorist has introduced the exclusive and unique "Search Form Editing Option" in the directory builder to take the visitor to rescue.
With this option, you can give your visitors massive control over their search queries by adding a series of filters. And guess what! You don't even have to insert any of those search filter fields all by yourself because the search filter fields are automatically derived from the submission form fields.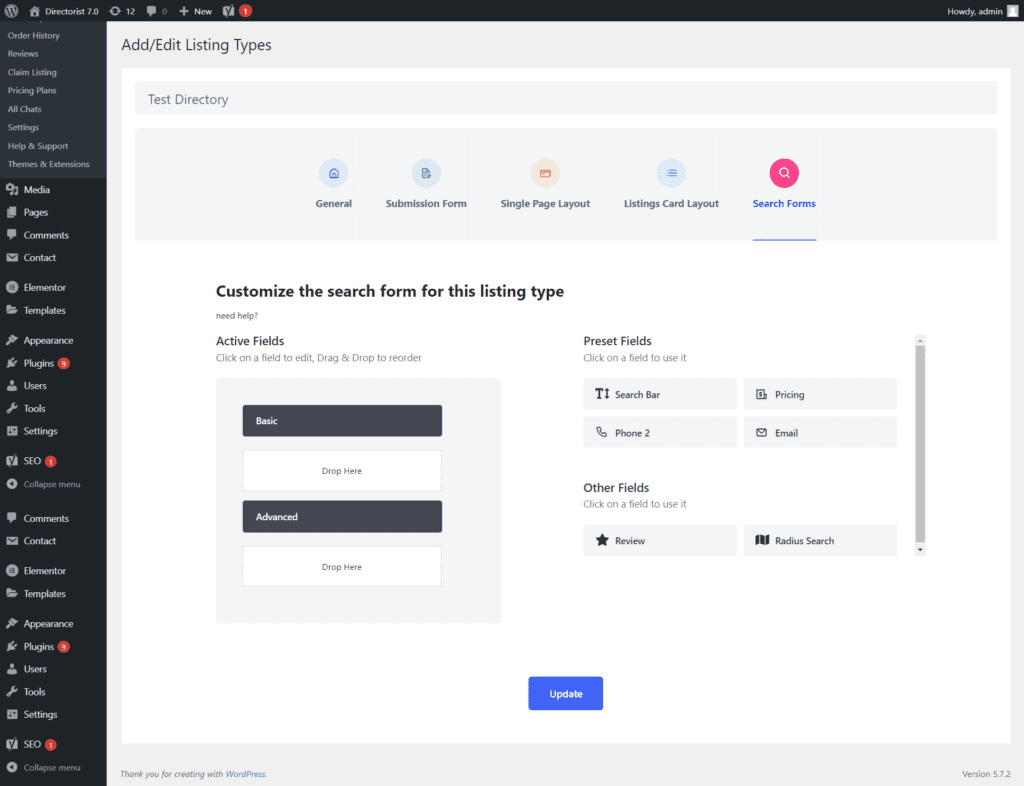 The preset fields and other fields are not just limited to the above screenshots. Meaning, you will be able to see more fields here on the "Search Forms" builder. As you add more fields on the submission page, they will be appearing at the Search Form builder.
Final Thoughts
Though the directory builder has rolled out with promising features with the release of Directorist 7.0, it has also been criticized for carrying several bugs. However, our developers are trying their heart and soul to take care of it and kill all the bugs appearing along the way. And we are planning to fix most if not all of the issues within the next two updates to be specific.
However, if you are already using the directory builder feature, don't hesitate to share your thoughts in the comment section down below. Your invaluable experience be it positive or negative matters to us so much to improve the solution.
If you liked our posts, don't forget to subscribe to our blog so that we can notify you once any post is published. Directorist is now on Twitter & Facebook! You can also join the Directorist Community for sharing your thoughts and experiences relating to the directory niche. Come and join us to see what we're up to.