How to Create A Hotel Directory Website
7 mins read
Howdy,
Welcome to our article! Today we are going to show you how to create a hotel directory website at a minimal cost. We are sure that you have landed here to learn the easier and more effective steps to create a hotel directory website like Booking.com, AirBnB, TripAdvisor, etc. Well! Let's be more straightforward. To create a directory website for hotels, we will use a free directory plugin and theme.
Sincerely speaking, there are a number of well-known but free WordPress directory plugins but here we take Directorist which we think most complete and powerful directory plugin in the WordPress repository. Choosing Directorist isn't mandatory. You could take any other plugins from WordPress.Org. It's totally up to you.
And, our chosen theme is OneListing which is a minimal WordPress directory free theme you can use to construct any kind of directory website no matter whether you want to create a hotel directory or a restaurant directory website.
We won't brag anymore here. Before we dive into the main interface, let's know the importance of creating a hotel directory website.
Why Need a Hotel Directory Website?
According to the World Tourism Organization(UNWTO), the total number of global tourist arrivals was about 415 million in 2021, which is a remarkable 4% upturn, compared to the year before. That shows the travel industry remains one of the most competitive industries dominated by accommodation services.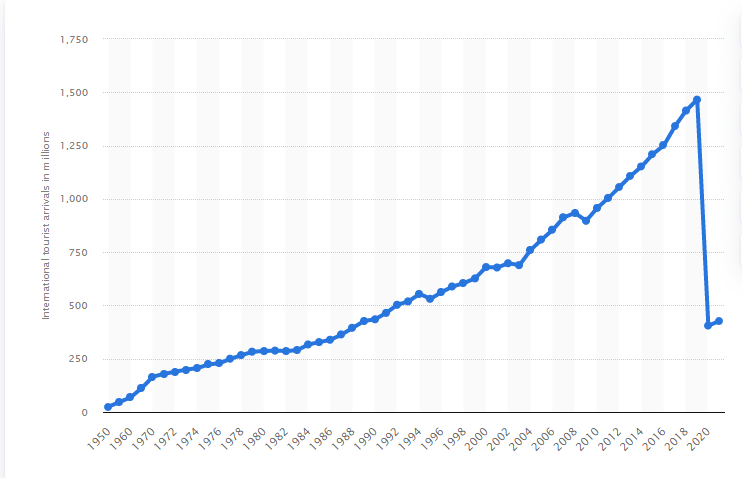 Source: Statista
Again, the economic contribution of tourism in 2021 reached up to US$1.9 trillion. Meaning clearly that the tourism sector plays an important role financially. In this case, accommodations like hotels play a significant role. Have you understood what we are going to say? Well, we mean the importance of creating a hotel directory website as the hotel owners tend to be listed more and more to make themselves accessible to the wide number of tourists who flock almost all year round. And, creating a directory website for hotels will be a remunerative endeavor, no doubt.
How to Create a Hotel Directory Website [The Easier, The Better]
We have assumed that you have already brought a domain & hosting in place and installed WordPress. Now, let's get into the box to envelop the procedures.
Start with installing OneListing
Like any other free theme, OneListing is a very simple thing to install. To do that, navigate to the WP Admin Dashboard> Appearance>Themes>Add new and then activate the theme. Follow the screenshot if you face any difficulty installing the theme.

Apart from this free theme, you can use Best Listing for an amazing user experience. This one is also a free theme and you can make your directory website appealing with this theme.
Installing Directorist
Once you have installed the theme, you will get a notice on the dashboard to install the Directorist plugin, a free business directory plugin. Installing the plugin means enabling the core functionality of your hotel directory. To know the installation process of the plugin in detail, you can check the documentation.

Adding locations
It is evident that the majority of users search hotel listings based on location. Hence, adding a location to your hotel directory is another important thing to do. Let's imagine you want to add " Nevada". In order to do this, go to the listings > Locations and fill in the description field if necessary. In the same way, you can add more locations to your hotel directory website.
Adding categories
Different types of users search for different types of hotel listings. As a hotel directory owner, you should split your hotel directories into different categories for the convenience of users. For example, you want to add a "Five Star" category to your directory. To do that, go to the Listings > Categories. Then specify the name of the category and upload the category image. Finish the process by clicking the "Add Category" button and you can see the category on the front end. In the same way, you can add as many categories as you want.
Add hotel listings as many as you can
To add listings in your hotel directory, navigate to the WP Admin Dashboard > Directory Listings > Add New Listing.
However, the hotel owners will add or submit the majority of the listings. One thing you can do is to check whether the listings violate your community standard or not. And, you can charge money for every listing.
To add listings, business owners need to have a registration with your site. Business owners can freely add more listings from the "Add listings" option. You can check the progress, and whether the submission is okay or not.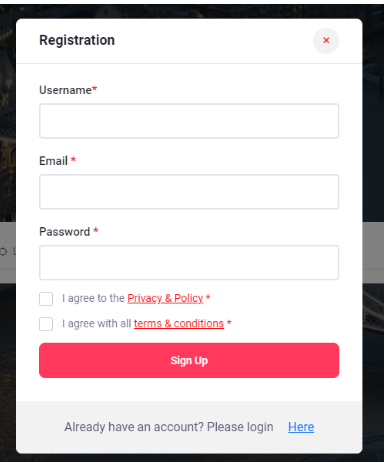 Configure/customize your hotel directory website
Before you add your advanced functionalities, you need to first configure your directory. Now, If you want to customize your directory site, go to the directory builder and configure your directory according to your needs. For the details, you can head over to this article.
How to Make Your Hotel Directory Website Lucrative & Feature-Filled [Pro Tips]
You have already created a directory website for hotels. And, we guess it has taken a minimal amount of cost. Well! Now we will show you how you can elevate your hotel directory to a whole next level of height. As far as we know, a directory website comes into the light of growth and success when it has some exclusive features in place. These features include the Booking & Appointment option, Business Opening Hours, etc.
The booking & Appointment feature will help your listing owners to allow their customers to book them in advance. Mr. Victor, as an example, is a hotel listing owner and he wants to have an option that let his customers book the listing before the due time. This option, literally, reduces the hassle for customers who stay in the queue for a long way of time. As an admin, you can introduce this booking feature to your website so that the listing owners can make a solid bait with their customers.
You can add this feature to your hotel directory website using the booking & appointment extensional plugin. To add this, go to the WP-Admin Dashboard ➝ Plugins ➝ Add New ➝ Upload Plugin ➝ and upload the Extension ZIP file and Activate it.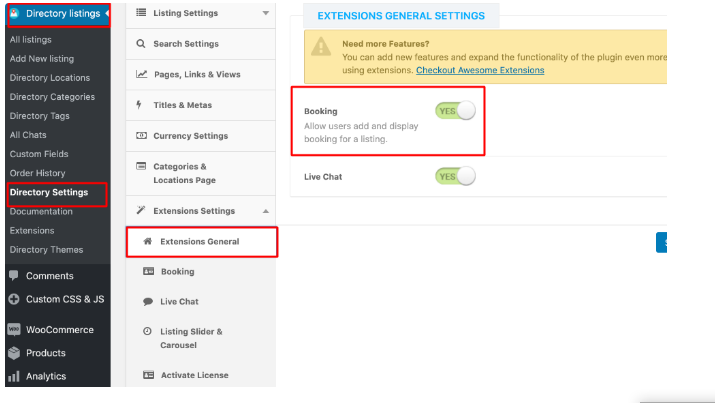 Again, the business opening hour option is tremendously important just because it will let the customers know about the opening hours of business. And, a listing owner always takes a shadow into this option to engage his customers/prospective customers. Hence, you as an admin of your hotel directory website should bring this feature to your website arsenal. Thus, you can make your website more lucrative to the listing owners. To have this feature aboard, you can use this plugin on your directory website. The installation process is the same as the one above.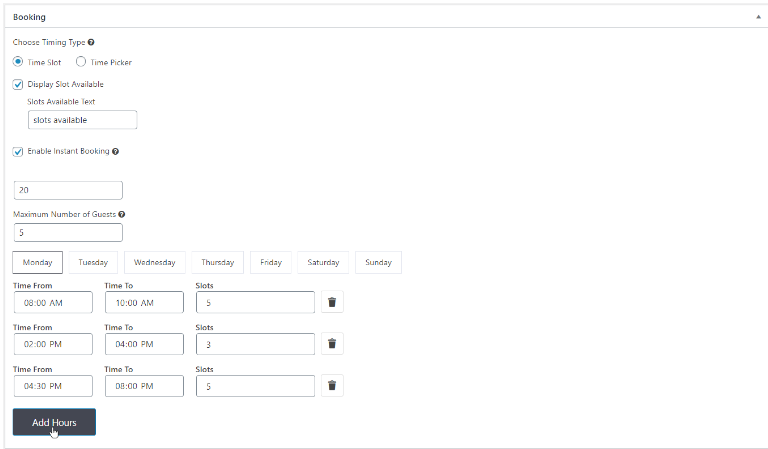 Apart from it, you can embellish your website with a number of features. For example, you can make your directory website multilingual using the free WPML integration plugin. Meaning, your website will be accessible to different nations and languages people speak in.
Another cool option you can center on your website is to gamify it. The plugin will help you to get your job done in the utmost way possible! To be very honest, there are many options you can apply to make your hotel directory website astronomic with the extensions. And, it's up to you.
Bonus Tips: How to Monetize Your Hotel Directory Website [Magical Shot]
Once you have created your hotel directory website with all the best possible options, then the time really comes in hands to make it a money-making machine. After all, you have landed in this field to make money and do business, isn't it? Now let me show you how you can make money from your hotel directory website.
Selling Hotel Listings
Featured Listings
Rank featured Listings
Claim a Listing
Pay Per Submit
Subscriptions
Get a % of tickets sold through your events directory
More possibly, there would be many more options that you can use to make money and money. But, the options above are the most common things to mint money from a directory website.
End Appearance on How to Create a Hotel Directory Website
Thank you a bunch for reading out this article to the end. We believe that you have already learned how to create a hotel directory website with minimal investment and how to make money from a hotel directory website. Now try this at your home again and again. If you stumble with any options anywhere, then please don't wait for even a second to send the query addressing your problems to us. We would love to help you in the best way possible!
Oh no, one amazing thing we forgot to let you know is that you can use dHotels, a premium & hotel-specific theme and it is hammered out only aiming at creating a lucrative hotel directory website that truly makes noise out of the box.
If you liked our posts, don't forget to subscribe to our blog so that we can notify you once any post is published. Directorist is now on Facebook, Twitter, and LinkedIn! You can also join the Directorist Community for sharing your thoughts and experiences relating to the directory niche. Come and join us to see what we're up to.