Directorist Year in Review 2020: A Year of New Beginning
20 mins read
Have you ever experienced a year more life-changing than 2020?
2020 has been a year of gains & losses, a year of challenges with lots of learning all through the world. The entire generation has faced the biggest pandemic ever in the recent past. More than a million lives were lost in the pandemic, small local businesses turned negative, and a lot of people have become jobless within a short span of time. On the other hand, 10 years of advancements in technology seemed to happen in mere months.
As a sister concern of SovWare, we, the team Directorist have been evolving whole through the year. It was a fabulous year to take us to the next level of advancement. Most importantly, we were lucky enough to help thousands of people grow their businesses around the world.
Directorist is growing faster with an enormous possibility. It'll be adding more advanced features and functionalities in the coming days to enhance your directory business and take it to a whole new level.
Last year was an incredible year indeed here at Directorist with lots of hard work and dedication by everyone on the team. Despite all the hardship & challenges, yet, we've achieved something amazing as well! None of these would be possible without the contribution of each member of the team and of course, our valuable users who always inspire us and push us to stay innovative and do something better with every release.
A Bit About Directorist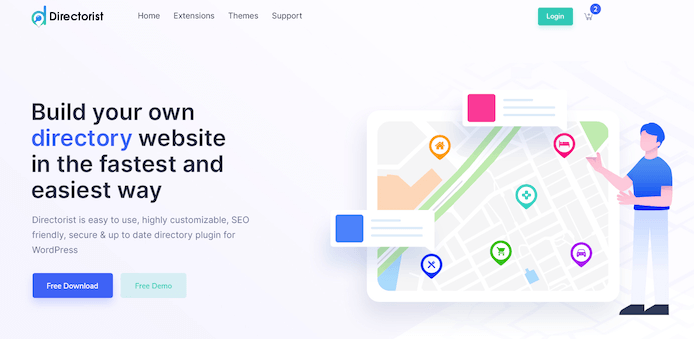 Directorist is one of the fast-growing directory plugins in WordPress. The plugin aims to make your directory business easier than ever. You'll find the ease of use, a user-centric interface, tons of features, and functionalities using this awesome plugin.
The most notable aspect of the plugin is its wide range of customizability. It provides you with extensive control even from simple to advanced control to make your directory your own. If you're someone who is really looking for a comprehensive and complete solution for directory business, then Directorist is your tool!
Using Directorist, you will have great feature list in your hands. Let's take a look what the plugin offers for you:
Beginner Friendly as easy to use ecosystem for directory listing
100% responsive and modern-day design.
Compatible with all major themes including Avada, Divi, Astra, and OceanWP.
Allows you to have multiple monetization schemes
Booking feature of using a booking system
Live chat feature
Ranked featured listings available
Ads management feature
Directorist coupon
Option for CSV Bulk Import (listing, category, location, tag, media, etc.)
25+ Elementor Page Builder widgets
Ajax powered listing and review submission.
Extensive documentation with dedicated support facilities.
Overall, Directorist is built to take care of your directory related needs by reducing all your pressure. In fact, using Directorist, you don't need to worry about creating & managing your directory listing business at all.
Now, check out the LONG one-year journey in 2020!
Glimpse of 2020
Before we dig into what happened in 2020, here's a quick glimpse of Directorist by-the-numbers:
Plugin growth increased by 466%
6000+ active users (3x growth rate compared to last year)
Launched 17 official releases
81 out of 115 five-star reviews, and counting…
45 new features and 07 new extensions released
Started 1 blog section dedicatedly
Team member growth by double
Replied more than 7,000 tickets and 2250+ customers helped
Resolved 300+ Directorist WordPress support threads
42% Issues got resolved on the first reply
Started with 1 growing Facebook page & community
Let's dive into Directorist year in review 2020.
Looking Back at 2020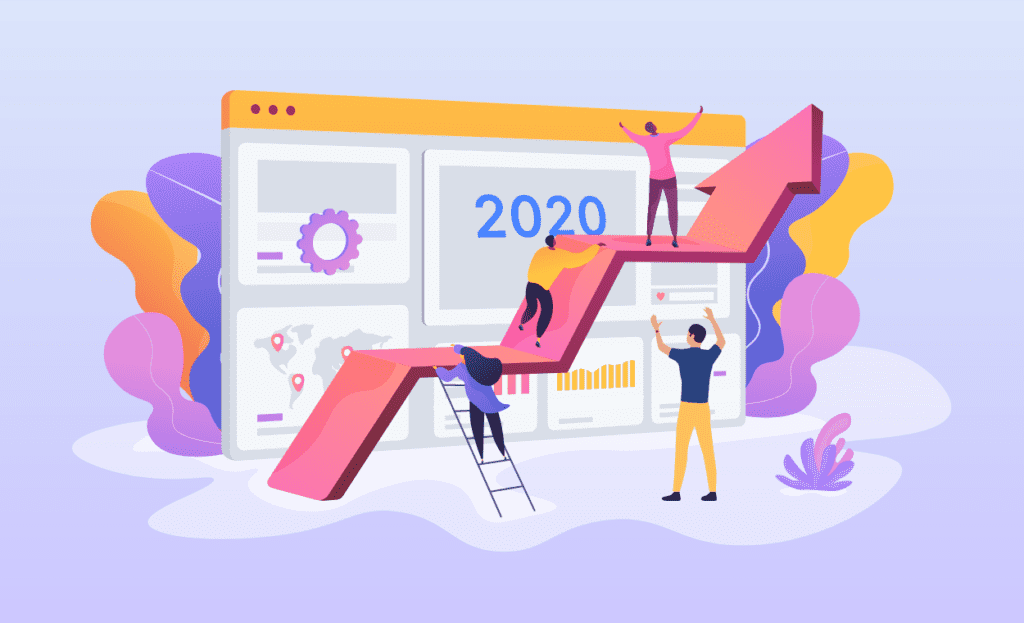 Before starting 2020, we thought a lot to make the best use of the year by empowering Directorist in so many ways. So far we got more than what we expected. With our mission in place, we hit the ground running with one major update near the start of the year, taking shape in the form of Directorist.
Development Quarter Through 2020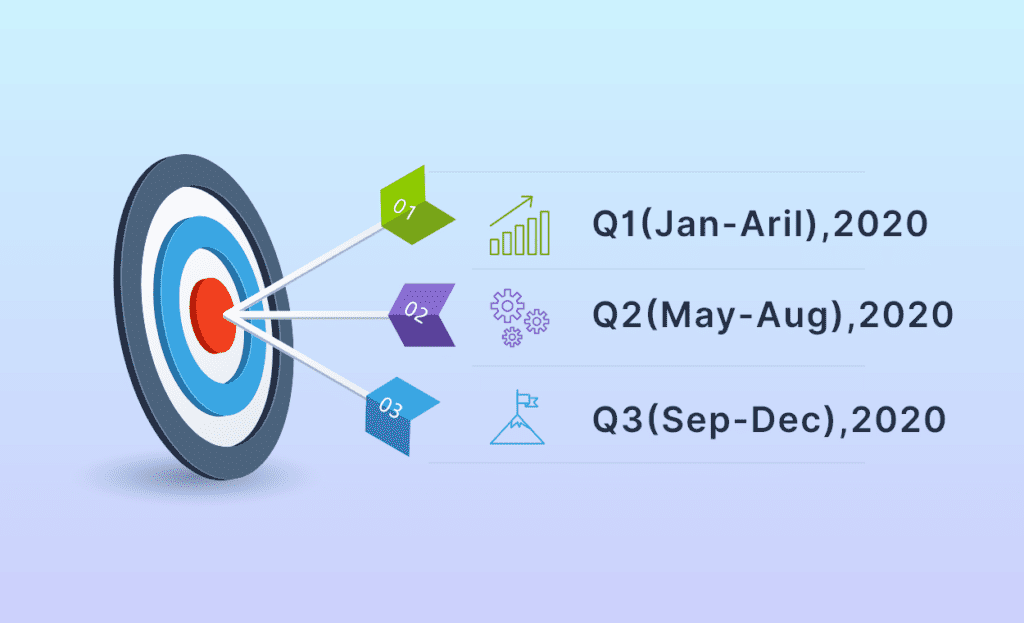 In this section, I will try to highlight the development process of the whole year based on different quarters. Our development quarter is divided into 3 parts. That means each quarter consists of 4 months. Let's begin with the 1st quarter:
1. Q1(Jan-April), 2020
In the first quarter, we mostly focused on plugin development and we worked hard to take Directorist to the next level. Specifically, we polished the plugin by improving its existing features and functionalities in this quarter. Let's take a deep dive into the major events that took place in the 1st quarter of 2020!
In the first quarter, the plugin had 6 releases in total and we spent most of the time on bug fixing and improvements of the exiting features. Moreover, we added 17 new features to make it even scalable. Here are the updates that happened in the 1st quarter.
✅ Directorist 6.3.0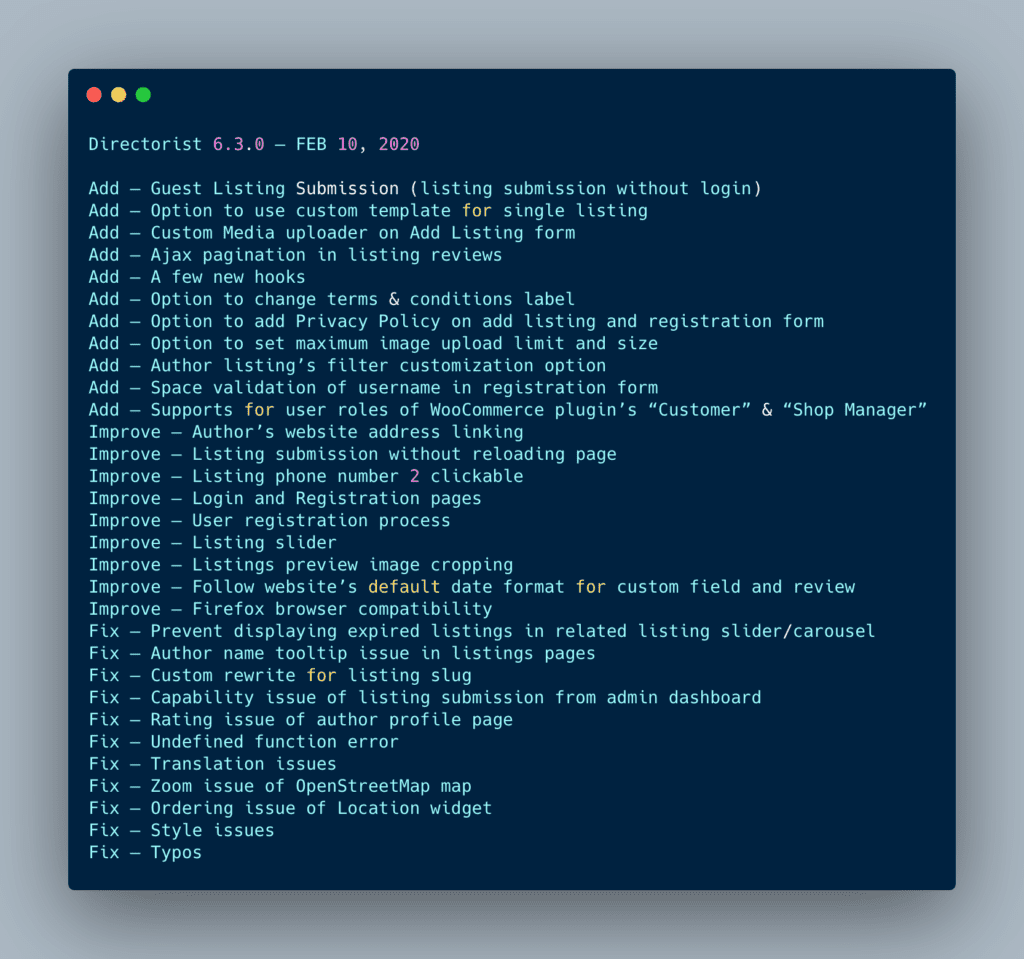 This was the 1st major release of the year 2020 happened on February 10. With this update, we added some important features with improvements to the existing ones. Features like Guest Listing Submission, Ajax pagination on listing reviews, support for user roles(Customer, Shop Manager) of WooCommerce plugin were added.
Apart from the added features, we improved and fixed bugs altogether to make the plugin more polished with this release.
✅ Directorist 6.3.1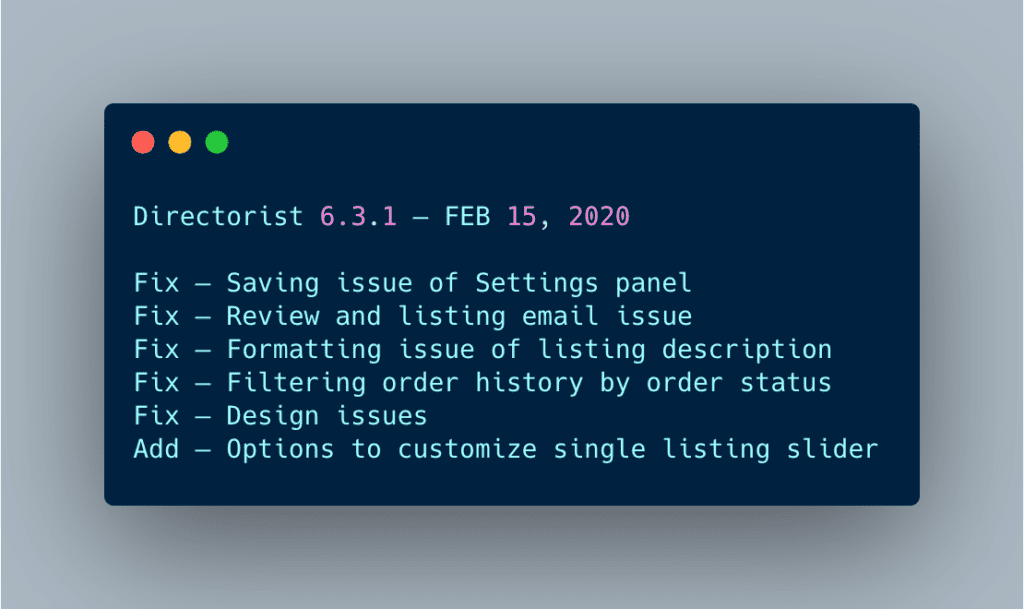 This was a tiny update that happened after 5 days of the 1st year release to improve some of the previously released features. This update got one important feature that gives you options to customize the single listing slider. There were several bug-fixings as well in this update.
✅ Directorist 6.3.2
This update happened basically for bug fixing and improvement of the existing features. Only one feature added which provides the options to customize each single listing slider.
✅ Directorist 6.3.3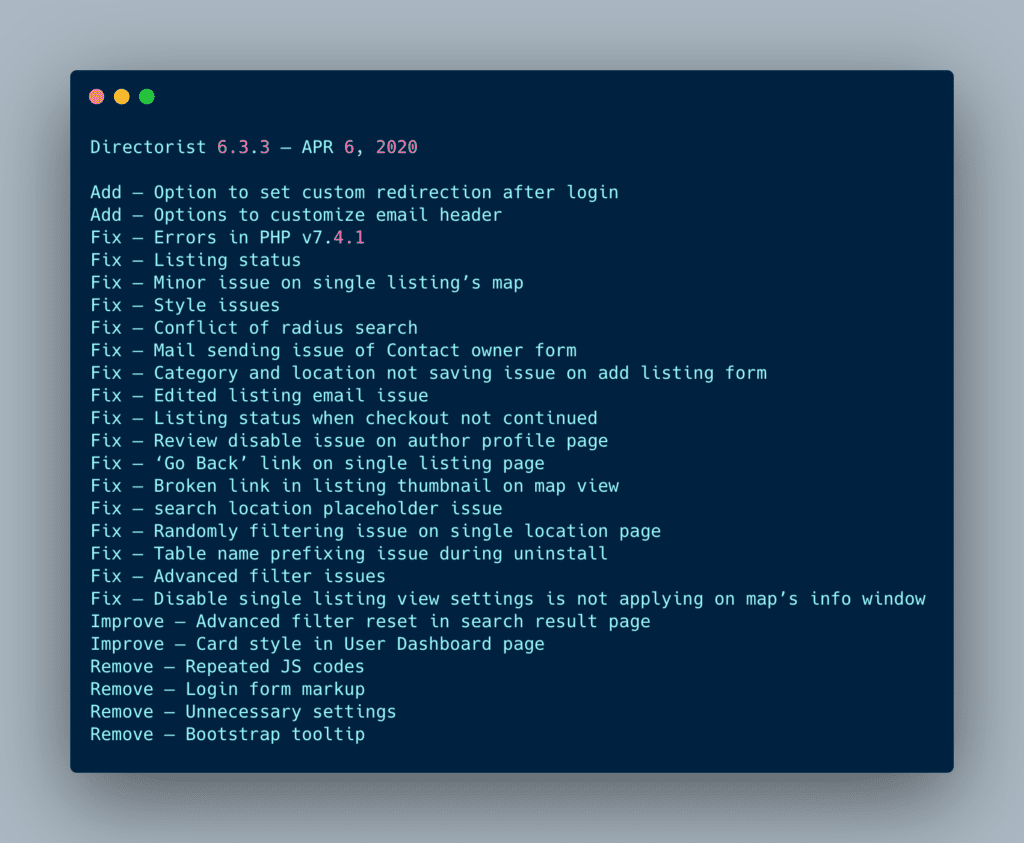 We added two more features with the update. After this release, users have been getting an option to set up custom redirection after login. Now, users can customize the email header after the release. Moreover, we did bug fixing and improvement as well.
✅ Directorist 6.4.0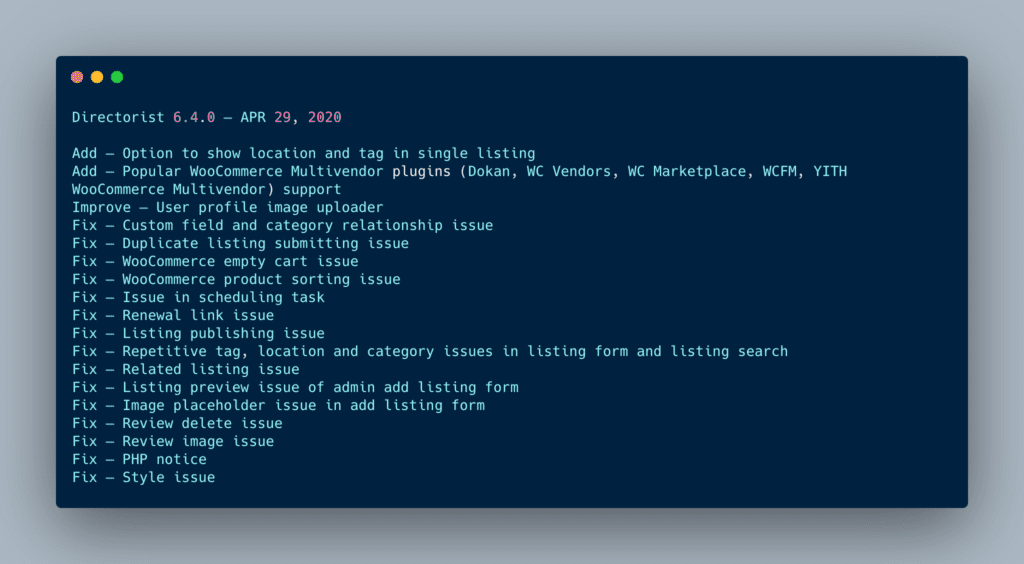 This is the final release of the 1st quarter. In this release, we added two of the most features with the plugin. After the release, users can get an option to show location and tag on a single listing page. Directorist also integrated with the popular WooCommerce Multivendor plugins (Dokan, WC Vendors, WC Marketplace, WCFM, YITH WooCommerce Multivendor) support.
These are the major releases that happened in the 1st quarter.
2. Q2(May-Aug), 2020
Quarter 2 started with the bug fixing and improvement with the core plugin. Here are the happenings of the development of quarter 2.
In quarter 2, Directorist got another 6 releases in total. There were 11 more features added to the ecosystem. Let's mention a couple of major ones.
✅ Directorist 6.4.1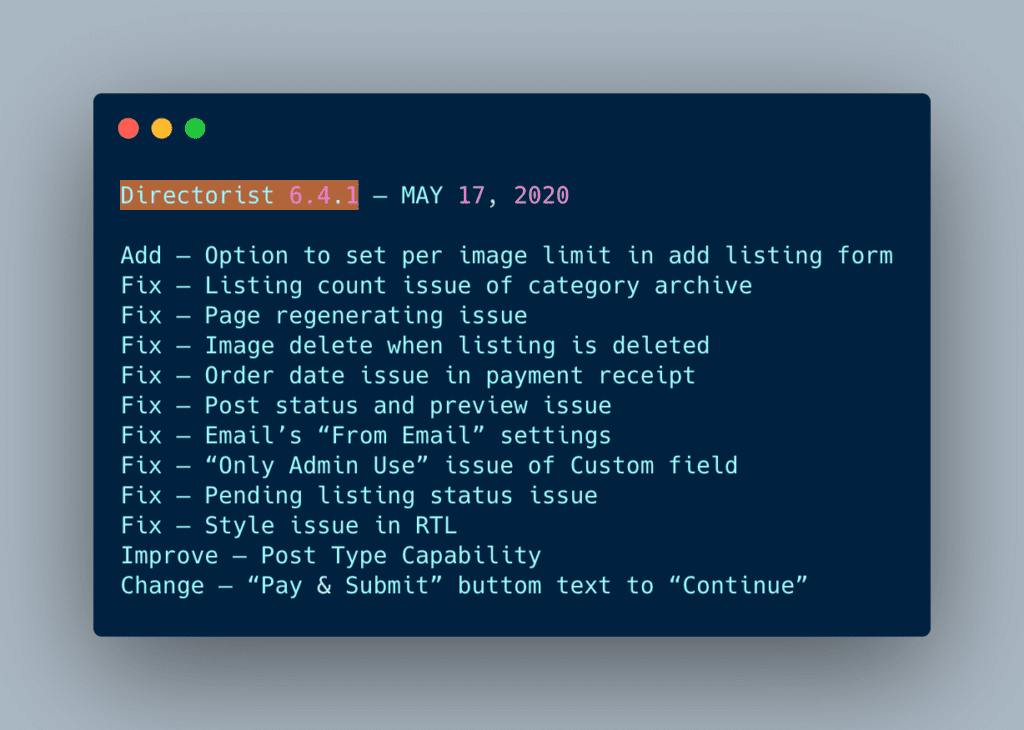 1st update of the quarter with lots of improvement to the core plugin. The only functionality that is added to the plugin is an option to set the image limit in the add listing form.
✅ Directorist 6.5.0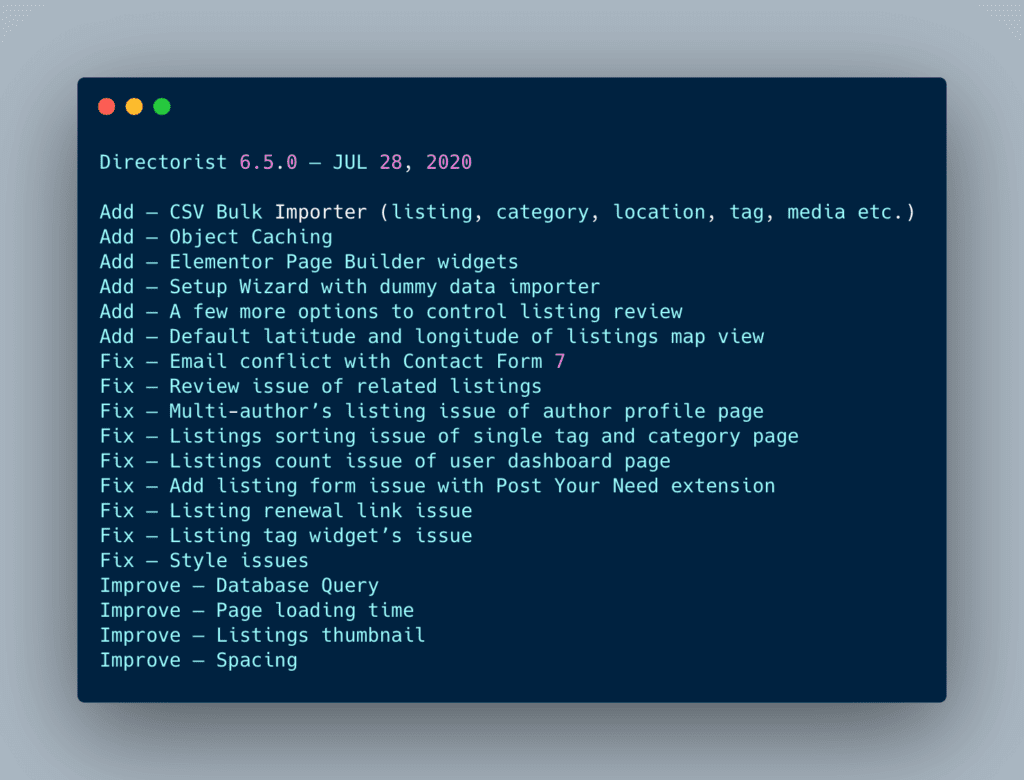 This is the 3rd update of the quarter and we added 6 different features with the update. The previous two updates were minor went for improving and bug fixing. Here, Directorist got Object Caching, Elementor Page Builder widgets, Setup Wizard with dummy data importer, CSV Bulk Importer (listing, category, location, tag, media, etc).
✅ Directorist 6.5.2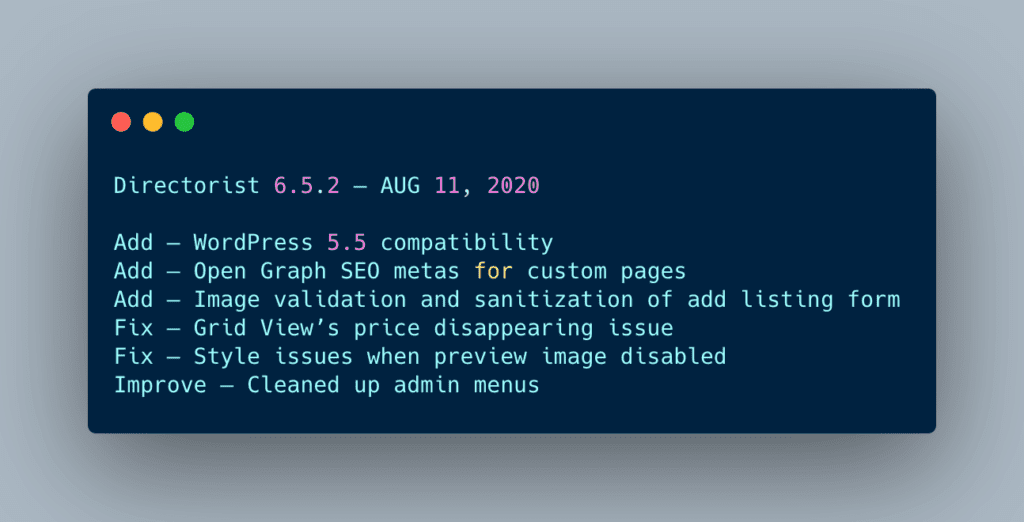 This update was for WordPress compatibility. We made Directorist compatible with WordPress 5.5. Moreover, we added open graph SEO meta, and image validation and sanitization features.
3. Q3(Sep-Dec), 2020
Quarter 3 is the best and the most significant part of the year for Directorist. A lot of great happenings occurred in this quarter. In fact, this is the game-changing part of the entire company. In quarter 3, Directorist got 5 official updates with 17 added features in total. Let's take a look at some of the crucial development steps we have taken in quarter 3:
✅ Directorist 6.5.3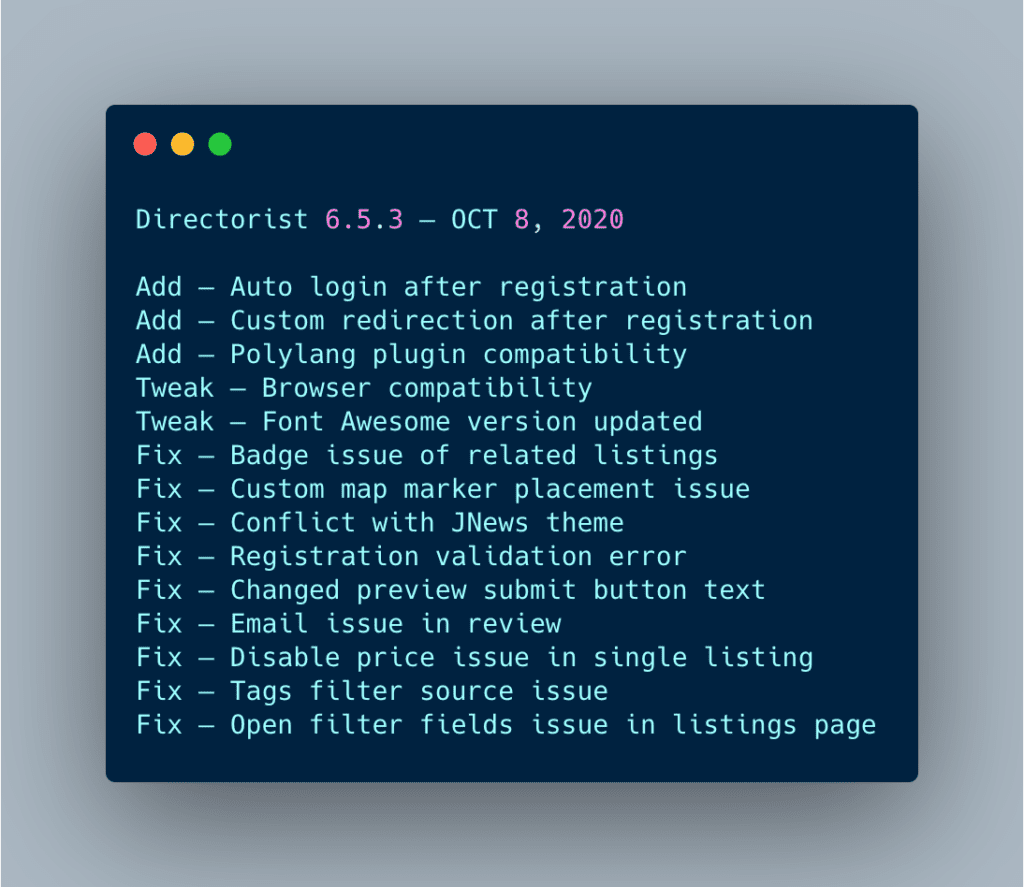 This is the 1st update of the 3rd quarter that happened on October 8, 2020. It includes auto-login and custom redirection after registration feature. With the update, Directorist got compatibility with the Polylang plugin.
✅ Directorist 6.5.4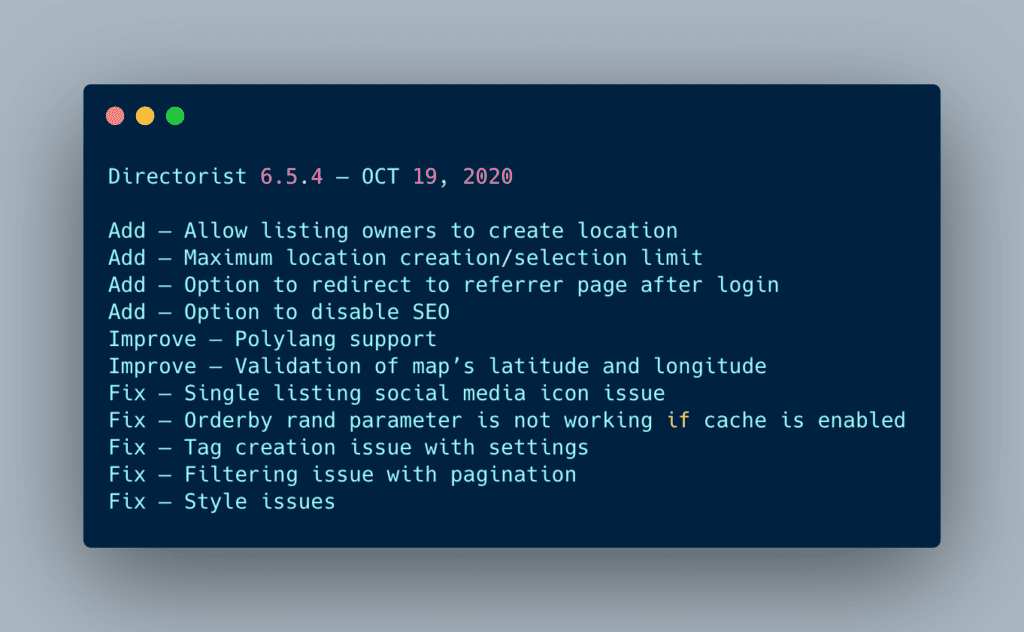 In this update, Directorist provides some control to its users. It allows listing owners to crate location and limit maximum location creation. Users can have the option to redirect to a particular referrer page once logged in. It also allows users to disable SEO if it's needed.
✅ Directorist 6.5.6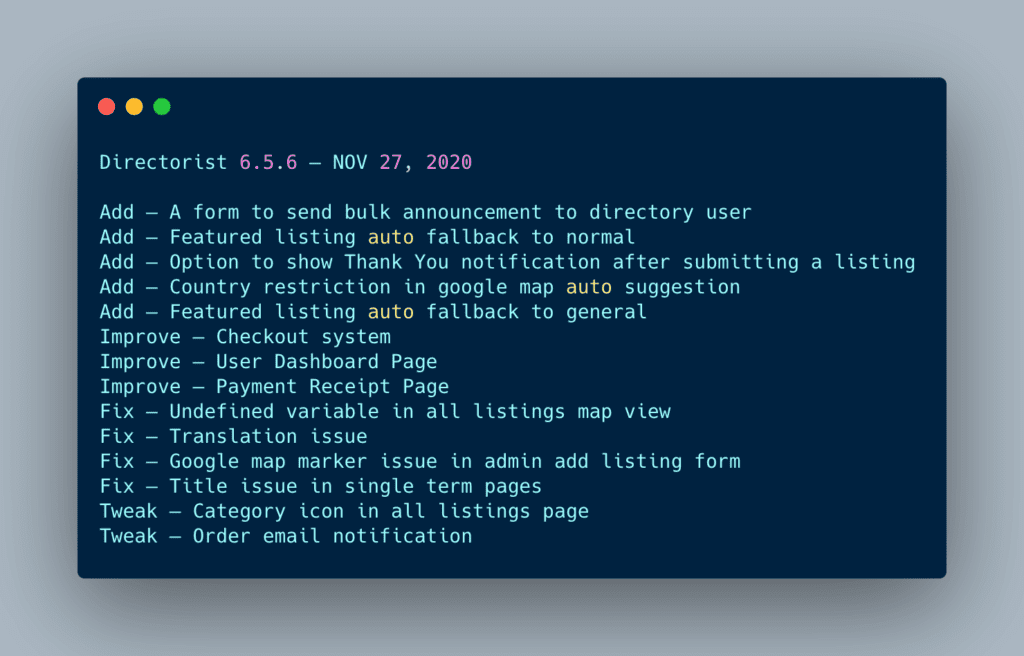 With this update, Directorist comes with some inclusive features like featured testing auto fallback to general, country restriction in Google map, option to show thank you message after the form submission, and a form to send bulk announcement to directory users. Moreover, there were some bug fixing, improvement, and tweaking along the way.
✅ Directorist 6.5.7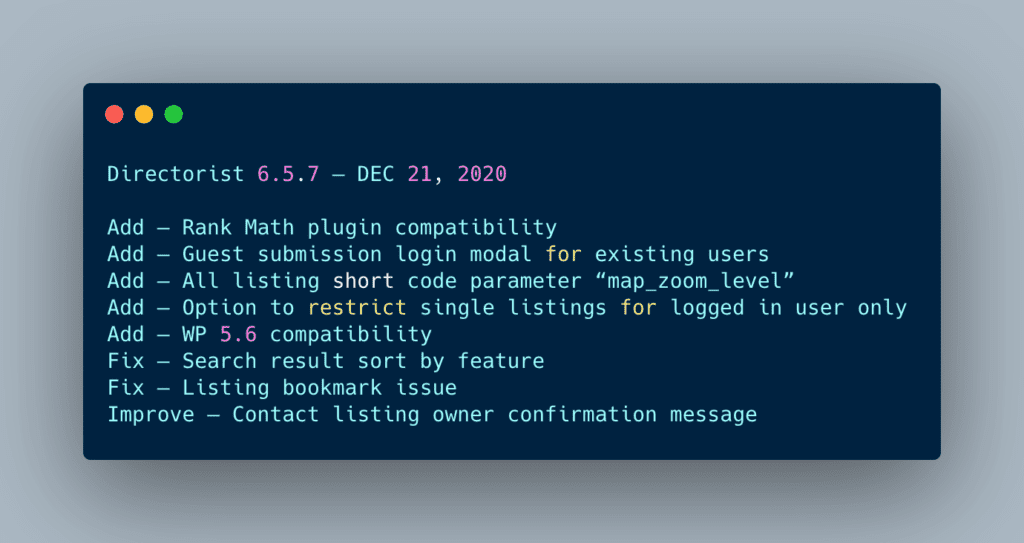 This is the last official update by the team Directorist. In this update, there are 4 different features added to the plugin. RankMath plugin compatibility, Guest submission login for existing users, shortcode parameter for all listing have been added to the list.
Amazing Achievements in 2020
Apart from the development that happened throughout the year, we achieved some amazing things. Let me share you some of the great stuff:
1. Introduced some great extensions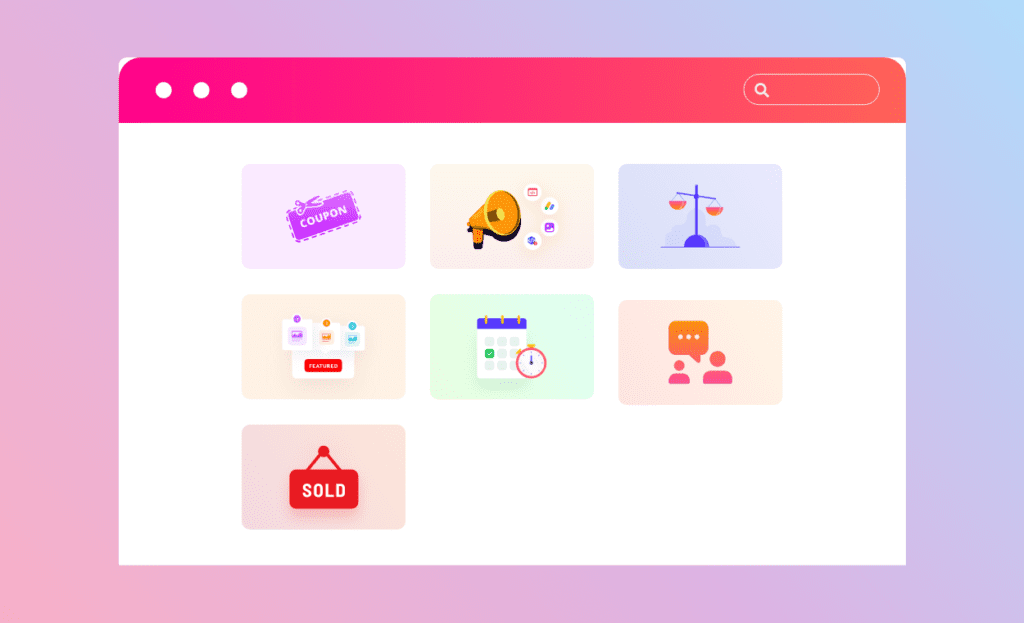 In 2020, Directorist comes up with 7 amazing paid extensions under its own ecosystem. All of them are cost-effective and played a vital role to make Directorist even scalable. Here, take a look at the seven:
Directorist Coupon is used to set up discounts and manage them comprehensively on your directory website. It allows you to offer discounts to your potential users when purchasing listing plans or paying for featured listings.
Ads Manager makes you able to insert different creative advertisements on a particular page such as All listing page, Single Listing page, All Location page, All Category page, etc.
Compare Listings extension is used to add a set of listings in a form of a list view and compare its features by showing in a comparison table. It helps your potential users to make a decision. You can add the favorite listings in a list and compare its features in a table view.
This is one of the uncommon feature extensions for a directory website. Using this extension, you can rank all your featured listings if it happens on a larger scale on your directory website that allows you to earn extra revenue from your users.
If you want to set up a dynamic booking and reservation system on your directory website, then this extension is for you. It comes with all the solutions you need to set up a dynamic booking and reservation system on your directory website.
Live Chat extension allows your directory visitors to contact business owners with an opportunity to their potential users. It makes the business more credible as customer satisfaction increases notably.
vii. Mark as Sold
This extension is a dynamic one that allows you to show a sign for a sold item. Sometimes potential users do mistake by choosing that is already sold out and out of stock. This extension gives an opportunity to the listing owners to show visitors if a particular item is sold or not.
2. A list of added features in 2020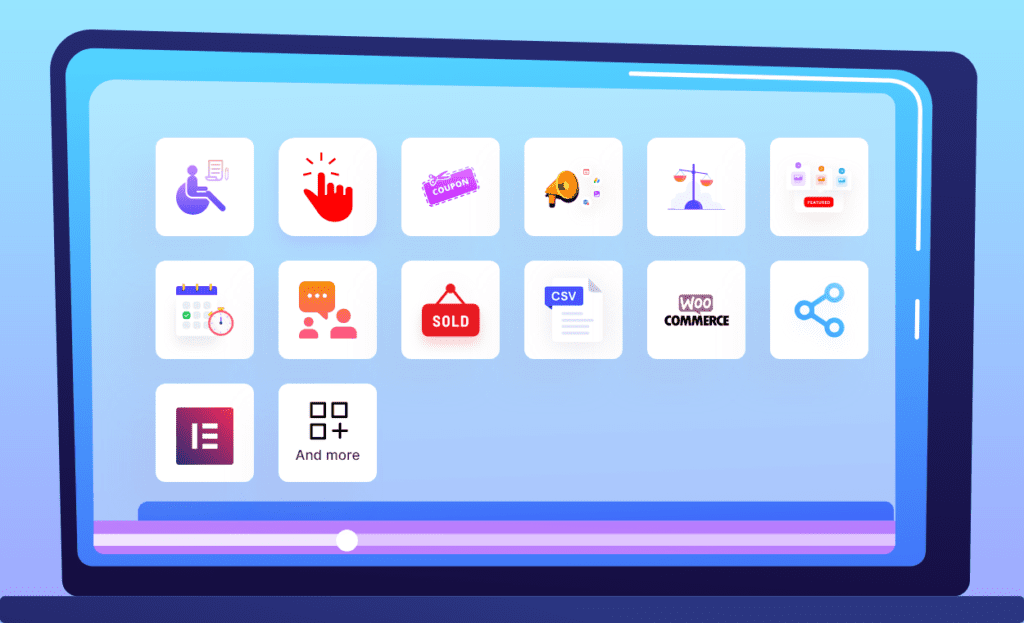 In short, 2020 was a year of development and growth at the same time for Directorist. We made the plugin as the industry standard so that our users will be proud of it. This year, we added a lot of great features that were crucial for the plugin. Let's check out the added features in the form of a shortlist.
Guest Listing Submission
Custom Media Uploader
WooCommerce Multivendor Plugin Compatibility
Live Chat (Extension)
Listing Mark as Sold (Extension)
Reservation & Appointment Booking (Extension)
Rank Featured Listings (Extension)
CSV Import
Elementor Page Builder Widgets
Setup Wizard
Improve Performance
Compare Listings (Extension)
Ads Manager (Extension)
Coupon (Extension)
Announcement
Rank Math SEO compatibility
3. Started with a dedicated support wing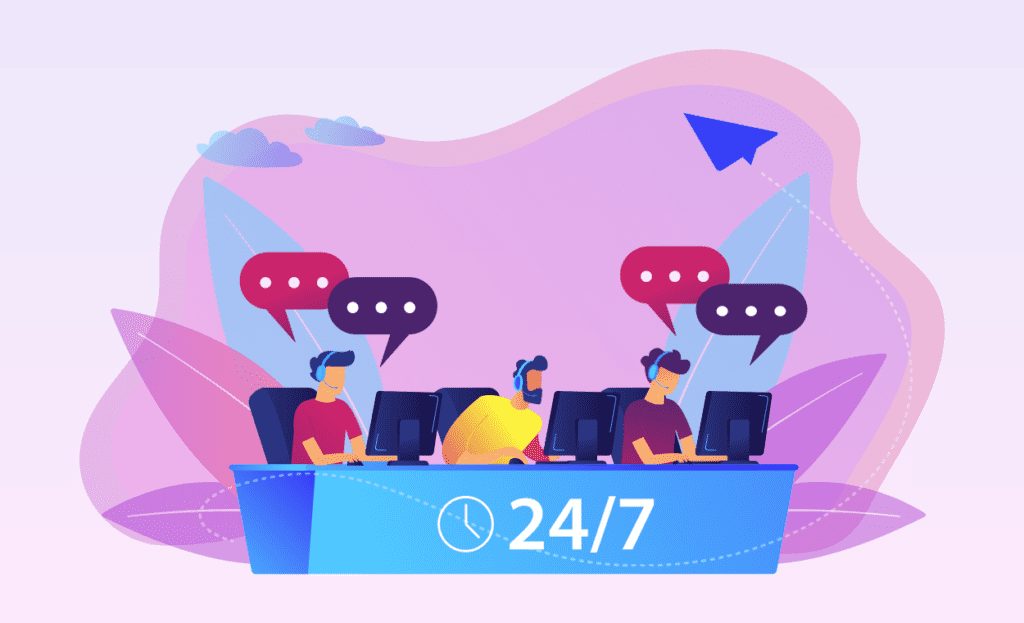 Before April of 2020, we didn't have any dedicated team to look after all the supports we get. Developers had to take care of support and the marketing was done randomly. Eventually, we recruited some energetic members for the support who were previously worked with the renowned companies of the country.
Since then, the team is doing really good as you can see the increasing number of five-star ratings in WordPress.Org. With the formation of the support team, quarter 1 was ended successfully.
4. Ensured quality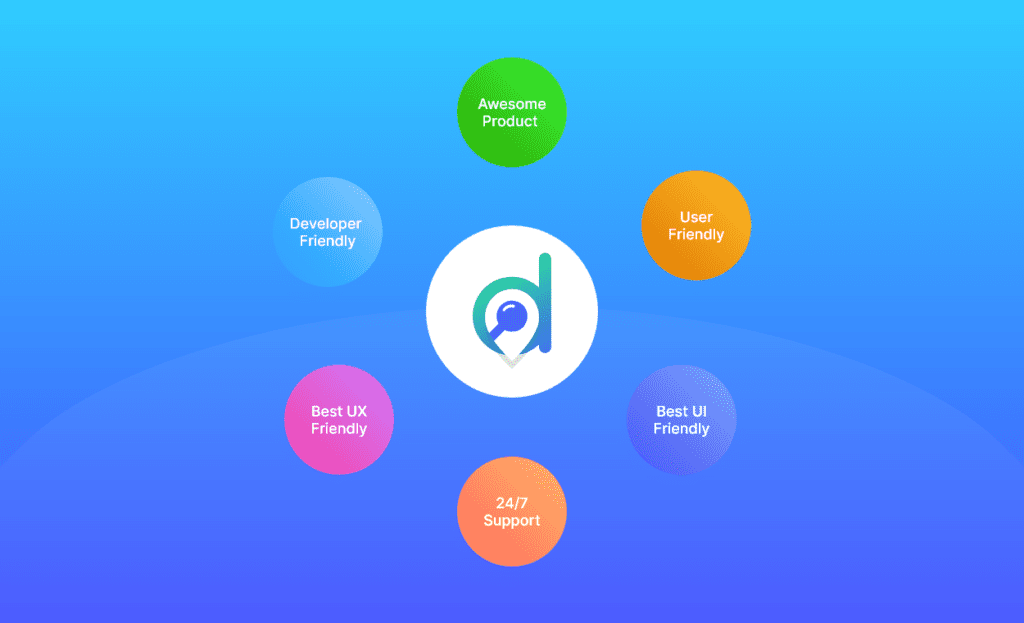 Quality is always our prime focus and it was the same for 2020. We spent initial years only on developing ensuring the quality. That's why we didn't put any effort into marketing until the last quarter of 2020.
In the 1st quarter of 2020, we increased our members in the support & JavaScript wings to ensure the quality of plugin support and frontend user experience. Users were liking us and we got a decent amount of five-star rating in the WordPress plugin repository.
Overall, until quarter 3, we ensured the quality first and have made Directorist a standard WordPress directory plugin for the WordPress community. Then, the plugin was fully prepared for marketing and we were waiting to move forward with the marketing stuff.
5. Started with a dedicated marketing wing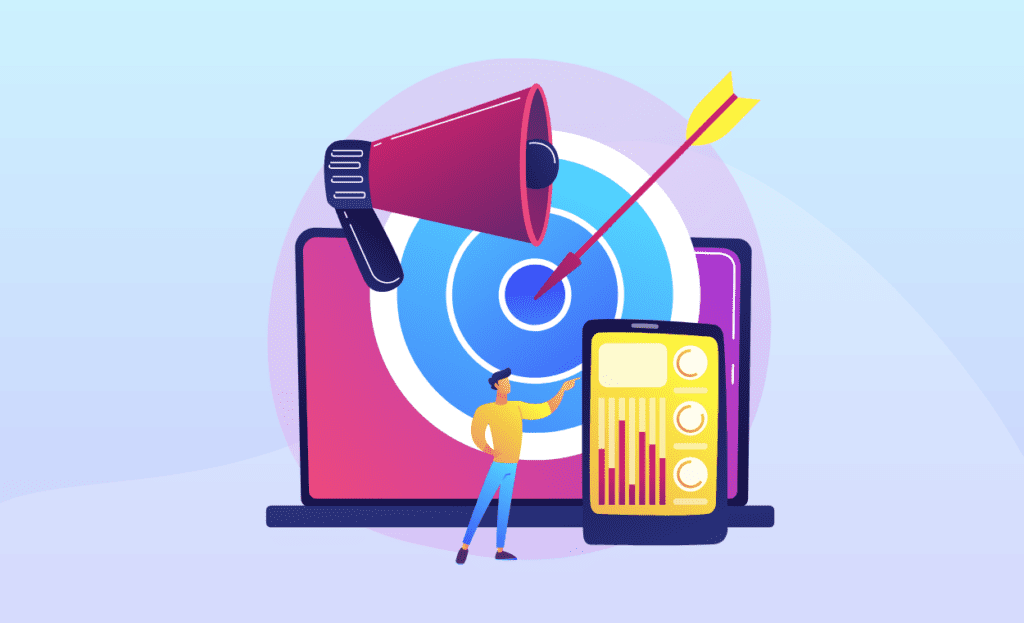 Ensuring a quality product is not enough anymore in this competitive WordPress plugin ecosystem. Even a great product can be lost in the crowd and fall short without constant endeavors to spread the word and educate others. That's the place where marketing takes care of everything.
The notable change was started when we formed a dedicated marketing wing for the company. Before quarter 3, there hadn't any structured marketing activities. Everything we did randomly along with other activities. In this quarter, we recruited some of the experienced marketers who worked with renowned companies previously.
6. Glittering campaigns
Most importantly we launched 3 consecutive campaigns within October and December. All the campaigns did well even they excel our expectations. We started with Outreaching, Social Medial Marketing, and Content Marketing as the means to promote all our campaigns. The success rate was amazing after each of the campaigns was closed.
i. Starter Halloween campaign
It was the first official campaign at Directorist. We started our core marketing with SMM and content marketing; the result has been enormous so far. The real change was started when we launched our 1st official marketing campaign on Halloween. We got a decent amount of positive responses from the community. Moreover, revenue and growth were inspiring altogether.
ii. The crazy BFCM campaign
Last BFCM was something that can't express in words. We got an overwhelming response during this campaign. Users liked our plugin so much and we got tons of inspiration to make the plugin even better in the coming days.
We're really pleased with the reach and engagement that happened during the campaign. It was something remarkable. Directorist have successfully touched the sights of many users over time. Many users switched from other plugins to our platform. Overall, the growth, revenue, active installations are improved significantly after this successful BFCM campaign.
iii. Year-end mega winter & holiday campaign
This is the last successful campaign we did. It was 10 days long campaign with a decent amount of user response. We are satisfied with the sales that came out of the campaign.
7. Growing Directorist community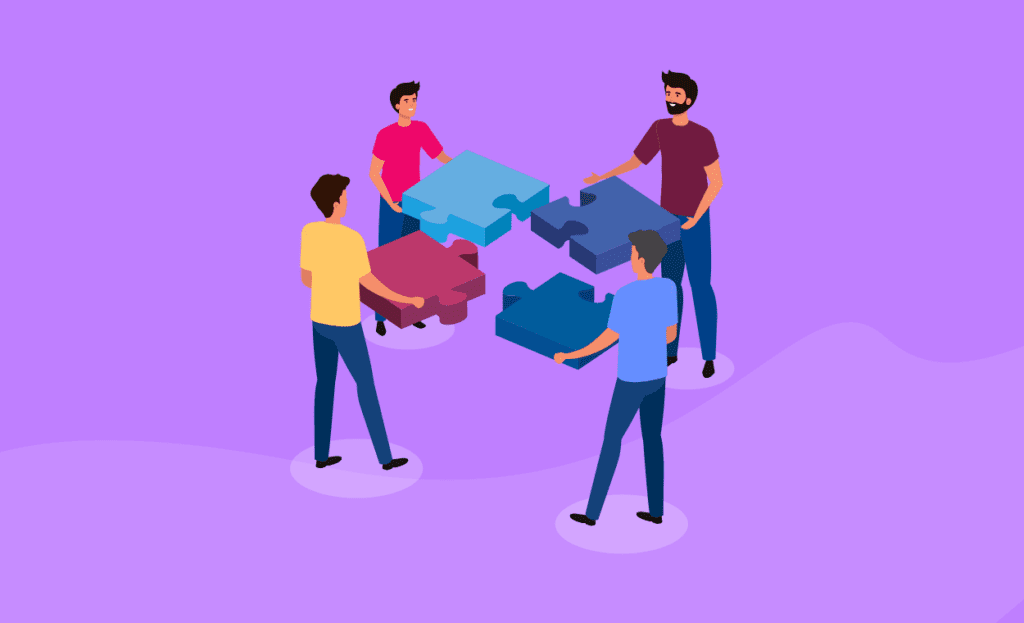 We're not bound ourselves with the physical meets and greets, we started building communite through different social media channels. The result has been so intense since we get the response from our users every day!
Since social networks provide a great way for both the users and companies to interact with each other, we have been trying to make the best use of them. Not only using the support tickets or Directorist Facebook community, but we also acknowledged our users and tried to figure out their pain points, and get back to them with an optimal solution.
As we have taken a delayed initiative on marketing, we have started social media marketing very recently in the last part of 2020. Within a short span of time, we understand our potential after having a huge response in social media channels.
8. Exponential business growth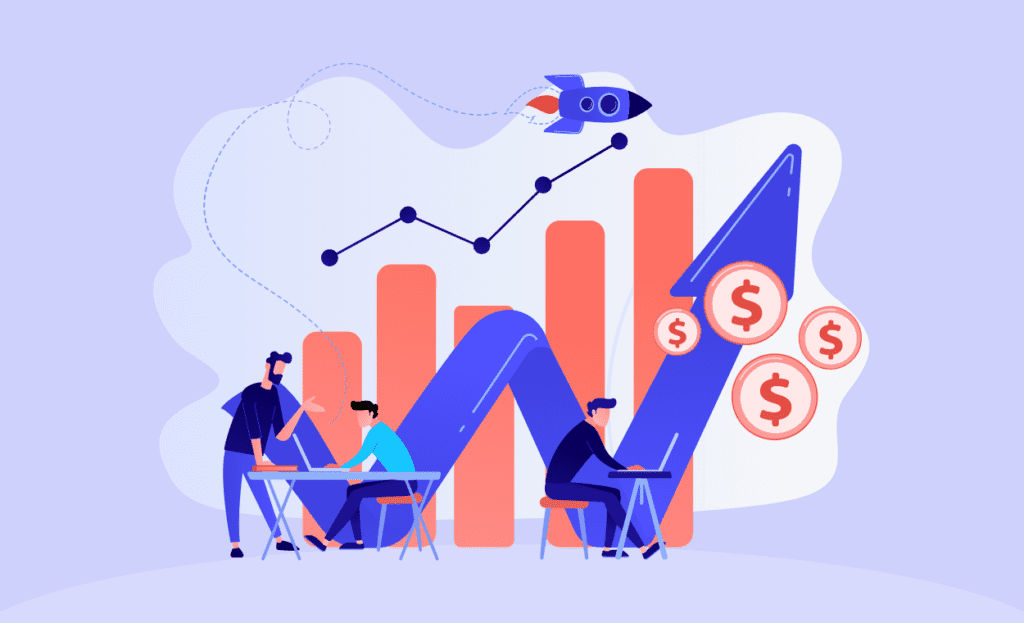 We're happy to let you know that we experienced healthy growth by 466% up compared to the last year. The success was immense, especially in the last BFCM campaign. We got a huge response from a large number of audience. Moreover, the number of active installations increased to a whopping 149% this year
9. Directorist's first-ever year-end sale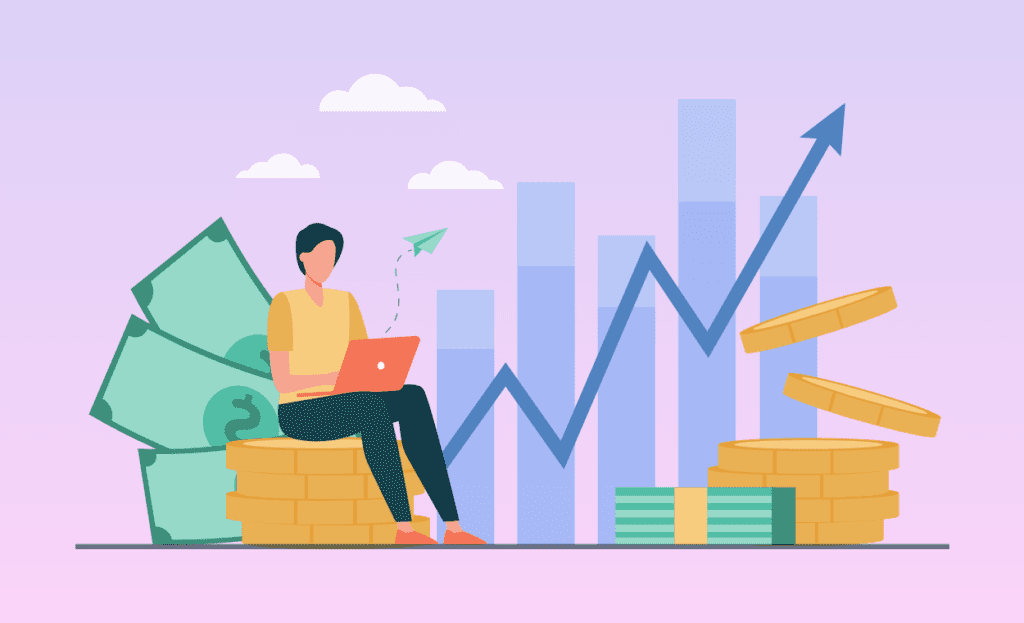 This year Directorist introduced its first-ever year-end MEGA sale campaign. We wanted to present our users a rare opportunity to get their hands on an absolute business game-changer; getting a hold of Directorist Unlimited Lifetime Plans. The campaign was started with the Halloween, then BFCM, and winder & holiday season of 2020. The good thing is all the campaigns were amazing and successful!
10. Rock-solid team growth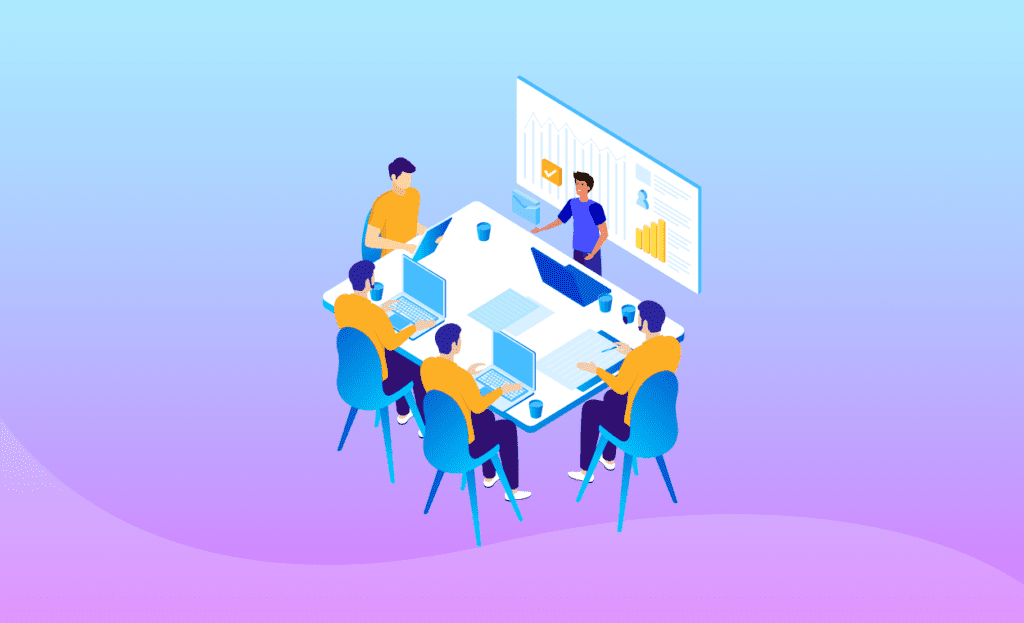 Team members are at the core of Directorist. One of the most amazing aspects of 2020 is the growth of team Directorist. Before starting with 2020, we had a team of only 9 people. Over the year, we have been evolved a lot, now, Directorist is a diverse team of 20 members.
It's already doubled the number compared to the previous year. We're fortunate enough to have such energetic members in our team. This year, we're going to recruit more members to our team and we're expecting the number will be around 30 by the end of 2021.
Before the 1st quarter of 2020, we didn't have a dedicated support and marketing team. Now we have a decent support team and they are doing great. You can see the testimony of our support team's efficiency by looking at the reviews we got already. We got 81 5 star reviews out of 115 during the last year.
We also started with the marketing team later in the 3rd quarter of 2020. And the surprising output from the last year-end campaigns is a testimony to our marketing efficiency.
11. Satisfactory rate

Directorist has already touched the heart of our users. They love using the plugin. If you see the reviews at WordPress.Org, you would get an idea of what people are saying about the Directorist. Our help scout support system report says that 93% of total users are saying our plugin is doing really great.
12. Remote working experience
Since all the country went lockdown due to the pandemic, we had to take steps to work remotely from home. Initially, we were so concerned about the productivity issue of the whole team. But despite some drawbacks regarding productivity issues, everything has been working smoothly from home.
Almost we have been working more than 7 months remotely and still, we're not satisfied with the productivity level of the whole team. However, things are getting improved and the overall result has been pretty decent so far.
13. Year-end official tour

Team Directorist is not all about work and product development. We believe in recreation to get back to yourself. Sometimes, you need to get recharged and take a deep breath of fresh air. In the last quarter of 2020, we went on an annual tour to recharge our efficiency and boost potency. It was a great year-end tour after months of painstaking hard work.
Let's Ring in A Better Directorist in 2021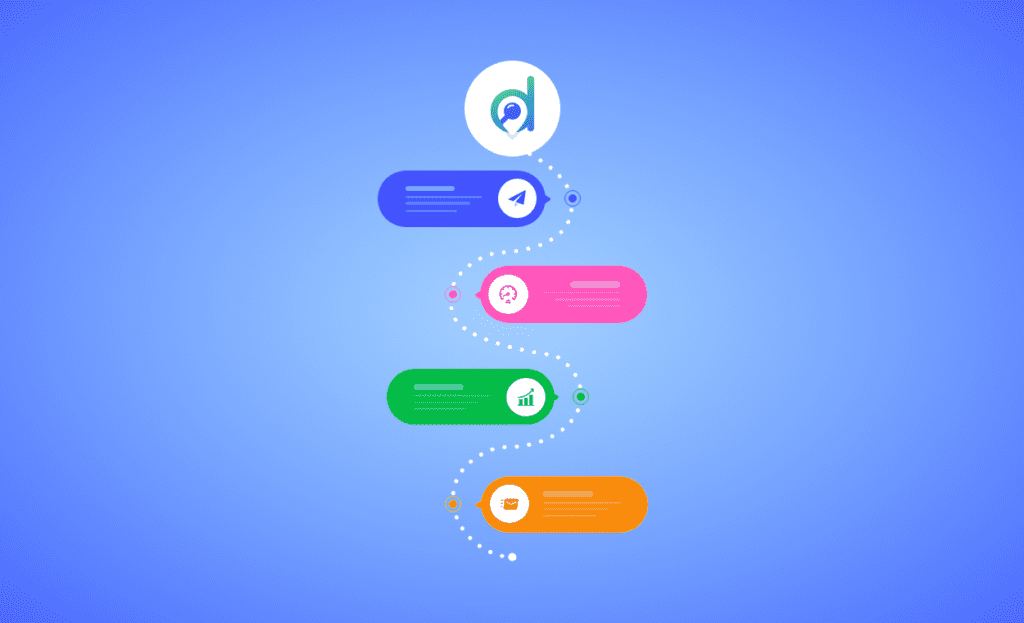 Everyone in Directorist believes that 2021 will be an exciting year for SEO and also a busy year with all the innovations and optimizations we'll be doing. Verily, we have a definite vision for the next year as you can see through our official roadmap. Here are just a few of them:
i. Producing more quality content
As I told you already that we started our marketing journey in the later Q3 of 2020, we started a quality blog section for providing top-notch content for our readers. Moreover, a strong blog section is needed for serving content marketing. We're expecting to see an even higher growth rate again in the next 2021 with the improvements to our blog section by producing a huge amount of quality content.
ii. Collaborations with major brands
We believe in collaboration with other qualified brands in the industry. In 2021, one of the prime goals is to start collaboration with the major industry standard brands. We're eagerly anticipating about the upcoming collaboration that has been set to take place very soon with BuddyBoss. We can't tell you exactly who we are going to work with as of next but we will definitely share once we're done with the next collaboration!
iii. Directorist custom form builder
This is one of the most anticipated features that is going to be added with the core plugin very shortly. It will change the way that now users are dealing with managing all types of listings. We're expecting the feature will be added by the end of the January of 2021.
iv. Multi directory support
The multi-directory feature is one of the most requested features by the users. We're about to add the feature to the system. The feature is in testing mode. Still, we have something to ensure with that. Hopefully, it will be added with the next official update.
v. BuddyBoss integration
As we're expanding our scope to help more users, BuddyBoss integration will be the 1st step towards this direction. BuddyBoss users can use Directorist for their directory related purposes as well.
vi. New exciting extensions
In the next year, we're planning to launch more extensions to make Directorist even extensible. Even in the midst of the pandemic, we launched 7 more extensions in the last year. We have some new extensions in the pipeline.
vii. Improvement in UI & UX
In addition to improving the existing extensions, Directorist plans to ramp up in enhancing the user interface & experience too. With this major update, we believe new users will have better clarity on Directorist and how it can benefit them.
viii. Launching Directorist android version
Android is the most accessible platform so far in the planet and it operates on an open source ecosystem. We have a plan to launch an android version of Directorist. Hopefully, we'll start working on this MEGA project within 2021. We're excited to launch it as it will take Directorist to a whole new level.
ix. New office with new environment
In 2021, one of the most exciting news is moving forward with the new office space. Since we're expanding our team, we need to think about providing a more congenial environment for the entire team. The more members need more spaces. That' why have decided to start a new office space after having a long remote work environment.
x. New extensions
In this new year, we have decided to come up with some new extensions to make things easier for our users. In addition to this, a dedicated new extension is coming for displaying statistics on your directory website.
We can't say more names right now but the number will be increasing along the way. Once we're done with any other extension in the coming days. definitely, we'll let you know in details.
xi. More features on pipeline
Here is the another list those are waiting for QC pass:
New Backend
Admin Debugger
Booking payment and commission system
Marketplace (extension)
Auto location detection and show nearby listings
All the features mentioned here are expected to be done by the end of 2021.
Learnings from 2020
After a LONG eventful year, we all have come to know something that we haven't experienced before. As a leading product of wpWax by SovWare, we had a challenging yet awesome year in 2020. We have understood our true potential and weakness at the same time.
Though we have achieved a lot, still we didn't accomplish all that we wanted due to the lack of enough team members. We learned about how to incorporate things in a more precise way. Now, it's crystal clear to us about in which sectors we require to improve in order to keep up with our current growth. This helped us a lot to make a structured plan for 2021. Hopefully, this year would be a game-changer for Directorist.
Another learning from the past year is we should give more focus to enrich the community around us. At the same time, we need to level up our skills by arranging in-house seminars so that we can learn from each other. Moreover, increasing outreach and organizing workshops for like-minded people could take us to a whole new level.
What We Didn't Achieve!
Though we have achieved a lot, we still had some limitations in 2020. The fact is we didn't fill up the 3rd quarter completely. It's true that the 3rd quarter will be a groundbreaking start for the Directorist.
It would be a massive update ever for the Directorist since we're releasing some amazing features with a smoother user experience that will take Directorist to the next level. We tried our best to make it happen within the time frame but here are some unavoidable facts that we faced given in the bellow:
We had to re-develop the major functionalities of the plugin from scratch since the multi-directory and the form builder will completely change the coding structure. We could have released it somehow to fill up the quarter but we wanted to provide the best solution for you guys.
It's fact that major development was completed by the end of November, since then we're checking and rechecking to ensure no existing users will be affected by this grand release. Still, we're not satisfied from our end as we want to provide the best possible output to our users. The good news is things are getting done!
The whole team is missing the regular working environment since we have been working from home due to COVID-19. Still, we're not satisfied with the productivity level of the whole team. However, we're also working on it and things are getting improved.
A few unexpected issues raised with the newly baked features when WP 5.6 was released.
Since some features are interconnected to each other, we see one feature is not compatible with another. That's why we needed to make them all compatible with each other which is taking more time than we anticipated!
Again, just to let you know that major development was completed by the end of November since then we have been checking and rechecking the plugin to ensure that no existing users will be affected by the release.
We're expecting the upcoming official release will speed up the rest of the releases of 2021. Because it will ensure the foundation of the newly executed coding structure which will speed up the entire updating process.
Moreover, we're increasing members in the plugin development section to make things even faster. We had a meeting regarding the upcoming official release, and we came to a decision out of it. As of now, the developers are testing the features and hopefully, we will have it ready for some selective users by this week for beta testing. Interested ones can join our Directorist Beta Testing group.
However, despite the ongoing situations, we are trying very hard to have it completely ready by this month. In this final release, six of the pending features will be released at once whilst the other three named statistics, BuddyBoss, CSV export may take some more time.
We're extremely sorry if we're making you confused at any stage. Our aims and perspectives are pretty solid to make the Directorist the best in the category. We look forward to having a better year ahead in 2021.
Last But Not Least
Thanks to all of you who put your trust in us. Without your contribution, none of this would be possible. We feel very happy that you loved the product we build, appreciate the quality of it, and willing to reward us with your hard-earned dollars.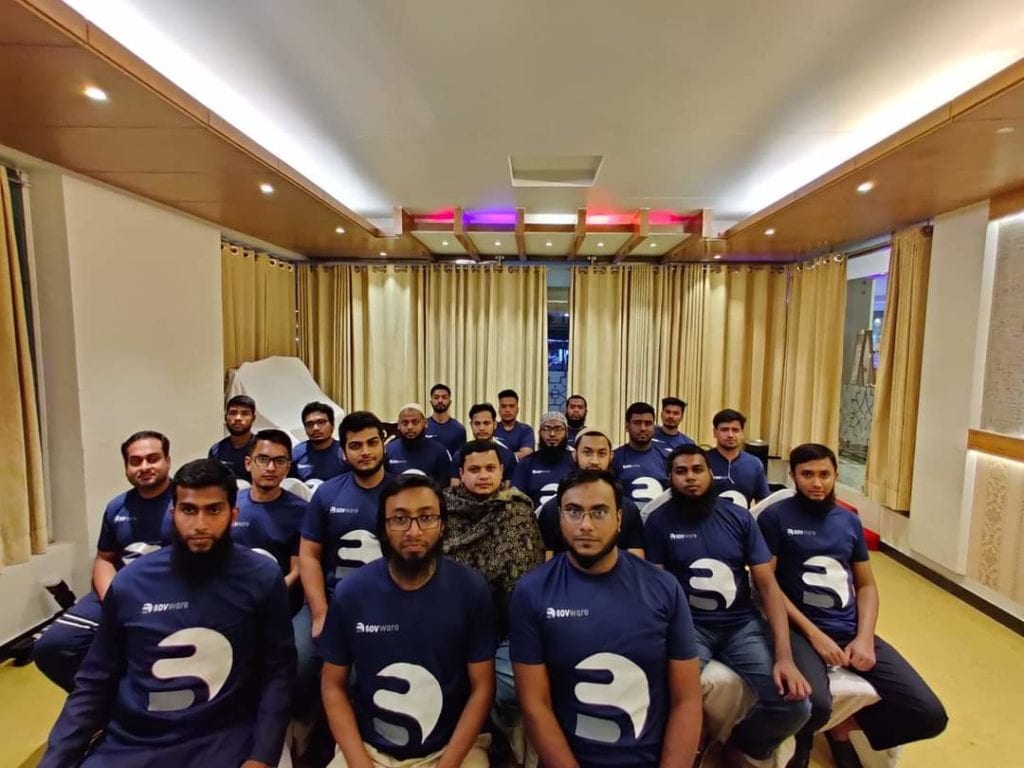 We're really grateful to have a community that isn't afraid to raise their voice when something is bothering them. This speaking up makes us able to improve things constantly. We're aiming to improve greatly Directorist you know and love, as well as build new ones that we hope you'll love as well.
Wrapping Up
Before ending up this year-end review, please allow us to express our gratitude once again. Thanks for your continued support, your helpful feedback, and your loyalty towards Directorist. We're really proud to have been a part of your 2020. It's wonderful to get to know you better and we'll be right here for you every step of the way. May Almighty keep us all stay safe and healthy, always.
What would you love to see from us in 2021? Let us know in the comments below.
P.S. If you're new to Directorist, it's the easiest way to create and manage your directory business. Grab the free version or upgrade to a membership plan (for extended functionality) and start crafting your directory site today.